| | |
| --- | --- |
| Photo Credit: Mike Lucibella | A tractor lugging fuel bladders rounds a corner shortly after leaving McMurdo Station, starting its journey of more than 1,000 miles to the South Pole. |
Podcast: The South Pole Traverse
A Convoy to the Bottom of the Planet
Posted May 20, 2019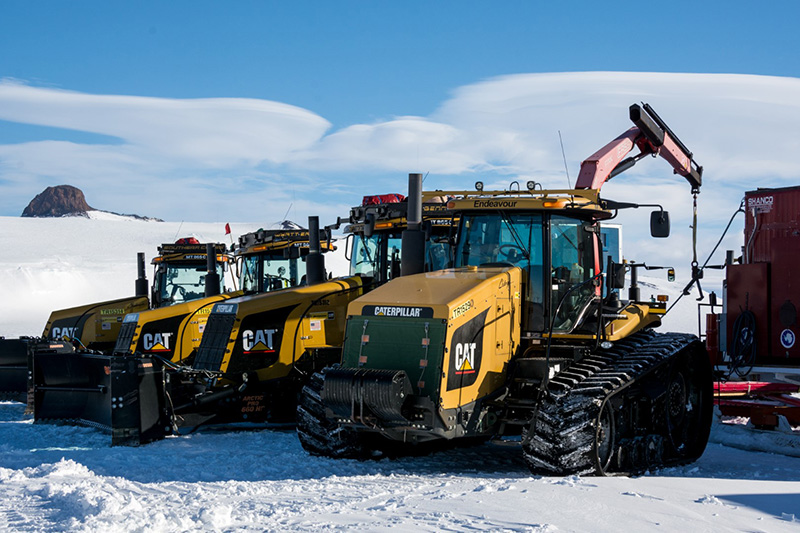 Photo Credit: Mike Lucibella
Prior to leaving McMurdo Station, a line of tractors sits parked at the traverse's staging area. The SPoT team is busy making last minute preparations for their imminent departure.
In Antarctica, scientists conduct cutting edge research on a harsh and barren continent. It's no easy task, but to help make it happen, the U.S. Antarctic Program employs small army of support staff to get these researchers the supplies they need, transport them to where they need to go and keep them safe throughout.
A lot of the jobs they do are the same that any small town needs to function, often with a specialized twist that comes with working in such a remote place, but others can be less obvious. The Antarctic Sun Podcast is taking a behind-the-scenes look at the workers and what they do to make science at the bottom of the world possible.
This Episode: The South Pole Traverse
Three times a year, a fleet of big yellow tractors sets out from McMurdo Station, heading south. They're hauling fuel for Amundsen-Scott South Pole Station to keep it powered through the long austral winter. The three-week haul across the frozen continent's barren landscape is a major undertaking. The team of operators have to bring with them everything they'll need for the long trip.
Over the more than 1,000 mile drive, they encounter everything Antarctica can throw at them: frigid temperatures, unpredictable weather, ever-changing terrain and vast, seemingly endless planes of snowy nothing. Drive along with the team as they brave the elements and deliver fuel to the bottom of the planet.
Photo Gallery