| | |
| --- | --- |
| Photo Credit: Mike Lucibella | Field safety coordinator Philippe Wheelock drives a snowmobile across the ice shelf. Using the flags in tow, he's helping to mark the safe travel routes across the frozen landscape. |
Podcast: Field Support and Training
Making Sure Everyone Returns Safely from the Backcountry
Posted August 10, 2020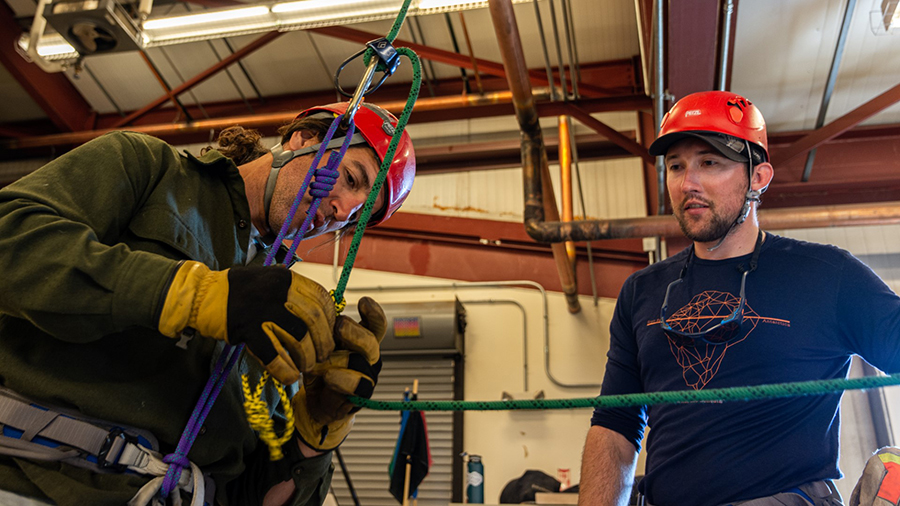 Photo Credit: Mike Lucibella
In a classroom environment, field safety coordinator Mitch Beres (right) helps train Federico Piola on how to correctly wear his climbing harness.
In Antarctica, scientists conduct cutting edge research on a harsh and barren continent. It's no easy task, but to help make it happen, the U.S. Antarctic Program employs small army of support staff to get these researchers the supplies they need, transport them to where they need to go and keep them safe throughout.
A lot of the jobs they do are the same that any small town needs to function, often with a specialized twist that comes with working in such a remote place, but others can be less obvious. The Antarctic Sun Podcast is taking a behind-the-scenes look at the workers and what they do to make science at the bottom of the world possible.
This Episode: Field Support and Training
Antarctica is as big as the continental United States and Mexico combined. It's utterly inhospitable. Much of the landscape is treacherous, with hidden crevasse fields, steep mountains and cracks in the sea ice throughout. Despite these hazards, hundreds of scientists venture to the frozen to study its unique features. It's the job of the Field Support and Training to keep these researchers safe while conducting their fieldwork.
It's an important job, one which starts long before any scientist sets foot on the continent. Through careful planning, in-depth training and mindful supervision the FS&T team make sure that even when scientists are at a remote site, hundreds of miles away from the safe confines of the station, they're out of harm's way.
Photo Gallery