| | |
| --- | --- |
| Photo Credit: Mike Lucibella | Search and Rescue supervisor John Loomis helps SAR team member Christina Bovinette out of a simulated crevasse during a training simulation. |
Podcast: The Search and Rescue Team
Ready When the Unforeseen Happens
Posted November 2, 2020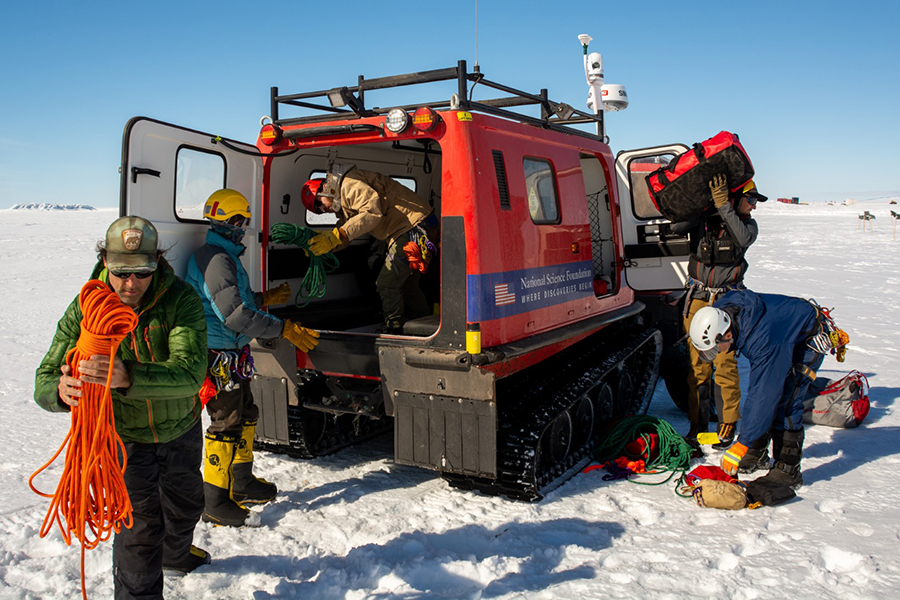 Photo Credit: Mike Lucibella
At the crevasse simulator SAR team members (left to right) Federico Piola, Christina Bovinette, Peter Pankowsky, Mitch Beres and John Loomis pull rescue equipment out of a tracked Hägglund.
In Antarctica, scientists conduct cutting edge research on a harsh and barren continent. It's no easy task, but to help make it happen, the U.S. Antarctic Program employs small army of support staff to get these researchers the supplies they need, transport them to where they need to go and keep them safe throughout.
A lot of the jobs they do are the same that any small town needs to function, often with a specialized twist that comes with working in such a remote place, but others can be less obvious. The Antarctic Sun Podcast is taking a behind-the-scenes look at the workers and what they do to make science at the bottom of the world possible.
This Episode: The Search and Rescue Team
Safety is the top priority for the U.S. Antarctic Program. Before anyone arrives on the continent, plans are set up to keep everyone safe in the harsh Antarctic environment. But sometimes accidents do happen. When the unforeseen does occur, the Search and Rescue team, or "SAR Team," is ready to spring into action and help whoever is in trouble.
Every station has a SAR team. At McMurdo Station, the team is made up of members of the Field Safety and Training team. Trained in first aid, wilderness survival and a host of other skills, the SAR team is always on call to respond to any accident. With weekly trainings to keep them sharp, they have to stay up on the skills needed to rescue someone whether they're just a short distance from the station, or hundreds of miles away.
Photo Gallery