| | |
| --- | --- |
| Photo Credit: Andrew Miguel Fuller | Amy Helkenn, Carter Jones and Sam Young share selections from Mandolin Orange at Open Mic night. |
Making music at McMurdo provides a taste of home
Workers on the Ice build friendships and community through music
Posted October 15, 2021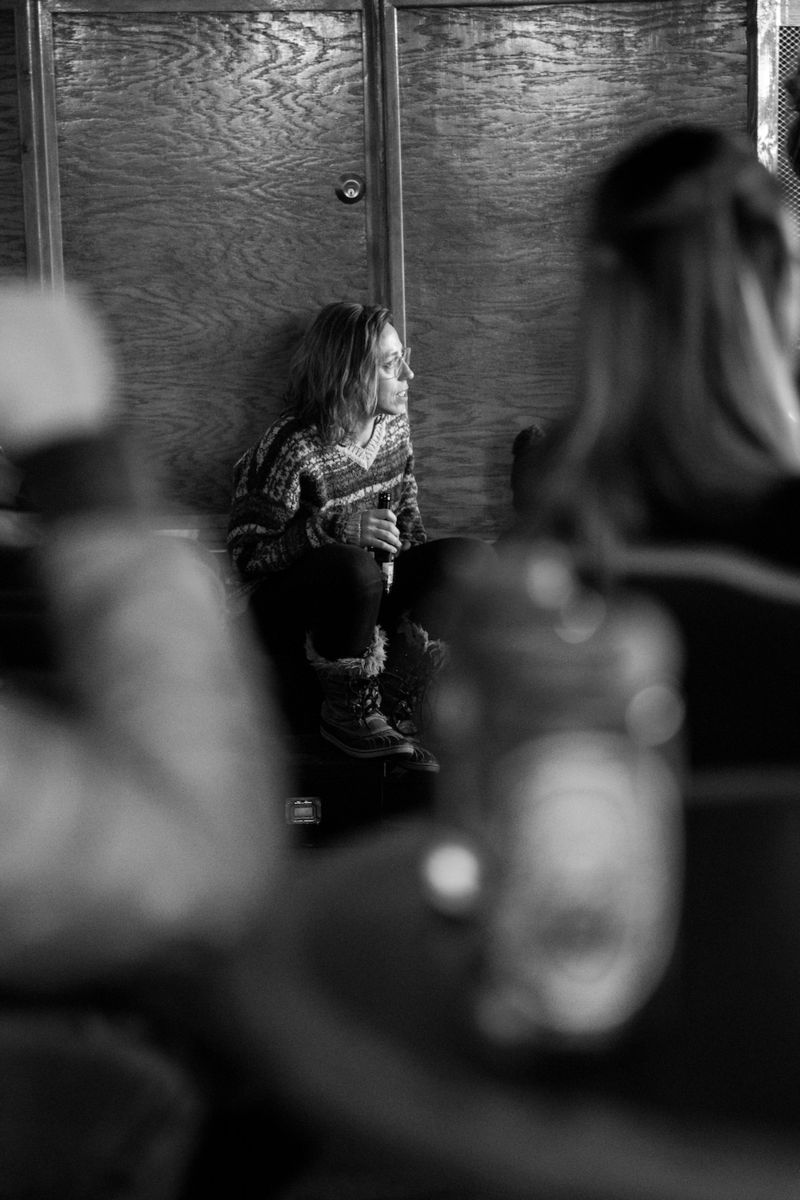 Photo Credit: Andrew Miguel Fuller
Sam Young observes other performers during the first Open Mic of the season.
Living and working in Antarctica can be challenging, but the staff at McMurdo Station use music to build friendships, express their creativity, and bring beauty to the harsh conditions of the continent.
McMurdo Station has had a thriving music scene for decades, including regular Open Mic nights and a yearly outdoor festival on New Year's Day called IceStock. IceStock is the southernmost outdoor music festival and perhaps the world's most exclusive: only those who work at or near McMurdo station can participate. The entire festival is run by volunteers who build the stage, run a concessions stand, and, of course, perform.
Here, six musicians share their thoughts on how playing music together shapes life at McMurdo Station, from spending time with friends and giving back to the community to creating a sense of normalcy.
Carter Jones, a hazardous waste technician, singer, and bass and guitar player, has found creating music with friends to be his most cherished piece of life in Antarctica. "The practices are what I do it for – you blink, and the show is over, but practice is a bonding opportunity; practice is the best part," he said. "Just sitting around, laughing, and playing music is my favorite part of life down here."
Surveyor and singer Amy Helkenn agrees. "It's just a lot of really fun times," she said. "My best memories from last year revolve around the music community." As a pianist and singer, she's found inspiration from other musicians on station. "When other people share their art, it inspires artistic creativity in the community – I always come away inspired," she added.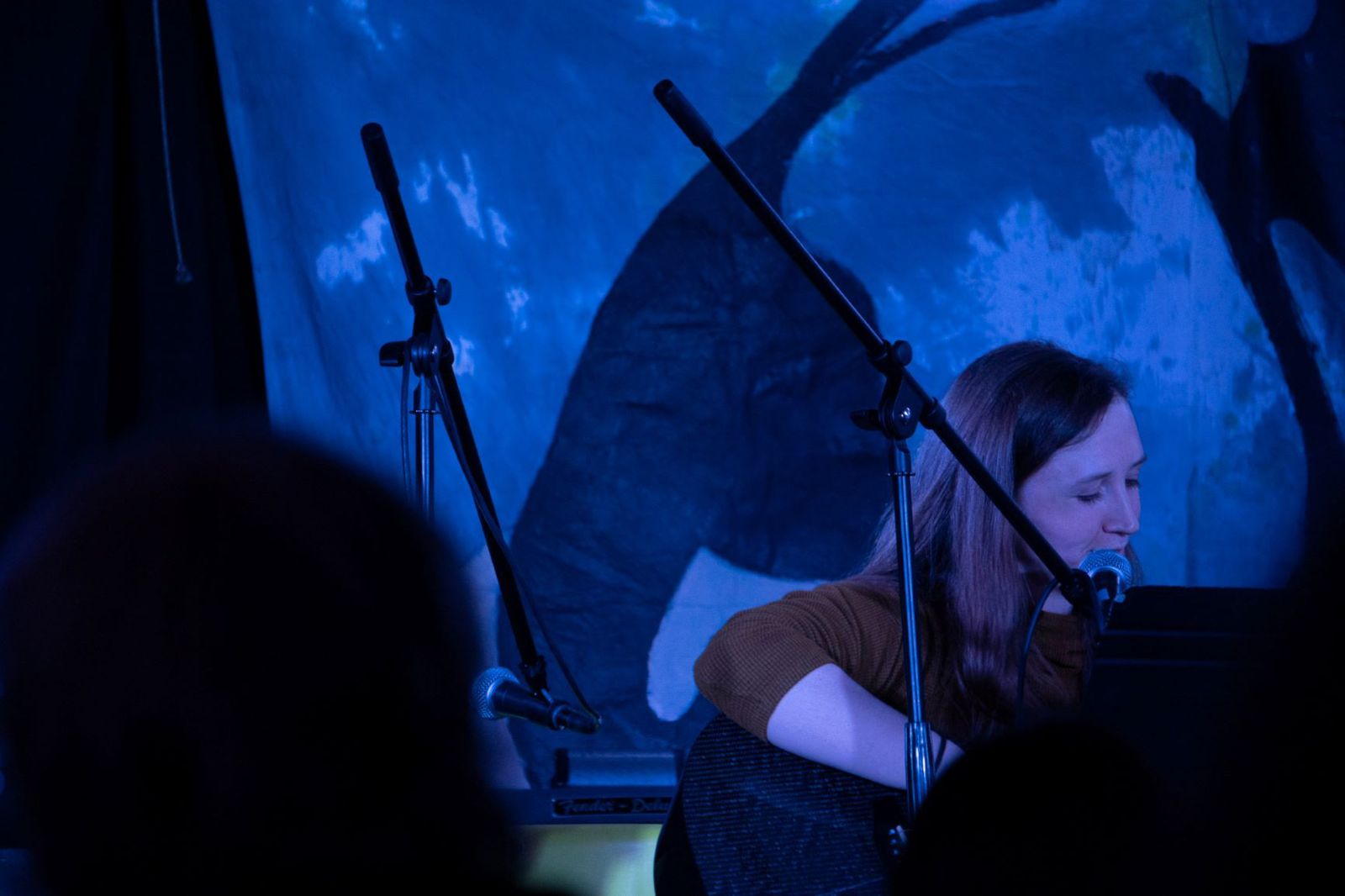 Photo Credit: Nicki Klein
Ashley Fife performs selections from AJR and Blink-182 for Open Mic night.
Besides building friendships, musicians on station perform together to enhance and grow their skills. For many, it's a chance to return to skills gone dusty since high school or college. For others, it's a chance to learn a new instrument, sing or play in front of an audience for the first time, and grow in confidence.
Boiler mechanic Caleb Smith has played the banjo for ten years but never performed before coming to Antarctica. Now, he's in his third year of performing and shares traditional folk and Celtic music with the community on a 150-year-old banjo he carefully repaired, piece by piece.
Musicians living at McMurdo Station also see sharing their gifts with the community as a significant way to give back. Singer and guitarist Ashley Fife is a hazardous waste technician finishing her fifth Antarctic season. For her, the time it takes to practice and prepare for performances is a sacrifice worth making. "You realize how much effort is put into the music here," she said. "It's a valuable way to volunteer, and the joy it brings to people is extremely important. It's special that such beauty can exist in such a dark and lonely place."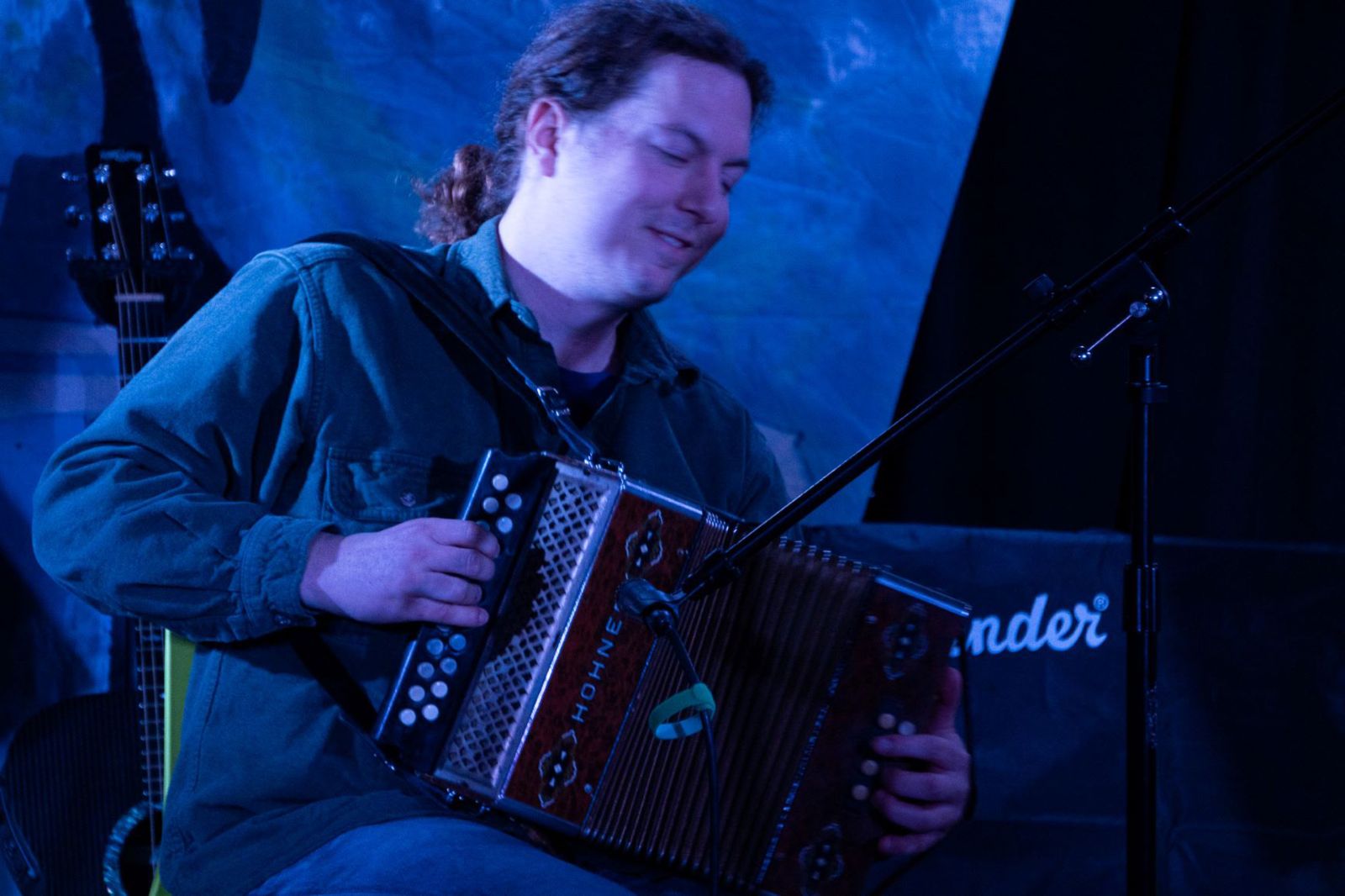 Photo Credit: Nicki Klein
Eric Schweizer entertains the McMurdo Open Mic audience on the English melodeon.
Heavy equipment operator Eric Schweizer echoes the importance of bringing something lovely to the community. "A lot of things about life here are challenging and broken in some way, and having something beautiful is really special," Schweizer said. "I enjoy being able to provide that for the community." Eric plays multiple instruments and spent his last summer learning the English melodeon, a mid-sized accordion, which he brought down to McMurdo Station this season.
All the musicians shared that the McMurdo audience is a great one. Sam Young, lodging coordinator in her fourth season on station, originally trained in classical piano and violin. She explains that while performing can be nerve-wracking, the McMurdo community is genuinely appreciative and supportive. "It is also a really fun, heart-warming, soul-filling experience to see the ripple effects of something you've put a lot of time and effort into creating bring fun and happiness to others."
This story was written by Abby Watrous, who is enjoying her first season in Antarctica as a Hazardous Waste Technician.