Most Recent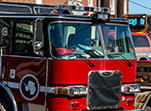 Features | Operations
Monday March 01, 2021
The Antarctic Sun is taking a behind-the-scenes look at the workers and what they do to make science at the bottom of the world possible. This Episode: The Fire Department. Even on a continent without any trees, fire is a big concern. The dry, windy conditions mean that if left alone, a spark could get out of control quickly.
---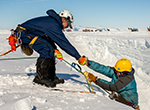 Features | Operations
Monday November 02, 2020
In Antarctica, scientists conduct cutting edge research on a harsh and barren continent. It's no easy task, but to help make it happen the U.S. Antarctic Program employs small army of support staff to get these researchers the supplies they need, transport them to where they need to go and keep them safe throughout.
---
Quick Find
Archives
2023
2022
2021
2020
2019
2018
2017
2016
2015
2014
2013
2012
2011
2010
2009
2008
2007
Print Issues: 1996-2006
More Results
---
---
---
---
---
---
---
---
---
---
---
---
---
| | | |
| --- | --- | --- |
| Results 1 through 15 of 181 | Page 1 of 13 | |