| | |
| --- | --- |
| Photo Credit: Dundee Heritage Trust | William Weller, a member of the Discovery expedition, attempts to harpoon a seal. Weller's name is among those found on the wall at Discovery Hut, an iconic expedition base from the Heroic Age of Antarctic Exploration. |
Page 2/2 - Posted June 15, 2012
About a dozen names revealed at Discovery Hut
On April 16, during another tour of the hut, McMurdo fuels foreman Kricket Scheerer found the name "Mack" on another wall on her birthday, according to Nelson. About two weeks later, McMurdo plumber foreman Wally Walker discovered three more names about two feet from Mackintosh's name.
The names included dog handler William Weller, able-body seaman Jesse Handsley and petty officer 1st class Jacob Cross, PO1, RN — all from Scott's original Discovery expedition.
"You can walk right by them. It's by shining lights on them that you eventually pick them up," Nelson said.
And his persistence keeps paying off.
On May 6, Nelson saw the initials "TW" carved under one board labeled "BUNKS." He has narrowed the culprit to either Thomas Whitfield or Thomas S. Williamson, both of whom were sailors on the Discovery voyage.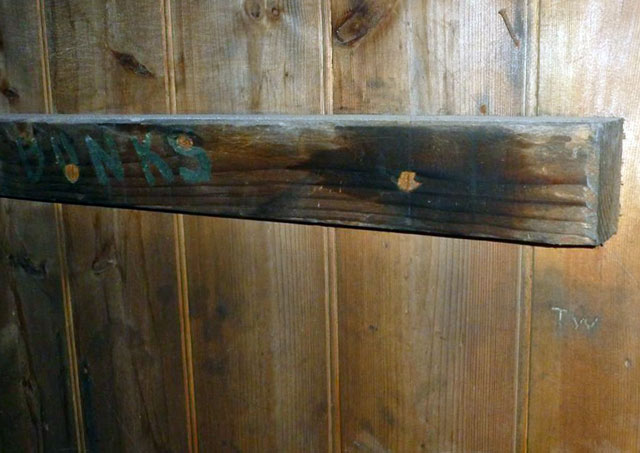 Photo Credit: Deven Stross
The initials "TW" near a board marked bunks. Nelson believes the initials belong to one of two men: Thomas Whitfield or Thomas S. Williamson, both of whom were sailors on the Discovery voyage.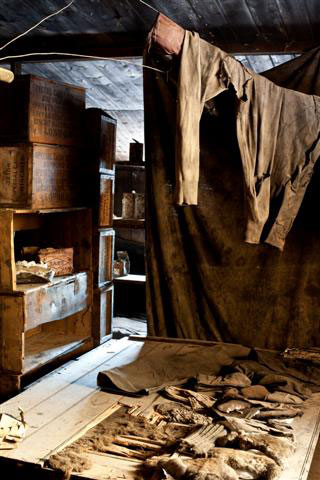 There are about 350 artifacts in Discovery Hut.
The same day, McMurdo winter site manager Harry House located the name SY Nimrod, the ship used on Shackleton's 1907-09 expedition. A week later, Nelson found yet another name, J.K. Davis, an officer on the Nimrod.
"When I came down this season I was aware of two names. Now, it's up to about a dozen and the names of two ships," said Nelson, 66, an Army veteran who also served as an enlisted man for eight years in the Naval Reserves.
"I can understand the enlisted side. I can relate to the sailors more than Scott," he said.
Grieve said she does not know to what extent these other names have been documented. "It can be difficult with some of the graffiti because of the numerous reoccupations and undocumented visitation, which could have led to post-Heroic Age writings and fake signatures," she said.
Grieve and three other Trust conservators are spending the winter at Scott Base working on artifacts from Capt. Robert Falcon Scott's expedition hut at Cape Evans on Ross Island, from where he launched his doomed attempt to be the first to reach the geographic South Pole, known at the Terra Nova Expedition

. [See previous article — Preserving the past: Antarctic Heritage Trust restores Scott's expedition hut at Cape Evans.]
In fact, one of the more interesting mysteries for the team this winter involves a couple of signatures from that expedition, written with blue crayon, found on a pair of McDoddie's dehydrated rhubarb tins. One reads "Brown" and the other "R F Scott."
Conservator Stefan Strittmatter, writing on the NZAHT blog

, said he has been researching handwriting samples and concluded that "Brown" likely refers to Frank Browning, an expedition member. The writing matches that of Henry "Birdie" Bowers, who served as the storesmen, and would have been the one most likely to ration and name supplies, according to Strittmatter.
The second signature, "R F Scott," is differentfrom "Brown," and it has characteristics both similar and dissimilar to Scott's signature, Strittmatter wrote.
His conclusion:
"Life in Antarctica doesn't make solving this conundrum easy. There are numerous reasons why you might not write as you normally would: mental fatigue, lack of hand dexterity in the cold, overcompensating in writing clearly to ensure no mistakes were made in rationing etc. I for one believe this is Scott's handwriting. There were no other 'Scott's' in any of the crews and it wouldn't come naturally to include 'R F' if it was somebody else."
Nelson has shared his discoveries outside of McMurdo. For example, he did an Internet search on Handsley and found that he was from the town of Skegness in England. It turns out that the townspeople are contemplating installing a memorial in honor of the native son's exploits

. Nelson sent a photo of Handsley's signature to local Skegness residents Will Williams and Jill Caine.
"It's generating interest in that town," Nelson said. "He's their local claim to fame for polar exploration."
And there is also interest in the Discovery Hut graffiti from the Dundee Heritage Trust

in Scotland, where the Discovery ship is now located, according to Nelson.
"This is an area where we currently don't have a great deal of information, so it was fantastic to receive [Nelson's] report and photographs," said Louisa Attaheri, curatorial assistant at the Dundee Heritage Trust, which provided biographical information on some of the enlisted men and photographs.
There are still a few months left before the end of the winter. Nelson hopes to spy more names before his own adventure into the past is over.
"When you actually see the names — that's brings a real person to it. It's the historical aspect of it that I thoroughly enjoy," he said.Back 1 2