| | |
| --- | --- |
| Photo Credit: Safe Asher | Shuttle driver Eric Oravsky showed he has wheels, crossing the full marathon finish line first, with a time of 3:17:00. He then strapped on skis and completed the marathon course again. |
Page 2/2 Posted February 20, 2015
Like Sherwin, vehicle operator Serena Evans had never run a marathon before and had her doubts as to whether she could even train and compete after suffering a foot injury during training.
"The biggest challenge was making the decision to run, even though I might not be able to finish," she said.
Fortunately, race day turned out to be, in her words, "truly one of the most memorable days of my life." Support from fellow runners and volunteers gave her the drive to finish, in addition to the natural and hard-earned bragging rights that accompany running 26.2 miles on the coldest, driest, harshest continent on Earth.
"I definitely learned that if your mind and heart are in it, you can get your body to do unbelievable things," Evans said.
Gracie Cole is no stranger to feats of endurance, having completed the Leadville 100-mile trail run in Colorado in August, a "marathon-a-day" challenge for 20 days across the state of Florida, and two ice marathons in Antarctica. However, taking home the first place title among the female runners of the McMurdo Marathon managed to evade her previous attempts – until this season.
An operator in the MacOps communications center, Cole placed first in the women's marathon and continued on to become one of three women to finish the ultra-marathon, with a time of 5:32:30. "I was blown away by all the runners out there, each of us pushing our limits and defining new moments in our lives as we trotted, danced, and stepped our way to the finish line," she said.
For surveyor Dugan Greenwell, who placed first in the ultra-marathon, with a time of 4:32:30, the participants and volunteers make the McMurdo Marathon a special experience.
"This is a 'seize the day' crowd like no other," he said with pride. "Volunteers here aren't like volunteers on your typical marathon. These are the people you live and work with; they really want you to succeed – and with pop-tarts, BBQ and hot Raro [a New Zealand Gatorade equivalent], you do."
Shuttle driver Eric Oravsky crossed the full marathon finish line first, with a time of 3:17:00, and proceeded to strap on skis and complete the marathon course again. Paul Cutler placed first in the half-marathon, and Chelsea Lodge and Michael Deany took first in the half- and full-marathon ski events, respectively.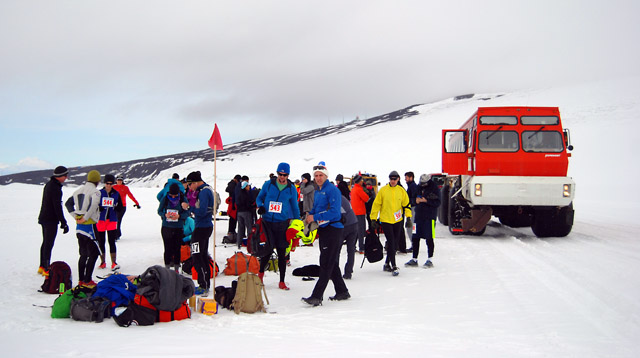 Photo Credit: Sage Asher
Ivan the Terra Bus transports runners and skiers to the starting line for the marathon.
The McMurdo Marathon represents the culmination of the running season, though a final event dubbed the Transcontinental Race between McMurdo Station and Scott Base took place in February. Other organized opportunities for runners include the Turkey Trot 5K on Thanksgiving Day, a 10K run between the Scott Base Road and Hut Point, and the "Ob Hill Uphill," which takes runners to the top of 750-foot-tall Observation Hill overlooking the station.
Elsewhere around the continent, Amundsen-Scott South Pole Station also hosts a marathon, as well as a Christmas morning "Race Around the World," which takes runners, bikers, skiers, and others on a two-lap, two-kilometer circle around the ceremonial South Pole.
From training day to race day, Sherwin has no regrets about deciding to participate in the marathon, which he completed in 4:52:25. Would he run it again next year? "I can say with near certainty," he answered with a note of satisfaction, "one and done."
Perhaps the question was asked a little too soon, with the aches of muscles still fresh. Running a marathon in Antarctica can be especially punishing because it takes the body longer to recover in the cold and dry climate.
Is the hardship of the run, training, and recovery worth it? To this, Gregory replied, "Ask me next year when you see me on the starting line."