| | |
| --- | --- |
| Photo Credit: Mindy Bell (PolarTREC 2007) | At left, Marcus Kolb, Nick Huerta and Bryan Newbold assemble SCINI before a deployment. At right, Bob Zook and Huerta prepare to launch SCINI below the sea ice. |
Fitting In
Remotely operated vehicle takes researchers to new places under the ice
Posted November 8, 2007
The backlash against "super-sizing it" isn't only relegated to expanding waistlines. A science team surveying benthic communities in McMurdo Sound believes skinny is better when trying to reach remote areas below the sea ice without a lot of fuss.
That's why the team developed SCINI — a Submersible Capable of under Ice Navigation and Imaging.
Boasting a diameter of only 15 centimeters, the torpedo-shaped, remotely operated vehicle (ROV) can be transported by helicopter or tracked vehicle and then deployed through a hole in sea ice made by a hand-held power drill.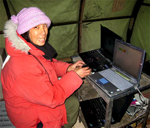 Photo Credit: Mindy Bell (PolarTREC 2007)
Scientist Stacy Kim operates SCINI on its maiden journey Oct. 15.
In about an hour, scientists on top of the sea ice can steer SCINI to depths of 1,000 feet where divers can't venture, watching and recording what the submersible sees in the crystal-clear Antarctic waters.
"One of the goals of SCINI was to build a system that was backpackable," said Bob Zook, the engineer who designed the ROV for the group's principal investigator, Stacy Kim.
Kim, the research half of the science-and-engineering duo, is interested in describing McMurdo Sound's benthic sea life, communities of critters living at or near the seafloor.
An adjunct professor in benthic ecology at Moss Landing Marine Labs in California, Kim is also hoping to create a sweeping database of sea life development in the sound by revisiting historical experiments dating back to the 1960s.
Sponges, corals and a menagerie of other sea life have made their homes on cages and other artificial structures, experiments initiated by scientist Paul Dayton at Scripps Institution of Oceanography decades ago. Kim and her team generally know when these artificial structures were introduced.
"We know the birth date of those animals, so we can say how much they've grown in the intervening time," she explained.
"They give us a 40-year history of re-colonization and community development in the McMurdo area," she added. "That's an incredible data set. It's very unusual to have a data set that extends over several decades like that."
The very thing that makes it difficult to access McMurdo Sound easily — the annual sea ice — also offers a unique benefit for researchers like Kim who are interested in describing organisms living between 40 and 200 meters.
That range is beyond nontechnical diving range. And it's too shallow for most ROVs, as it is difficult to maneuver through the upper water turbulence.
"But because we're working with an ice-covered sea, we don't have to deal with surge and wave motion. So we can study that depth range, which is pretty much unstudied any where else in the world," Kim said.
"We know that there are really interesting, intriguing-looking communities down there because the underwater visibility is so good in the Antarctic," she added. "We can see them, but we can't get to them because of the depth."
Right off the shelf
This is the first of three field seasons for the eight-member team. This year's technical focus is to work out the bugs and determine if SCINI's navigation system can live up to its billing as being accurate within 20 centimeters.
Zook said he got the idea to design an easily transportable ROV about three years ago when he asked Kim what tool would help make her job of exploring underwater ecosystems easier.
Most work below the sea ice, such as diving, requires the assistance of heavy equipment to bore a big enough hole to get people and equipment into the water. That limits where researchers can go.
"Drilling big holes is difficult. Drilling small holes is less difficult," Zook said.
Project S.C.I.N.I.

Using off-the-shelf components — like motors from model helicopters and cell phone battery chargers — SCINI is polar science's version of a MacGyver do-it-yourself project. The cost of all the parts and materials for two functional submersibles — "You don't come to Antarctica with one of anything," Zook observed — is under $30,000.
"I've been incredibly amazed by what they can do," Kim said. "It's much more inexpensive to pull a power source out of a cell phone [system] than it is to build your own power source."
Zook also designed SCINI to be versatile, with modules containing different equipment that can be swapped out depending on the submersible's mission.
The front module will carry a high-tech, 5-megapixel video camera capable of shooting very high-resolution images but at video frame rate. The idea is to use SCINI's precise navigation to piece together those images in a mosaic, creating a highly detailed map of the seafloor.
"It's really incredible technology," Zook said. "There's a ton of different ways of using the camera that we're exploring."
Noted Kim: "If we can have SCINI make us an actual, real map that tells us exactly where things are, we can operate off of that, so it's going to be a lot easier for us to selectively sample as divers in the water."
From Stacy Kim's online journal entry dated Oct. 15
"It was a deeply rewarding feeling to have the sub driving around under the ice, looking at sea stars and worms and anemones and sea spiders and sponges. For the divers, it was a new perspective on a somewhat familiar scene, and for the nondivers, it was a first view of an exciting new world! We could drive around the rocks of the Jetty, and the soft sediment nearly, and sneak up on krill, and shine our lights in all the mysterious seafloor animals, without getting wet ourselves! I really can't find the words to describe how intensely thrilling it was. And it's just the start!"
Other uses
The ROV is also attracting attention from other science groups, even those outside biology, according to Kim.
She said Paul Ponganis is interested in using SCINI to enhance his study of emperor penguins. Ponganis runs a project on the sea ice dubbed Penguin Ranch, where an observation tube sits below the sea ice, allowing researchers to watch the birds' aquatic behavior.
SCINI would help Ponganis to observe the animals away from that single point. "We'll see if the penguins responds poorly to it or if they don't mind being in the water with it," Kim said.
The project has even garnered interest from researchers running the ANtarctic geological DRILLing program (ANDRILL), the project to extract sediment core under the sea ice and ice shelf to study geological history and climate change.
The operation involves lowering a sea riser hundreds of meters through the water column to the seafloor. The coring drill is then dropped down inside the outer tube. SCINI could help the scientists "see" what they're doing and more easily solve any problem in anchoring the sea riser.
"For us, we'd love to see what kind of animals are living at those kinds of depths," Kim said. "There's just a lot of potential uses for this tool for other research groups, and ultimately what we hope to do is provide it as a tool that anybody can use."
The tool has impressed Tom Wagner, the program manager for the National Science Foundation's Antarctic Earth Sciences Division, which provides funding for ANDRILL.
"They're developing technology to answer questions we can't answer any other way." Wagner said. "That has implications not just for biology, but for people looking at earth science properties, too."
NSF-funded research in this story: Stacy Kim, Moss Landing Marine Labs. The grant is from NSF's Major Research Instrumentation, a separate equipment program that funds new inventions that attempt to answer scientific questions.