| | |
| --- | --- |
| Photo Credit: John Priscu | John Priscu made two early summer season visits to the McMurdo Dry Valleys in the 1990s. Now he and a team of scientists will remain until April as twilight and cold creeps across the valleys and the ice-covered lakes. |
In the cold of the night
Science team to extend seasonal work until April to study lake ecosystem in the McMurdo Dry Valleys
Posted November 29, 2007
So what happens when you turn off the lights in Antarctica? John Priscu and his team of polar scientists plan to stay until April to find out.
A professor of ecology at Montana State University in Bozeman, Priscu is a principal investigator in the McMurdo Dry Valleys Long Term Ecological Research (LTER) project. The LTER is a multi-disciplinary study of the relatively ice-free valleys near McMurdo Station. His particular area of expertise is the biogeochemical processes that occur in the lakes of the McMurdo Dry Valleys.
He has studied those lakes extensively, spending more than half of his 24 seasons in Antarctica working to understand the relationships between the ice-covered bodies of water and the organisms that live in them.
Until now, he's never stayed beyond the austral summer season, which ends in February. But in the midst of the International Polar Year (IPY), an intensive two-year study of the Arctic and Antarctic, more high-risk science, research for discovery's sake, is encouraged.
"One thing about the lakes, they don't shut down in the winter," Priscu said from his university office in October, still busy planning for the late field season, though some of his field team members for other Dry Valleys projects have already deployed. "IPY came along, and it was an opportune time to study processes into the dark."
Priscu has been pushing hard for years to work outside the typical austral summer, which runs roughly from October to February. In 1999, he edited a report outlining the benefits and logistics of year-round field seasons out of McMurdo Station.
For his scientific interests, an extended field season would fill in some long-term blanks. "We're always trying to balance carbon budgets, so we look in these lakes at how much carbon is produced during the summer by photosynthetic production by phytoplankton," he explained. "We don't know what happens to it in the winter."
He likens the data gap to balancing a monetary budget: How do you balance the books when you don't know monthly income or expenses for more than half of each year?
He and colleagues went to the Ice in 1991 and 1995 on the winter flights that arrive in August to ease the summer work transition in October. Those early-summer visits only whetted his curiosity.
"It's totally dark under the ice in the lakes," he said. During those visits, the scientists found anomalies like chlorophyll in the water column, creating more questions than answers.
Now the researchers will get a chance to see the lake ecosystem operate in reverse, as light fades and temperatures plunge. Using more powerful molecular tools than were available in the 1990s, the team will examine phytoplankton physiology to determine how organisms adjust to the changing conditions.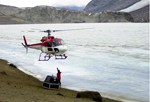 Photo Credit: Kristan Hutchison
A helicopter hovers near Lake Bonney, one of several research sites targeted for the polar night studies.
This is the working hypothesis: As the light tapers, the lake organisms shift from autotrophy to heterotrophy, from manufacturing their own food to grazing on others.
"We think the phytoplankton shift from photosynthesis to a mode of metabolism by which they eat bacteria," he explained. "That's probably why we saw so much chlorophyll on our [August trips]. These phytoplankton are eating bacteria."
In one experiment, the team will use one of the dominant phytoplankton species from Lake Bonney that they originally cultured in the late 1980s. Studies on this culture back in the United States revealed that it was a cold-loving, photosynthetic organism particularly suited for Antarctic lake life.
"We're going to return them to Lake Bonney and sample them through the darkness to see if their physiology changes as our lab experiments predicted," he said. "That's a unique experiment."
The data the scientists collect during those additional two months will help them develop a model of photosynthesis in the lakes. Such a model will eventually allow them to predict carbon production in inland Antarctica's unique liquid water ecosystems.
One reason that is important is that the lakes are dying. Summer is already a short growing system — a la photosynthesis — but the thickening ice on top of the lake reduces it even further. In effect, the lake denizens are eating themselves out of house and home, grazing on carbon material that's been sitting around for more than 10,000 years.
The lakes themselves are remnant of a larger, ancient body of water called Lake Washburn that once filled the entire Taylor Valley, according to Priscu. Lake Washburn's retreat left a lot of carbon material, enough to sustain the organisms in the Dry Valleys for thousands of years — but not forever. A climatic shift — something like a warming trend that improves photosynthesis production — could reverse the trend.
"It's real important to understand these winter processes, and these processes at the transition of these light periods," Priscu said.
It's an important job to the researchers, and one that will require working in conditions nearly as tough as the lake environment the scientists are testing and measuring. Priscu said his 17-member team could expect conditions similar to those he encountered in the cold Septembers of the 1990s. Temperatures didn't rise above minus 47 degrees Celsius and bottomed out at minus 55 C.
Priscu Research Group

"The late season work is brutal," Priscu conceded. And also busy. After the last regular-season flight leaves in February, the team's workload will more than double. The scientists will take samples from lakes Bonney, Fryxell and Hoare each week.
"The light is changing about 20 minutes a day, and we need that high-density sampling to really nail down the changes, so people are going to be pretty tired," Priscu said.
The next step is to stay through a winter. Priscu, 55, said that task would probably fall to the next generation. "It would take another young scientist like I used to be," he said, joking. "It takes an entrepreneurial scientist to do this stuff, a lot of energy."
But there's reason to do it, he noted: "The lakes don't stop; they're still doing their ecology."
NSF-funded research in this story: John Priscu, Montana State University in Bozeman.