| | |
| --- | --- |
| Photo Credit: Viola Toniolo/PenguinScience | A leopard seal crosses an ice floe at Cape Crozier during the 2006-07 field season. Though fairly harmless out of the water, the leopard seal receives a wide berth from the Adélie penguins. Such menacing predators are only one of many factors that Adélies must face to survive in Antarctica. |
After the icebergs
Royds penguins just 'treading water' while nearby Beaufort Island supports new sub-colony
Posted March 21, 2008
PenguinScience Web site

See related article:
Keeping count
A couple of years ago, life at Cape Royds for the world's most southerly Adélie penguin colony looked dire.
Giant icebergs that calved off the Ross Ice Shelf in 2000 were the main culprit, locking in hundreds of additional square kilometers of sea ice beginning in 2001. That meant a long, long trek for the small, waddling birds to the open ocean to get food for their chicks. Between 2001 and 2005, the Royds colony produced very few chicks to fledging size, mainly because of the extra energy they expended while foraging, leaving less for their offspring.
This past season, the colony was about half the size it was prior to 2001, when about 4,000 mating pairs called Cape Royds home. "The colony is just treading water, so to speak," said David Ainley, the principal investigator for a long-term study on the penguin populations of Ross Island. (See related story in the Jan. 29, 2006 edition of The Antarctic Sun

.)
But open water has returned the last two years, and with it "really good reproductive success" for the Royds colony, according to Ainley.
However, Ainley, an ecological consultant with H.T. Harvey & Associates in Los Gatos, Calif., explained that Adélies generally don't start breeding until they're at least 3 years old, and usually not until one or two years after that.
And during those years of ice-imposed isolation, many of the Royds penguins abandoned their home colony for larger ones at nearby Cape Bird and Beaufort Island, the latter of which was also undergoing changes.
Prior to 2002, the nesting area on Beaufort Island was "wall-to-wall" with penguins, Ainley said. But in the last five years, snowfields and glaciers have retreated, moving the "walls" back and opening space for more nesting pairs. That means penguins fledged on Beaufort return to the island to nest rather than immigrate to another colony.
"For those two reasons — no reproduction and no immigration from Beaufort — the Royds colony hasn't been growing like it was before 2001 when the big icebergs showed up," he said. "We're unlikely to see any increase [at Royds] for at least two more seasons."
Ainley's team, which includes co-investigators Grant Ballard and Katie Dugger, is interested in population dynamics. In addition to Cape Royds, the researchers also monitor colonies at Cape Bird, Beaufort Island and Cape Crozier. Cape Royds is the smallest of the colonies. Cape Bird and Beaufort Island each have about 40,000 breeding pairs and the mas­sive community at Cape Crozier has about 140,000 breeding pairs.
Together, the four colonies comprise roughly 8 percent of the world population of Adélies, with about 39 percent located in the Ross Sea. The Royds colony had grown at about a 10- to 15-percent clip before 2000.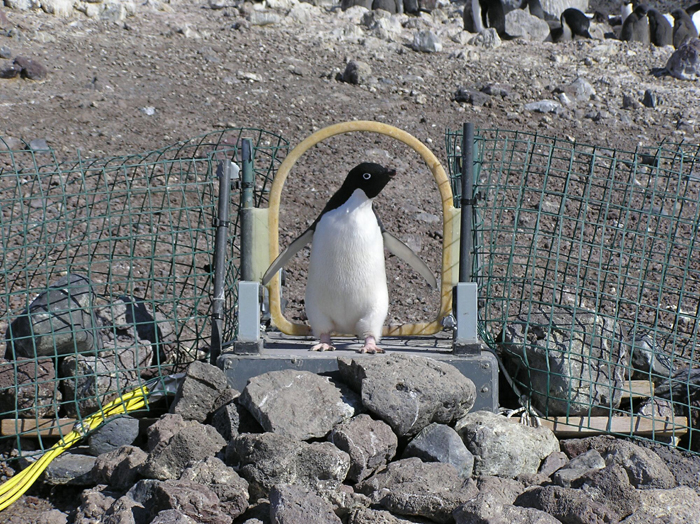 Photo Credit: Viola Toniolo/PenguinScience
Scientists use a computerized scale to gauge how much food a penguin has upon returning to a rookery after foraging.
Ballard, with PRBO Conservation Science in Petaluma, Calif., ticked off a list of questions about the Adélies that interest the researchers: Why are they where they are? Why aren't they in other places? Why do we see small and large colonies? Why the rapid growth of small colonies? How does the physical environment get involved? How does competition with other penguins affect colony size?
"We have a unique opportunity to study those factors," Ballard said.
Climate change doesn't seem to have troubled the Ross Island Adélies yet, unlike their cohorts along the Antarctic Peninsula. Around the peninsula, entire colonies have disappeared, and sub-Antarctic penguins like gentoos are moving in due to some of the fastest rising temperatures on the planet, which have severely affected local sea ice conditions.
In contrast, the receding snow and ice on Beaufort Island seems to be a boon for the colony there, Ainley said. "Now there's more than enough room for the colony to expand on Beaufort Island." Not only that, but a satellite sub-colony has appeared on the island's north shore with enough space to support 10,000 breeding pairs, he estimated.
The researchers have found banded birds hatched at Cape Bird, Beaufort Island and Cape Crozier in the new breeding area. The island's precipitous topography should keep the two breeding areas separated for the near future. "They won't be merging any time soon," Ainley said.
But big isn't necessarily better when it comes to providing enough food for all those chicks at colonies like Beaufort and Crozier. And there appeared to be more mouths to feed than normal because many more young adults than usual attempted to breed this past season, Ainley said, producing competition for food and a number of chicks with low fledgling weights.
"We won't know the consequences of that for three to five years," Ainley said. "Our hypothesis is that the adults were having to forage way far away, because they depleted the food near the colony.
"It's quite a contrast to Cape Royds — even though Royds breeding was a week later than Crozier or Beaufort — Royds' chicks caught up to and passed the Beaufort and Crozier chicks in terms of their weight and development," he added. "It was an interesting contrast."
Ballard said the Crozier colony essentially ate itself out of house and home, with penguins foraging up to 200 kilometers away. In contrast, the Royds penguins averaged no more than 30 kilometers to find food. The scientists are able to follow the penguins' movements with satellite tags.
The Crozier colony is unlikely to collapse due to population pressure, Ballard said, because it will self-regulate — unlike some human civilizations. (Archaeologists now believe ancient civilizations, such as the Cambodian empire of Angkor or the Mayans of the Yucatan, disappeared because of human-induced ecological disasters.)
"I don't see penguins making the kind of bad decisions that humans make," Ballard quipped.
However, the decisions that humans make could someday affect the penguins of Ross Island. Scientists there are not seeing the sort of warming under way on the peninsula, where rising temperatures have caused more snow precipitation, drowning and killing chicks.
"It's not so much an issue in the Ross Sea," Ballard said.
Ballard said a couple of unusually heavy storms during the last 12 years did cause a high number of deaths at Crozier. One blizzard killed numerous chicks, while a separate snowstorm killed adults while they were incubating eggs. Such snow events are unusual on Ross Island but not at Palmer Station, he said, though climate models predict such weather would occur more frequently in a warming Antarctic.
"We would see more snow, and that would be bad," Ballard said.
NSF-funded research in this story: David Ainley, H.T. Harvey & Associates.