| | |
| --- | --- |
| Photo Credit: Nadine Quintana-Krupinski | A Twin Otter lands at Nadine Quintana-Krupinski's field camp in West Antarctica. Quintana-Krupinski served as one of the Ice Stories correspondents for the Exploratorium during the 2007-08 season. Her field reports included audio recordings of storms and commentary about the project. |
Field reporters learn how to shoot video, frame a shot
Exploratorium:
Ice Stories

The public has already gotten a pretty good look into some of those discoveries via the blogs posted by field researchers, which includes audio and video recordings, in addition to text and photos. The Exploratorium has also done about a dozen live video teleconferences about big IPY projects like ANDRILL, a geologic drilling project trying to learn more about the advance and retreat of ice sheets millions of years ago during a warmer period on the planet — one that could repeat itself in the next century.
"You have to embrace different ways of telling stories, using image and videos, and interactive maps," notes Miller, who hosts some of the live Web broadcasts. "You have to bring that all to bear if you want to make an impression on people. It's challenging to corral all of that stuff. It's much more complicated than it used to be."
The scientists recruited to serve as correspondents learn about some of those challenges during a weeklong workshop hosted by the Exploratorium. Exploratorium staff and other media professionals teach them how to shoot and edit video, operate a camera, and, perhaps most importantly, tell a compelling story.
"It's not just about how to use a camera," says Lisa Strong, the video producer for the Antarctic-bound Exploratorium team. "They learn about aesthetics … how to frame a shot."
Ron Hipschman, a senior media specialist at the Exploratorium who handles the IT and technical issues for the Ice Stories team, noted the workshop participants matured quickly in a short time. "It was interesting to watch from the beginning to the end of the workshop to see how much more refined their storytelling became."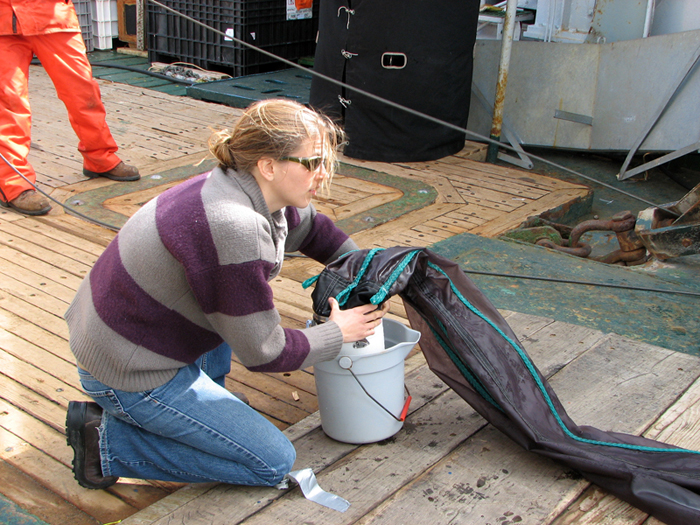 Photo Credit: Lara Asato
Cassandra Brooks removes the cod end of a zooplankton sampling net on the back deck of a ship.
Nadine Quintana-Krupinski got the Cliff's Notes version of the workshop last year before she deployed to Antarctica due to a time crunch. A graduate student at the University of California, Santa Cruz, Quintana-Krupinski worked on a research team studying ice sheet dynamics, and the particular effect subglacial lakes and hydrology play in speeding glacial movement. The project's principal investigator, Slawek Tulaczyk, also served as an Ice Stories correspondent.
"On a personal level, I think it's fun for me to do. It's fun to share with people what's going on out there. But I think it's important for people to get a sense of why people do this research," says Quintana-Krupinski. "I think people have an outdated idea, or a different idea, of how science is done. I think it's good for people to see how one set of scientists work."
Her blog entries, audio files and pictures describe and illustrate the conditions under which the scientists labored for about three weeks in a remote field camp in West Antarctica near the Whillians Ice Stream. The reports included everything from how to cook dinner to how the team used GPS and seismometer instruments to monitor the relationship between the ice stream and water beneath. (Read her blog

.)
Quintana-Krupinski says she wants people to understand there's more to polar science than penguins. "Some of it is important for kids in school to see that science just isn't grey-haired old men," she adds. "It's all kinds of people. It's young people like me and people from all over. It's important for kids to see they can be scientists, too."
For Perales, the project field coordinator in the Arctic, he wants the public to understand that climate change is for real and affects real people, like the native Iñupiaq in Barrow who still strive to live a traditional lifestyle in a ecologically changing world.
"Climate change is affecting the culture," he says. "It's going to continue to affect them."