| | |
| --- | --- |
| Photo Credit: Polar Meteorology Group/Byrd Polar Research Center | Former Byrd Polar Meteorology group member Ryan Fogt, left, and Shelley Knuth, with the University of Wisconsin-Madison, install an acoustic depth gauge on the Windless Bight Automatic Weather Station in January 2006. Weather models rely on data from these weather stations to produce accurate forecasts. Mount Erebus looms in the background. |
A new model
Antarctic weather forecasting system switches to latest global tool
Posted July 25, 2008
There are probably few people in the world who know as much about Antarctic weather as David Bromwich. You can believe him when he says it's not an easy place to produce a five-day forecast, particularly around McMurdo Station.
"McMurdo is probably the worst place in the world to put a major airport … there's big mountains all around it," he explained. "That's why it's a very challenging place to do weather forecasting from a modeling point of view, just because of all of the influences."
It's almost as if McMurdo, which sits on Ross Island, is the bull's eye of natural atmospheric forces. In one direction are the towering peaks of the Royal Society Range bordering the East Antarctic plateau; to the north is the Ross Sea; and the neighboring Ross Ice Shelf accounts for another variable.
"Everything is focused and competing right at McMurdo," Bromwich said. "It's almost like going into valleys in the Alps."
A professor of Atmospheric Sciences in the Department of Geography and researcher with The Ohio State University's Byrd Polar Research Center

, Bromwich has played a key role along with colleagues from the National Center for Atmospheric Research (NCAR)

in Boulder, Colo., and other institutions and agencies in building models that will accurately predict the fickle weather in Antarctica.
And it may be getting even better with the switch to a new forecasting model.
The Antarctic Mesoscale Prediction System (AMPS)

came online in 2000. NCAR, and Bromwich's polar meteorology group at Byrd Polar

designed the computer-modeling program based upon a polar-specific version of a numerical atmospheric model called MM5. AMPS provides images and other data in much greater detail and with more realism than previous forecasting systems.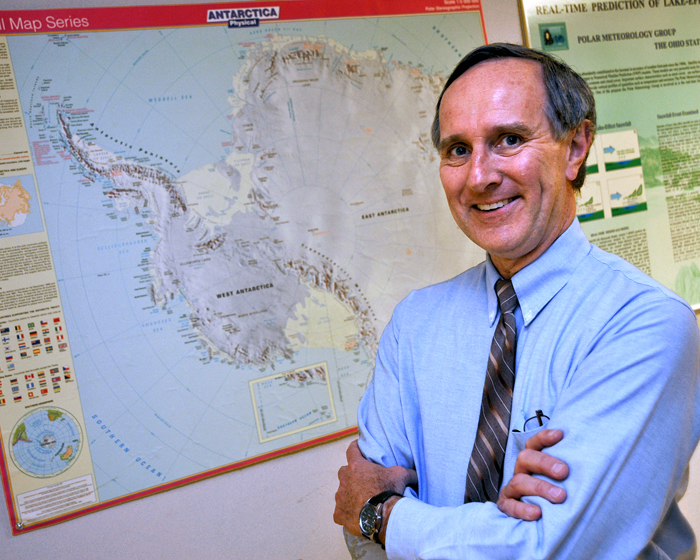 David Bromwich
AMPS allows users, such as forecasters, to examine graphs of weather variables like temperature, wind speed, humidity, clouds, and precipitation at various altitudes and at various times. A pilot, for example, can study how wind speed and direction change with altitude, allowing him to determine wind shear on an approach to landing.
"It's been doing remarkably well, actually," Bromwich said of AMPS." If you've traveled to and from McMurdo, you've been the beneficiary of this work. It's revolutionized the weather forecasting in Antarctica."
Mesoscale meteorology refers to weather systems with horizontal dimensions from about 5 kilometers to several hundred kilometers, such as a squall line. The AMPS scale ranges from about 2.2 kilometers to 60 kilometers, and includes data on not just Ross Island, but other regions around the continent, such as the Antarctic Peninsula.
But MM5 has given way to a new model used around the world called the Weather Research and Forecasting Model (WRF)

. The principal collaborators in the design of WRF include NCAR, the National Oceanic and Atmospheric Administration

, the Air Force Weather Agency (AFWA)

, the Naval Research Laboratory

, Oklahoma University and the Federal Aviation Administration

.
"WRF is a broadly based community effort," noted Peter Milne, Ocean and Atmospheric Sciences

program manager at the National Science Foundation's Office of Polar Program

. "The 'community' is the continuing collaboration between a wide range of university researchers, including Dr. Bromwich's group, the National Center for Atmospheric Research, together with [other agencies]."
WRF outperformed MM5 in more than 70 percent of lower latitude situations studied by AFWA, according to a press release from NCAR when the new computer model went live in 2006. For example, WRF depicts flight-level winds in the subtropics that are stronger and more realistic, improving turbulence guidance for aircraft.
The polar-based AMPS officially switched to WRF on June 30. Milne said that models like WRF and Polar MM5 rely on the network of Antarctic Automatic Weather Stations

overseen by the University of Wisconsin – Madison, as well as satellites.
"A fair amount of testing of the polar version of WRF — developed by this group — has taken place at NCAR, and shows equal or better skill to Polar MM5," Bromwich said. "We are undertaking a more rigorous evaluation of the Polar WRF performance that we intend to complete before Sept. 1. We expect the forecasting skill will improve from that already achieved."
Bromwich's meteorology group has already evaluated Polar WRF over Greenland and the Arctic Ocean, with work under way for Arctic land areas and Antarctica. "What will be nice is that this will be the first time such a polar model has been benchmarked across a very wide range of polar environments," Bromwich said.