| | |
| --- | --- |
| Photo Credit: NASA | The first flight of Operation Ice Bridge's Antarctic campaign flew Oct. 16, 2009, along the Amundsen Coast. The aircraft's downward-looking Digital Mapping System camera captured images of sea ice from an altitude of about 6,000 meters. |
NASA Ice Bridge
Airborne campaign over Antarctica to continue critical ice measurements
Posted October 23, 2009
A satellite launched by NASA

in 2003 to keep an eye on the massive ice sheets that cover the polar regions will soon reach the end of its operational lifetime. A second satellite, dubbed ICESat-II, won't launch until 2014 at the earliest.
That means a six-year gap for scientists who use the data collected by the satellite's laser altimeter system to monitor such things as elevation changes in the ice. Researchers use that information to understand not only how the ice changes over time, but to help calculate the amount of sea level rise from ice lost to the ocean.
NASA Ice Bridge
Blog

Twitter:
twitter.com/IceBridge

But NASA has a backup plan to bridge the gap — the largest airborne survey of Earth's polar ice ever flown.
Operation Ice Bridge

is a six-year mission to fly an instrumented airplane out of Punta Arenas, Chile, across the ice and snow of West Antarctica and the Antarctic Peninsula. A modified DC-8 jetliner

will crisscross ice shelves, sea ice, glaciers and the massive western ice sheet beginning this month.
Seelye Martin

, chief scientist for the project from the University of Washington

, said Ice Bridge is a partial replacement for ICESat

, which stands for Ice, Cloud and Land Elevation Satellite. The DC-8 will carry precision instruments to map the ice topography just as ICESat did, allowing scientists to monitor elevation fluctuations in the ice sheet as well as changes in sea ice thickness.
"We would be blind without these measurements of the ice sheet and sea ice elevations," said Martin during a NASA press conference on Oct. 8, a week prior to the first of 17 scheduled flights over the next month.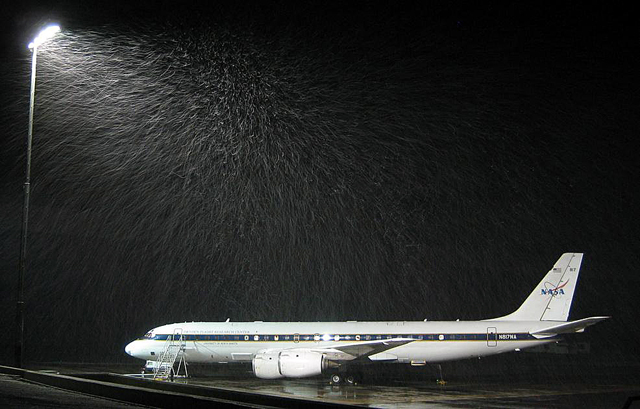 Photo Credit:
Stefan Elieff/Sander Geophysics
An unusual snowfall on Monday, Oct. 19, grounded the DC-8's third flight from Punta Arenas, Chile.
"Our motivation in these aircraft observations is based on our concern about contributions of the ice sheets to sea level rise," Martin said, noting that the Greenland ice sheet in the Arctic is losing 7 percent mass per year.
"We do not have a comparable number from Antarctica," he added.
Scientists estimate the West Antarctic Ice Sheet contains enough ice to raise sea levels by about six meters, similar to the Greenland Ice Sheet. The larger, thicker East Antarctica Ice Sheet holds enough ice to increase sea level by an estimated 60 meters.
While there is much uncertainty about how high the seas might actually rise by the end of this century, most scientists believe it will be at least half a meter. Many calculate that the true number is two or three times that — enough to flood low-lying areas, from New Orleans to Bangladesh.
"Ice Bridge is a really exciting opportunity for us, because NASA satellites have shown us how the ice surfaces are dropping and how the speeds of the ice sheets are increasing and losing mass," said Robin Bell

, a scientist on Operation Ice Bridge with the Lamont-Doherty Earth Observatory at Columbia University

, during the press conference.
"The problem with ice sheets is that you can't see through the ice sheet with satellites," Bell explained. "Ice Bridge is a unique opportunity to see through the ice and ask the question — really address robustly — why are the ice sheets changing?"
In addition to the two precision laser systems, the DC-8 will fly several radars developed by the Center for Remote Sensing of Ice Sheets (CReSIS)

at the University of Kansas

, a National Science Foundation (NSF)-funded Science and Technology Center

. [See Ice Bridge Instruments for a look at some of the technology being used for Operation Ice Bridge.]
The center's ability to meet NASA's requirements for Operation Ice Bridge is thanks to prior funding from the NSF and NASA, according to CReSIS scientists.
"It is only because of CReSIS we were able to develop advanced radars and antenna structure in a short time," noted CReSIS director Prasad Gogineni

, whose work in West Antarctica is also funded by the NSF under the auspices of the U.S. Antarctic Program (USAP)

.
The NSF, which is not directly supporting Operation Ice Bridge, did assist NASA with an environmental assessment of the project. The low-altitude flights, skimming the ice surface at about 450 meters, could have disturbed penguin and seal colonies, according to Polly Penhale, environmental officer for the NSF's Office of Polar Programs

, which manages the USAP.
Employing high-tech mapping techniques, the USAP was able to compare NASA's proposed flight plan against the location of known animal colonies around the Antarctic Peninsula so that the aircraft could fly higher over those areas to avoid any disturbances, said Nate Biletnikoff, Raytheon Polar Services Co. (RPSC)

environmental engineering department manager. RPSC is the primary logistics contractor to the NSF.
"The USAP did a great job of helping with the data … [it's a] great story on interagency cooperation in support of environmental stewardship," Penhale said.
Said Tom Wagner, cryosphere program scientist at NASA headquarters in Washington, D.C.: "This worked great. We let NSF know where we wanted to fly, and then worked with Dr. Penhale and her experts on how to arrange the flight lines to avoid flying near rookeries and other sensitive areas.
"In many cases, we simply rerouted; in others, we're flying at high altitudes over the area," he added. "In addition, all of the air crew was made aware of how to spot uncharted rookeries and avoid them."
About 50 people are involved in the airborne campaign, representing four NASA centers and five universities, according to Martin. The flights by NASA's DC-8 will focus on particularly sensitive areas, such as Pine Island Bay, where Pine Island Glacier has sped up over the last few years.
"Pine Island is a particularly sensitive area because much of the land on which the ice sits is below sea level," Martin said. "The rate of mass loss from this region is about a meter a year and may be increasing."
This year's airborne campaign is scheduled to be completed by mid-November.