| | |
| --- | --- |
| Photo Credit: Emily Stone/Antarctic Photo Library | The edge of iceberg B15A in the Ross Sea on Nov. 17, 2004. The iceberg largely choked off the normal wind and water currents into McMurdo Sound for several years. Now it appears the remnants of the berg may be headed toward New Zealand. |
Getting the drift
Icebergs spotted heading toward New Zealand may be same ones that once harassed McMurdo
Posted November 27, 2009
A large iceberg spotted about midway between Australia and Antarctica by scientists on Macquarie Island may be a distant relative of one of the big bergs that harried people and penguins earlier this decade near the U.S. Antarctic Program's McMurdo Station

.
Doug MacAyeal

, a glaciologist at the University of Chicago

whose expertise includes the breakup of ice shelves and movement of icebergs, said the two-kilometer-long berg seen earlier this month in the Pacific Ocean could be a remnant of one of the icebergs that drifted around McMurdo Sound between about 2001 and 2005.
"I don't specifically know... however, the notion that it is a bit that broke off of B-15A when B-15A exited the Antarctic is certainly plausible," MacAyeal said via e-mail. "B-15A broke up in the South Pacific [about 50 degrees south latitude] a year and a half ago. We lost our instruments at that point and could no longer track the iceberg."
Iceberg B-15 calved, or broke away, from the Ross Ice Shelf

in 2000. It was the world's largest recorded iceberg, with an area of about 11,000 square kilometers — larger than the island of Jamaica. It eventually splintered into a number of smaller bergs, the biggest being B-15A, at about 3,000 square kilometers.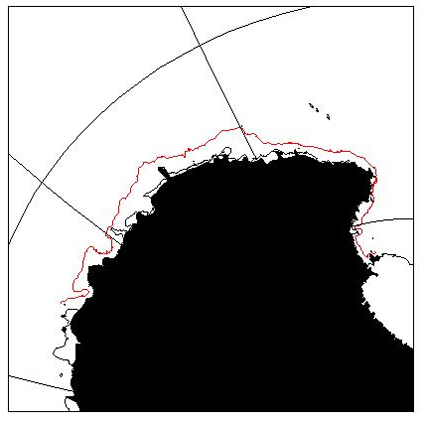 Graphic Credit: Doug MacAyeal
Iceberg C16 is still on the radar in this map showing its trajectory as of June 2009.
Another large iceberg, C-16, also calved away from the Ross Ice Shelf in March 2000. Iceberg C-19, the second largest iceberg to calve from the Ross Ice Shelf in recorded history, followed in 2002.
These icebergs and the sub-icebergs they created partly choked off McMurdo Sound for a few years. The bergs acted like a breakwater, blocking the normal wind and water currents from sweeping into McMurdo Sound with their full force, so the annual sea ice that formed in winter continued to build each year.
That ice-induced blockade made it particularly difficult for ships to access McMurdo Station for several seasons because of the difficulty of breaking a channel in the thick ice.
It also caused problems for penguin colonies on Ross Island because of the long trek from the colonies to open ocean where the birds go to get food for their chicks. Between 2001 and 2005, the Cape Royds Adélie colony produced very few chicks to fledging size, and the colony dropped roughly in half from about 4,000 mating pairs present before the icebergs came.
Massive icebergs are part of the natural cycle of the Ross Ice Shelf. The shelf pushes forward toward the sea, and large icebergs must calve off every 50 or 100 years. If not, the shelf would have reached New Zealand by now, MacAyeal had said previously.
In 2000 after B-15 was born, MacAyeal received a Small Grant for Exploratory Research (SGER) from the National Science Foundation

to instrument the floating block of ice to study its movement. Subsequently, he and his team placed GPS and automatic weather stations on several icebergs over the course of several field seasons.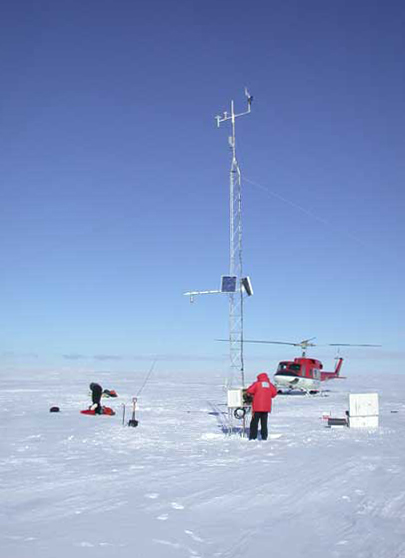 Scientists place a weather tower and GPS on iceberg B-15A to track its progress in 2003.
While B-15A fell off the radar more than a year ago, MacAyeal said he is still tracking C-16, which is near Law Dome, not far from Australia's Casey Station

.
"If all goes according to normal natural drift patterns, C-16 will exit the Weddell Sea into the South Atlantic and break up near South Georgia Island — some time in about five more years," MacAyeal noted.
MacAyeal's team is also following iceberg B-15J, a progeny of B-15, and it is following C-16's course.
After the Australian scientists on Macquarie Island spotted the large iceberg on Nov. 6, several more followed. At last report, a flotilla of more than 100 icebergs was headed toward New Zealand.
"From satellite images, we can see there is a whole group of icebergs, roughly spread over an area of 1,000 kilometers by 700 kilometers, moving with the ocean current away from Antarctica," said Australian Antarctic Division (AAD)

glaciologist Neal Young on AAD's news blog

.
"The larger icebergs seen from Macquarie Island are tabular in shape, which indicates they have calved relatively recently, probably from one of the massive icebergs which originally calved from the Ross Ice Shelf nearly nine years ago," he wrote.
Some icebergs live for decades, some break up very quickly after a year or two, according to MacAyeal, who has made 11 trips to the Antarctic.
"It all depends on when they escape the 'coastal current regime' of the Antarctic continental shelf and get sucked into the grand vortex of the Antarctic Circumpolar Current," he explained. "Once they're in the big current, they last until about the next summer."
NSF-funded research in this story: Douglas MacAyeal, University of Chicago, Award Nos. 0089902 and 0229546

.