| | |
| --- | --- |
| Photo Credit: Maggie Amsler | Kate Schoenrock, working at the sorting table in Palmer Station's aquarium facility, inspects Gymnogongrus turquetti for endophytes, which may act like a pathogen on the large brown algae. |
Page 2/2 - Posted May 21, 2010
Project teams veteran polar scientists and young researchers
The divers head into the murky coldness to collect samples for lab work at Palmer Station and back at their home universities, as well as for in situ studies. One experiment headed by PhD graduate students Kate Schoenrock and Ruth McDowell from UAB involves studying the relationship between the large algae and smaller, filamentous algae (referred to as endophytes) that live off the dominant seaweeds.
The scientists already know how the endophytes benefit from previous research: "You see them growing inside the large, chemically defended macroalgae," Amsler said. "They're living in there as a refuge from all these amphipods."
McClintock said that in an earlier experiment, which excluded the amphipods in a controlled environment, that "after several months, these [macro] algae look like they're covered with hair. … The amphipods are like these mini-lawnmowers that are keeping the macroalgae nice and clean and happier than they would be otherwise."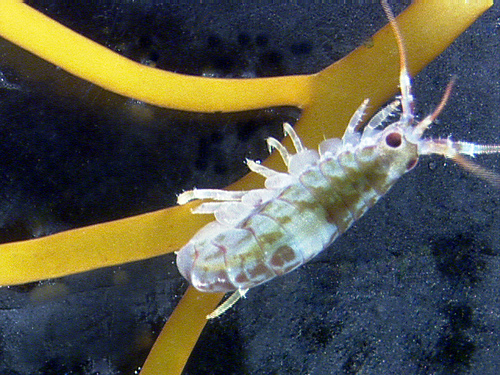 Photo Credit: Maggie Amsler
Gondogeneia antarctica is the most common and most active of the amphipods associated with Antarctic algae.
The next question is what effect do the endophytes have on the macroalgae? Maybe the relationship is one-sided, and the endophytes inhibit growth of the macroalgae by limiting the surface area available for photosynthesis. Perhaps they act as pathogens.
To test such hypotheses, the divers transplant specimens from the ocean onto a concrete substrate — a square block of concrete secured to the bottom — which they lower into the water with the help of lift bags filled with air. [For detailed description, see blog entry

by Schoenrock.] The researchers then monitor the growth and health of the brown algae attached to their artificial reef.
USF graduate students Alan Maschek and Jason Cuce are heading up some of the chemistry work, studying compounds in other marine organisms that appear to inhibit the amphipods' ability to molt, which prevents them from growing.
"That sort of thing has never been seen in a marine environment," Amsler said, adding that such a finding would represent a significant discovery in marine chemical ecology.
McClintock said that so far a sponge and a tunicate have both shown these potentially molt-inhibiting compounds
"They are very differently phylogenetically, and yet to both have evolved a compound that may be involved in tricking crustaceans in terms of their ability to molt would be very interesting," he said.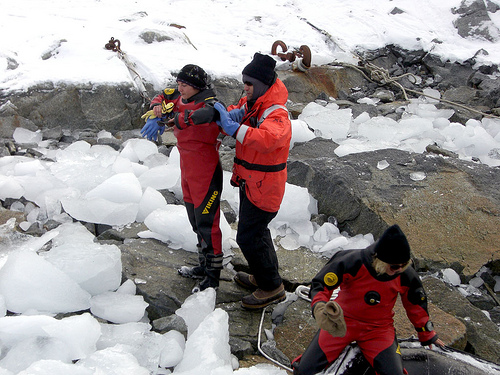 Photo Credit: Chuck Amsler
Alan Maschek zips Ruth Schoenrock into her dry suit as Kate McDowell gets into a Zodiac to head out for a dive.
Both Amsler and McClintock have a long history of working in Antarctica dating back to the 1980s. Amsler's wife, Maggie Amsler, a research assistant at UAB and member of the dive team, first went to the ice in 1979. Her mentor was Mary Alice McWhinnie, one of the first women to work in the U.S. Antarctic Program, at the time called the U.S. Antarctic Research Program. [See previous article: Stepping into history.]
Despite the collective years they share of living and working in Antarctica, the veteran scientists seem no less enthusiastic about their latest adventure than when they were graduate students. It's a passion they seem eager to pass on to the younger members of their team firsthand.
"We believe it's very important for the students to see the [marine] communities they're working on. So many of our ideas come from being in these really special communities," Amsler said.
Now on his third deployment, Maschek said he was inspired to be certified to dive after his first visit to the Ice.
"Diving down there is like no other experience I've ever had. It truly is mind-numbing as you drop down," he said.
Added Maggie Amsler on the day of her 52nd birthday, some three decades after her first trip to the Ice: "It's actually pretty wonderful that I'm doing this and keep getting opportunities to come down. … You never know where life is going to take you. For me, it seems that it takes me back here."
NSF-funded research in this story: Charles Amsler and James McClintock, University of Alabama at Birmingham, Award No. 0838773

; and Bill Baker, University of South Florida, Award No. 0838776

.Back 1 2