| | |
| --- | --- |
| Photo Credit: Tommy Cox | John Fegyveresi, Tommy Cox, Ryan Banta and Heidi Roop, from left, pack ice cores for transport back to the United States during the 2009-10 WAIS Divide field season. |
Page 2/2 - Posted August 20, 2010
Next up: Ice core at the South Pole?
The end of drilling this year isn't the end of the fieldwork.
WAIS Divide scientists hope to have at least two more field seasons before the camp is removed. In the first year, they will send instruments into the borehole that can, for example, detect volcanic ash layers in the ice that will be useful for helping date the core.
Next year they also plan to drop down a new type of instrument called a replicate coring drill that the engineers at UW-Madison's Ice Drilling Design and Operations

group are now designing and building. The following year they hope to continue with this instrument.
That system will send a drill down the WAIS Divide borehole to areas of special interest to scientists, such as sections of ice that contain a record of how changes in greenhouse gases influenced changes in climate. The smaller drill will fit into the original 17-centimeter-wide hole and will bore into the side of the original borehole to collect additional ice.
"It is like copying the most interesting sections of a book so more people can study it. Nobody has really done that before," Taylor said.
And after that?
"We're already talking about where to take the drill next," Taylor said.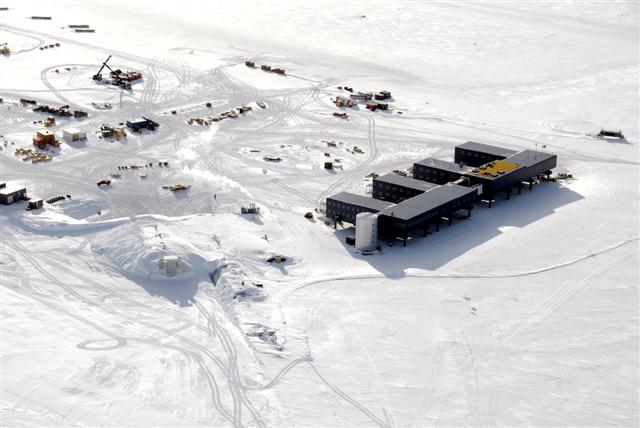 South Pole Station
Next up could be the South Pole, where the U.S. Antarctic Program

recently completed building a new research station

that could allow the next ice-coring project to be completed in 18 months instead of four years, according to Taylor.
The site could also offer an ice core as old as 120,000 years, from the last warm period when temperatures were slightly warmer than they are today but atmospheric levels of carbon dioxide were lower.
Scientists in Greenland just completed the North Greenland Eemian Ice Drilling project

that recovered a 2.4-kilometer-long ice core that covers a similar period. But Greenland ice cores can not be used to reconstruct CO2 records because there is so much dust in the Northern Hemisphere ice that it reacts with acids in the ice and compromises the CO2 records.
Taylor said the extreme cold at South Pole, where temperatures average about minus 50 degrees centigrade, are particularly good for preserving the gases trapped in the ice. By comparing the gas records from different ice cores, researchers can ensure the data truly reflect atmospheric conditions and were not influenced by how the gases are preserved in the ice.
Taylor said he expects the research community will begin submitting proposals for such a project by next year.
But that effort is still years down the road. Taylor is focused on getting to the bottom of the West Antarctic Ice Sheet before the WAIS Divide camp closes in January 2011.
"The finish line is essentially there," he said. "It feels great."
NSF-funded research in this story: Kendrick Taylor, Desert Research Institute, Award Nos. 0944191, 0440817, 0440819, 0944348, 0739780 and 0230396

. For a complete list of all funded projects related to the project, see the WAIS Divide webpage of funded projects at http://waisdivide.unh.edu

.Back 1 2