| | |
| --- | --- |
| Photo Courtesy: Helen Fricker | Helen Fricker in Antarctica doing fieldwork with GPS. The 41-year-old glaciologist was recently awarded the Martha T. Muse Prize for Science and Policy in Antarctica for her research, particularly involving subglacial lakes. |
Taking the prize
Fricker receives Martha T. Muse award for Antarctic research
Posted August 27, 2010
Most good researchers will tell you they got interested in science thanks to the encouragement of a teacher in their formative years.
Helen Amanda Fricker's

story is no different. A young, energetic female science teacher steered her into physics during Fricker's secondary education in the United Kingdom. She went on to get her Bachelor of Science in mathematics and physics from University College London (UCL)

in 1991.
At UCL in her final year, she took an Earth science course from Chris Rapley

, a lecturer who was leader of the Remote Sensing Group at UCL and would later become the director of the British Antarctic Survey

. That turned her attention toward Antarctica — and got her started on a successful career in glaciology.
Fricker, 41, was recently recognized for her achievements in polar science when she was awarded the 2010 Martha T. Muse Prize for Science and Policy in Antarctica

.
"I do feel pretty humble about it," said Fricker only a day after returning home from overseas to the Scripps Institution of Oceanography at the University of California-San Diego

, where she is an associate professor at Scripps' Institute for Geophysics and Planetary Physics

.
The $100,000 unrestricted award goes to an individual in the fields of Antarctic science or policy who has demonstrated potential for sustained and significant contributions that will enhance the understanding and/or preservation of Antarctica, according to the Martha T. Muse award Web site.
The nonprofit Tinker Foundation

awarded the prize, which the Scientific Committee on Antarctic Research (SCAR)

administers. Fricker will receive the prize at the American Geophysical Union

meeting scheduled for December 2010 in San Francisco.
Fricker said she is not sure at this time how she will use the money, except to say, "I will be using it to do things to benefit my research and my group."
In a short press release announcing the award, the Tinker Foundation said its goal is to establish a prestigious award that recognizes excellence in Antarctic research by honoring someone in the early to mid-stages of his or her career. Inspired by Martha T. Muse's passion for Antarctica, the prize is intended to be a legacy of the International Polar Year (IPY)

.
"Helen Fricker has always been a prolific, active researcher who seems to know just the next step that a certain data set or tool might make to tell us more about the cryosphere," said colleague Ted Scambos

at Boulder, Colo.-based National Snow and Ice Data Center

.
"She is a great collaborator, and a supportive and generous member of the polar community — always making sure everyone knows about the decisions that are made … always making sure everyone in a group has a chance to contribute," he added. "It's been a pleasure to work with her, and I'm looking forward to our next stack of ideas."
Scambos was a collaborator with Fricker on a 2007 paper in the journal Science that reported discovering bodies of water covered by Antarctica's vast ice sheets that were actively filling and draining. NASA's Robert Bindschadler

and Laurence Padman at Earth and Space Research

were also co-authors on the paper.
These subglacial lakes, while already known to exist, were found near the grounding line of the ice sheet, where ice meets the land before it floats off the bedrock, as well as farther upstream under the faster moving areas of the ice sheets called ice streams.
Using a laser altimeter system aboard NASA's ICESat (Ice, Cloud and land Elevation Satellite) satellite

, Fricker detected significant changes in the ice sheet's elevation over time that couldn't be explained by a change in tides — especially since the elevation swings were inland where the ice should have been grounded.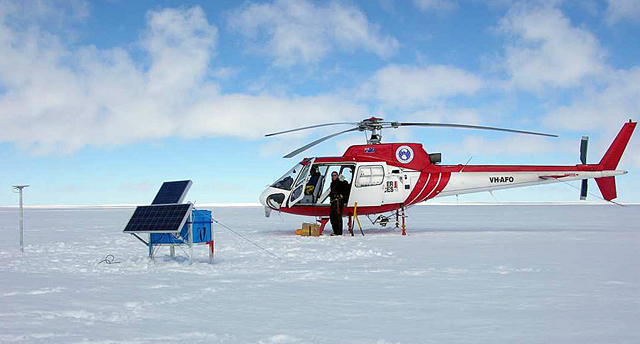 Photo Courtesy: Helen Fricker
A helicopter on the Amery Ice Shelf for a project involving Fricker's research lab.
"The key thing was the activity in the system. The lakes actually have this ability to move water very quickly from one reservoir to another," she explained.
And how can you learn about a lake that is under a kilometer of ice? "You're imaging the surface of the ice, but what you're really measuring is what's going on at the base. The detected signal is in response to the movement of water underneath the ice."
Scientists believe this subglacial waterworks underneath the ice may play a role in how quickly the ice hundreds of meters overhead flows into the sea. That has implications for sea-level rise, one of the key environmental concerns of the 21st century as the world's climate continues to change.
The work by Fricker and her colleagues on the subglacial lakes is part of the impetus behind an upcoming six-year program called the Whillans Ice Stream Subglacial Access Research Drilling (WISSARD)

project.
The WISSARD project will investigate the subglacial environment through three interconnected projects, which will involve drilling into one of the lakes discovered by Fricker and her team. She is also a principal investigator on the multi-million-dollar project, which involves nine institutions across the country.
While she has been to the Ice before — a trip to the Amery Ice Shelf in East Antarctica to perform a GPS survey for validating satellite data — Fricker does most of her research remotely, using satellites to get the wide-angle shot of environmental change at the poles.
"Satellites are absolutely essential," she said. "Antarctica and Greenland are just so large. You can get information about them from going into the field, but for the overall big picture, you really need remote sensing. To monitor something of that scale you need satellites."
NSF-funded research in this story: Jeffrey Severinghaus

and Helen Amanda Fricker, Scripps Institution of Oceanography at the University of California-San Diego, Award No. 0838885

; Helen Fricker, Scripps Institution of Oceanography at the University of California-San Diego, Award No. 0739769

; and Helen Fricker and Jean-Bernard Minster, Scripps Institution of Oceanography at the University of California-San Diego, Award No. 0337838

.