| | |
| --- | --- |
| Photo Credit: Gordon Hamilton | Glaciologist Leigh Stearns lands on Helheim Glacier in Greenland by helicopter in 2008. She and a team of researchers will employ similar methods to study Byrd Glacier in East Antarctica, which has displayed interesting behavior in the past. |
Getting into the flow
Scientists head to East Antarctic glacier to get handle on sudden ice surges
Posted October 29, 2010
Finding a glaciologist excited to talk about the weird and puzzling behavior of a glacier during a meeting of scientists focused on the West Antarctic Ice Sheet isn't very hard.
Except the conversation is about Byrd Glacier

, a massive river of ice that cuts through the Transantarctic Mountains and drains the East Antarctic Ice Sheet into the Ross Ice Shelf

.
The East Antarctic Ice Sheet is the higher and colder cousin of the West Antarctic Ice Sheet, which many researchers see as more vulnerable to changes in climate that could send more ice into the ocean, raising sea level. Nothing all that interesting happens in East Antarctica, right?
That was thought to be the case until a few years ago when Leigh Stearns

, now an assistant professor at the University of Kansas

, discovered that the monstrous Byrd Glacier demonstrated a sudden but short-lived burst of speed.
Stearns had been poring over satellite data to map mountain glacier velocities for her PhD when she noted that Byrd Glacier accelerated about 10 percent between 2005 and 2007. Based on the satellite record and imagery dating back to the 1960s, Stearns determined the glacier had flowed pretty steadily except for that one anomalous jump in speed.
The young researcher presented her findings at a meeting of the American Geophysical Union

in 2007. Another newly minted PhD, Ben Smith

at the University of Washington

, discussed his own discoveries at the same meeting: A pair of subglacial lakes upstream of Byrd Glacier had drained around the same time. It was too good a coincidence to ignore, Stearns recalled.
"It doesn't necessarily mean causality, but it seems like a pretty tight story that the water drained at the same time the glacier accelerated," she said.
Stearns published her results with Smith and her PhD advisor Gordon Hamilton

at University of Maine's Climate Change Institute

in Nature Geoscience in 2008. Their findings offered the first evidence that an active lake drainage system can cause large and rapid changes in glacier dynamics.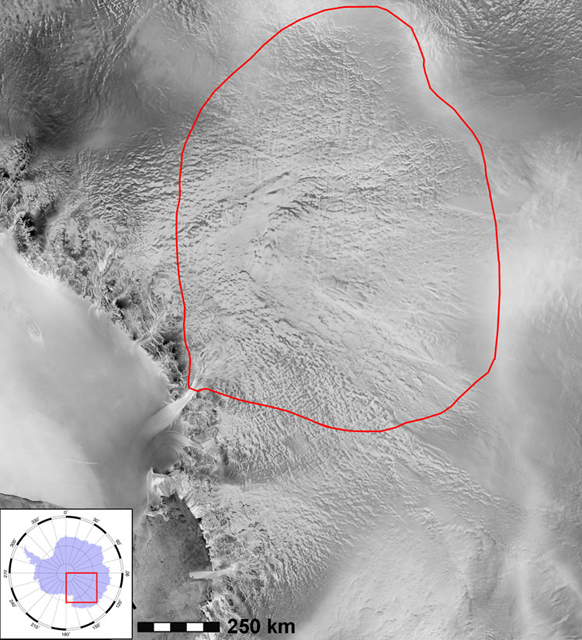 Graphic Credit: Leigh Stearns
Satellite map of Byrd Glacier shows the section of ice sheet that it drains into th.
Now Stearns will lead a small team this season to the huge, heavily crevassed glacier to install an array of high-precision GPS instruments on the surface to map its flow and velocity more precisely than is possible with satellite observations.
"We now know that Byrd Glacier is dynamic," noted Hamilton, a co-principal investigator on this new project to East Antarctica. "Now with GPS we can get changes in speed on a minute by minute basis. We'll most likely start seeing all sorts of unusual events taking place."
In recent years, scientists have discovered a vast network of lakes hidden under Antarctica's two ice sheets, which are divided by the spine of the Transantarctic Mountains. Most of the focus on this subglacial waterworks has been in West Antarctica, where researchers have observed similar filling and draining events under ice streams that flow into the Ross Ice Shelf along an area called the Siple Coast.
One hypothesis is that the water released by these lakes might "lubricate" the bed below the ice streams and glaciers, allowing them to flow faster.
In Greenland, where Stearns and Hamilton have worked for the last six years on its fast-moving glaciers, water melt at the surface drains through vertical channels called moulins to the bedrock. Those climate-driven changes are different from the apparently natural ebb and flow of the subglacial lakes, but the physics is the same, according to Hamilton.
"In both cases it causes glaciers to speed up," he said. "That means that you move ice at a faster rate from the ice sheet interior to the ocean and potentially cause a sea-level rise."
Byrd Glacier is relatively slow compared to its Greenland counterparts, moving about 800 meters per year versus speeds of more than 8,000 meters per year. However, Hamilton noted, Byrd flows about twice as fast as the Whillans Ice Stream in West Antarctica, one of the most closely studied of the Siple Coast ice streams.
Noted Stearns, "[Byrd is] one of the largest glaciers, and nobody has ever conducted extensive field measurements on it."
There are at least a couple of reasons for that. For one thing, most glaciologists have been busy in West Antarctica studying not just the ice streams but a pair of dynamic glaciers called Pine Island and Thwaites that empty into the Amundsen Sea.
Second, the big questions about glacier dynamics in West Antarctica call for big logistics — large field camps, tracked vehicles and winged aircraft.
"You can't do something like that on Byrd Glacier because it's much more crevassed and you can't travel around by surface means," Hamilton said. "It really requires the use of helicopters."
Hamilton and Stearns perfected that sort of glacier-hopping fieldwork in Greenland. It's a technique they believe will work just as well in Antarctica, where they'll install 31 GPS sites on the trunk of Byrd Glacier as well as over the subglacial lakes. Three sites will be on rock on the sides of the glacier while the rest will sit on ice.
"We've set up these things a gazillion times in Greenland but doing it when it's 50 degrees colder and windy will be interesting," Stearns noted.
The six-person team, which includes two mountaineers, will work out of the U.S. Antarctic Program's

largest research base at McMurdo Station

. It's a two-hour helicopter ride from there, meaning each trip south will involve two helicopters for search-and-rescue capabilities in case of an emergency.
The team will install the sites in November and collect most of them in February, leaving a few over the winter to collect data year-round.
The information from the GPS will not only reveal high-resolution details about the glacier's flow and velocity, but the researchers will be able to detect how quickly the glacier responds to a lake-draining event if one occurs by correlating ice elevation changes upstream to a quicker pace on Byrd's massive trunk.
"From that we'll be able to infer quite a lot about the structure of the basal drainage system, which is basically unknown for most of Antarctica," said Hamilton, referring to the region below the ice, which is up to 2,000 meters deep.
Stearns said the group will also compare Byrd to the faster glaciers in Greenland, perhaps figuring out why it moves more slowly despite similar size and slope. Are there "sticky spots" on the bed upon which the ice slides? And, just as important, they'll establish a baseline of data about a little-studied glacier that plays a big role in moving ice toward the sea.
"It's exciting that Byrd is doing something cool," Stearns said.
NSF-funded research in this article: Leigh Stearns, University of Kansas, Award No. 0944597

; and Gordon Hamilton, University of Maine, Award No. 0944087

.