| | |
| --- | --- |
| Photo Credit: Robyn Waserman/Antarctic Photo Library | Shiny, wet penguins jump up onto the ice after their feeding swim. A recent study says the Antarctic seabirds will not forage at night in order to avoid predators, a behavior rarely documented before in a marine animal. |
Night fears
Study finds penguins avoid foraging during evening hours to avoid predators
Posted July 8, 2011
Who is afraid of the night?
Antarctic penguins. And for good reasons to anyone who has avoided a dark alley late at night.
In a paper recently published in the journal Polar Biology, researchers David Ainley and Grant Ballard

suggest Adélie and emperor penguins make choices about foraging for food based on the risk of becoming the prey rather than the predator.
"This could explain why we have observed both emperor and Adélie penguins making seemingly unnecessarily long trips during migration, passing by areas with large food concentrations and selecting places that have at least a couple of hours of daylight every day, even in winter," said Ainley, a marine ecologist at H.T. Harvey and Associates

, an ecological consulting firm in Los Gatos, Calif., in a press release.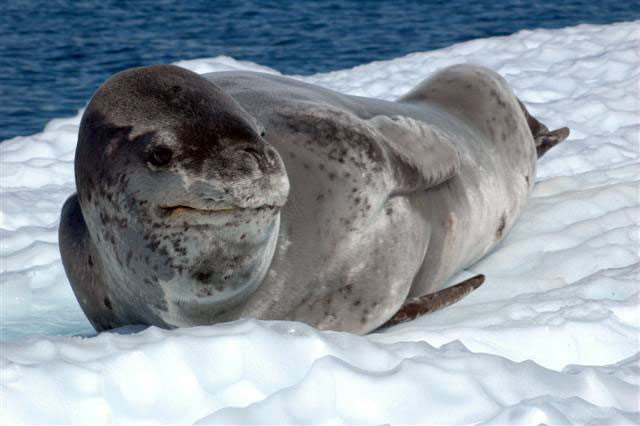 A leopard seal lounges on an ice floe during the day, a common behavior that allows penguins to forage during the day.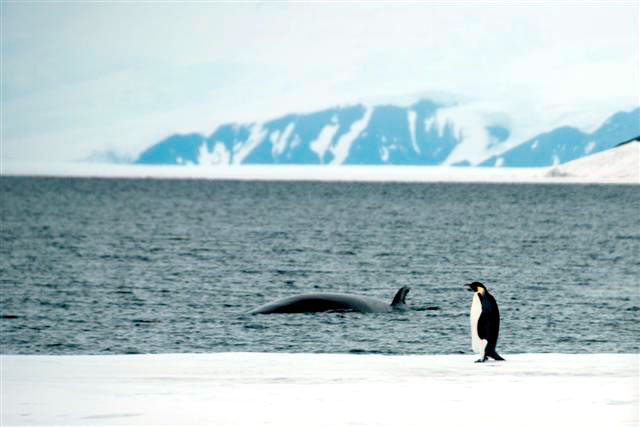 An orca swims by an emperor penguin standing on the sea ice edge.
The analysis by Ainley and Ballard evaluated the behavior of the two penguin species in the context of risk aversion. Although the penguins can find food successfully in dark conditions, such as those found deep under Antarctic sea ice, penguins do not enter or leave the water in the dark of night.
That's when the Antarctic seabirds are most susceptible to predation by leopard seals, or perhaps even orcas, also known as killer whales.
Changing a behavior to avoid risk is a pattern seen not just in penguins. Several species have shown behavior that suggests they balance predation risk with foraging success. For example, songbirds choose longer, more concealed routes to visit their nests to avoid being seen and eaten by predators.
However, such behavior has rarely been demonstrated in the marine environment, according to the authors, both of whom are funded by theNational Science Foundation's Office of Polar Programs

for research involving penguin colonies around Antarctica's Ross Island.
The authors warn that underestimating these sorts of ecological effects can make it difficult to understand why animals sometimes avoid seemingly ideal habitat (or select seemingly less-than-ideal habitat). They noted that such "non-consumptive, behavioral aspects of species interactions" have yet to be considered as important in Southern Ocean or other marine food webs.
That could affect scientists' ability to accurately predict shifts in species distributions and foraging or migratory behavior that are also affected by environmental change.
"Global climate change is forcing penguins to adjust their behavior to avoid new predation risks while still locating enough of their own food," said Ballard, a marine ecologist at PRBO Conservation Science

, a conservation organization in Petaluma, Calif., in a press release. "We are learning more and more that a piecemeal approach to marine conservation will not work — there are a lot of 'gotchas' lurking out there."
NSF-funded research in this story: David Ainely, H. T. Harvey and Associates, Award No. 0944411

; and Grant Ballard, PRBO Conservation Science, Award No. 0944141

.