| | |
| --- | --- |
| Photo Credit: Christopher McKay/Antarctic Photo Library | A researcher sets up an automated weather station in the McMurdo Dry Valleys. A possible future vision of research in Antarctica calls for a widespread observation network on the ground, in the ocean and in outer space. |
Page 2/2 - Posted October 7, 2011
NRC report: Continue fostering spirit of discovery and studying Antarctica's role in global climate processes
In particular, the Antarctic Peninsula is one of the fastest warming regions on Earth, where several ice shelves have already collapsed within recent years, allowing the glaciers that once fed into the ice shelves to flow faster. Other icy parts of West Antarctica are also melting and receding faster as changes in atmospheric circulation alter oceanic circulation, which affects the ice shelves and glaciers.
"How do you take a picture of that and figure out what's going on? You can't," Zapol said of the processes under way causing ocean water to thin ice shelves from below, allowing the glaciers behind them to flow faster toward the ocean, contributing to sea-level rise.
"It's not like watching Arctic ice melt away and black sea turning up. That's pretty obvious," he added. "How are you going to measure [Antarctica]? It's going to require fancy radars. It's going to require probably autonomous underwater vehicles. It's going to require ships."
The committee's most ambitious recommendation is to implement an Antarctic Observing Network, similar to what is being done in the warming Arctic with similar goals.
"An observing system to capture the nature of change in Antarctica and the Southern Ocean is essential to efforts to project how change will occur in the poles and globally," Bell noted.
The report recommends "establishing a new infrastructure for sustained observations capable of detecting and recording the full suite of environmental changes occurring over decades within the Antarctic system of atmosphere, oceans, land and ice; to further the understanding of the causes and mechanisms of change and develop the capability to predict the course of future changes; and to better manage the continent for future generations."
Some of those long-term observations are already under way. For example, the Antarctic automatic weather station network

started as a U.S. program in 1980 with only a few stations. It has expanded to more than 100 locations across Antarctica from 12 different nations. A network of GPS and seismic stations

has taken shape in recent years to monitor the movement of ice and the bedrock below.
Zapol noted that actually developing an observation network as proposed by the committee would require U.S. leadership but also the collective efforts of a broad coalition of national Antarctic programs, especially in today's more budget-conscious environment.
"It's doable. A lot of it needs international collaboration," he said, adding that a survey of Antarctic researchers identified the observing network, coupled with better computer models, as the No. 1 priority for the science community.
But the spirit of scientific discovery that began more than a century ago with the quest to find the magnetic South Pole by European explorers must also continue, according to the NRC committee report.
The committee identified several key questions related to future discovery, such as retrieving climate records found in ice and ocean sediments, studying the unique adaptations of polar organisms, and exploring the universe with ground-based telescopes from the South Pole.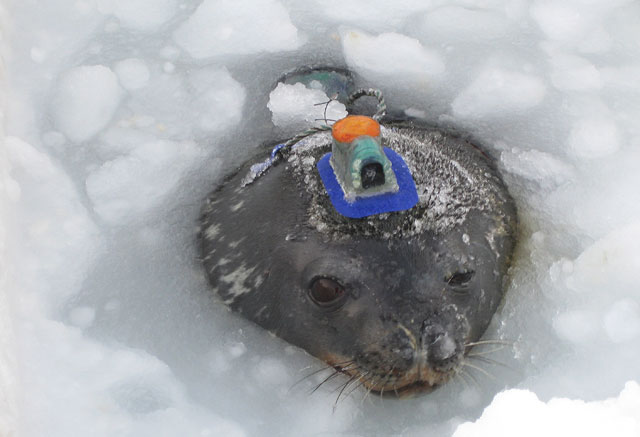 Photo Credit: Randall Davis
Weddell seal with camera on its head. Putting instruments on critters like this seal helps scientists learn more about the animal's behavior, as well as about the environment in which it lives.
"It's such a fount of discoveries. There are so many wonderful questions you can ask and get the answers to there," said Zapol, whose own research into the physiology of Weddell seals over nine field seasons between the 1970s and 1990s resulted in numerous findings about mammalian adaptations for diving.
His team also developed one of the first diving computers for their research. Zapol later went on to lead a team at Massachusetts General Hospital

that pioneered the treatment of hypoxic human newborns with inhaled nitric oxide, a technique now used to save the lives of ten thousand babies each year in the United States.
Based on the committee's survey, there are plenty of scientists waiting to make further discoveries. More than three-quarters of those who answered the questionnaire believe there are plenty of students ready to become the next generation of polar scientists.
"We have some very positive things in there. People really want to do this. It's such an amazing place, so maybe it's not so surprising," he said.
Borg said the NRC report, combined with the upcoming Blue Ribbon findings, will play an important role in shaping the nation's future priorities in Antarctic research.
"Once we have both reports in hand, I think we will then have a clearer picture of the potential future directions of the U.S. Antarctic Program

and the science support and logistics needed to achieve that vision," he said. "It's a good time to have this dialogue with both the U.S. science community and international collaborators."Back 1 2