| | |
| --- | --- |
| Photo Credit: Frank Nitsche/Lamont-Doherty | New discoveries about the seafloor topography off Antarctica's Thwaites Glaciers in West Antarctica has led scientists to predict melting will accelerate in the next 20 years. The study is the latest to confirm the importance of seafloor topography in predicting how these glaciers will behave in the near future. |
Glacial Retreat
Scientists predict big changes ahead for Antarctica's Thwaites Glacier
Posted November 18, 2011
The retreat of Antarctica's fast-flowing Thwaites Glacier is expected to speed up within 20 years, once the glacier detaches from an underwater ridge that is currently holding it back, says a new study in Geophysical Research Letters.
Thwaites Glacier, which drains into west Antarctica's Amundsen Sea, is being closely watched for its potential to raise global sea levels as the planet warms. Neighboring glaciers in the Amundsen Sea region are also thinning rapidly, including Pine Island Glacier.
The study is the latest to confirm the importance of seafloor topography in predicting how these glaciers will behave in the near future, according to a press release

from Columbia University's Lamont-Doherty Earth Observatory (LDEO)

.
Scientists had previously identified a rock feature off west Antarctica that appeared to be slowing the glacier's slide into the sea. But this study is the first to connect it to a larger ridge, using data collected during flights over Thwaites Glacier in 2009 under NASA's IceBridge

program, a six-year campaign to map vulnerable regions in Antarctica and Greenland with ice-penetrating radar and other instruments.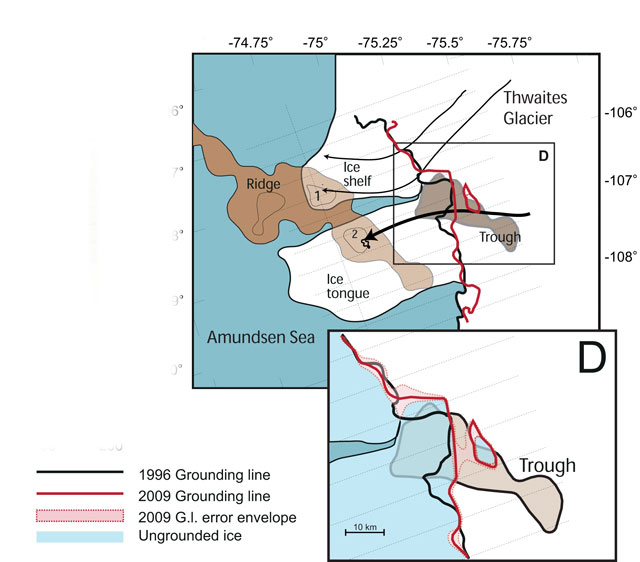 Photo Credit: Kirsty Tinto/Lamont-Doherty
Thwaites Glacier is currently pinned on the peak of a newly discovered underwater ridge.
Several of the instruments used in IceBridge were developed by the Center for Remote Sensing of Ice Sheets (CReSIS)

, a National Science Foundation

-funded Science and Technology Center. This year's IceBridge campaign over Antarctica also includes for the first time the Gulfstream V

, a research aircraft operated by the NSF and National Center for Atmospheric Research

.
The newly discovered ridge is 700 meters tall, with two peaks — one that currently anchors the glacier and another farther off shore that held the glacier in place between 55 and 150 years ago, according to the authors.
"We didn't know what the seafloor looked like there because the floating ice prevented ships from going into the area," said the study's lead author, Kirsty Tinto, a postdoctoral researcher at LDEO. The new data, she said, allows scientists to understand what is happening at the glacier's grounding line, where the glacier leaves land and floats into the sea, exposing the ice to warm ocean currents.
In 2009, researchers aboard the U.S. Antarctic Program's

research vessel Nathaniel B. Palmer

sent a robot submarine beneath Pine Island Glacier's floating ice shelf and discovered a ridge about half the size of the one off Thwaites Glacier. Researchers estimate that Pine Island Glacier lifted off that ridge in the 1970s, allowing warm ocean currents to melt the glacier from below. The glacier's ice shelf is now moving 50 percent faster than it was in the early 1990s. [See previous article — Rapid retreat: Discovery of seafloor ridge by robotic sub offers insight into ice loss in Antarctica.]
A land expedition supported by the U.S. Antarctic Program is planned to the Pine Island Glacier ice shelf during the 2011-12 field season. Researchers will use helicopters to land on the ice shelf, where they'll drill through about 600 meters of ice and send instruments into the ocean cavity to learn more about the water-ice interaction that is thinning the ice shelf. [See NSF press release

.]