| | |
| --- | --- |
| Photo Credit: ©Google, ©Digital Globe, ©GeoEye | The Mackay Glacier Tongue in Granite Harbor is one of the features that anyone with an Internet connection can now see in sharp detail thanks to an informal partnership between the Polar Geospatial Center and Google. |
Antarctica on Google
PGC teams with Internet giant to provide high-res imagery to the public
Posted December 9, 2011
Antarctica is finally on the map.
Google maps

, that is.
Of course, the southern continent has always been on Google maps and its popular Google Earth application. The problem was that much of the imagery was about as sharp as the graphics in Pong, one of the earliest arcade video games.
But Paul Morin

and his mapmakers at the Polar Geospatial Center (PGC)

at the University of Minnesota

are doing all they can to change that with the cooperation of the Internet giant.
Find Antarctica on Google
"They've helped us update almost 1,000,000 square kilometers of imagery for both poles," said Morin, principal investigator for PGC, which started in 2007 to provide high-resolution maps and satellite imagery to the U.S. Antarctic Program

for research and operational purposes. More recently, PGC has added the Arctic to its mission, funded mainly by the National Science Foundation

.
The informal partnership took shape about a year ago, facilitated by a Google employee on sabbatical who worked a summer season at the South Pole Station's

computer help desk.
Morin and his team of mostly students provide Google with a list of Antarctic regions — from the ice-free McMurdo Dry Valleys

to ice shelves to subantarctic islands — that are scientifically and logistically important.
"Every three months, we choose another 275,000 square kilometers," Morin said of a continent that's more than 14 million square kilometers, about the size of the United States and Mexico combined.
"We can't map Antarctica with 12 people. I will take help from where it will come, and Google has the right tools and the right people and the right attitude at the right time," Morin said. "It's just extraordinary to hand them a list of places that researchers have wanted to see for decades in Marie Byrd Land, [for example,] and it pops up in a couple of months."
A Google spokesperson said as part of the company's efforts to ensure it has an accurate representation of the real world, it often works with third-party organizations who are on-the-ground experts to help it learn about and understand certain regions.
"In the case of Antarctica, [PGC] is one of a few organizations that help us improve our imagery and base data in the Antarctic region," she said. "The PGC has been a valuable resource to us as we aim to provide our users with the richest, most up-to-date maps possible."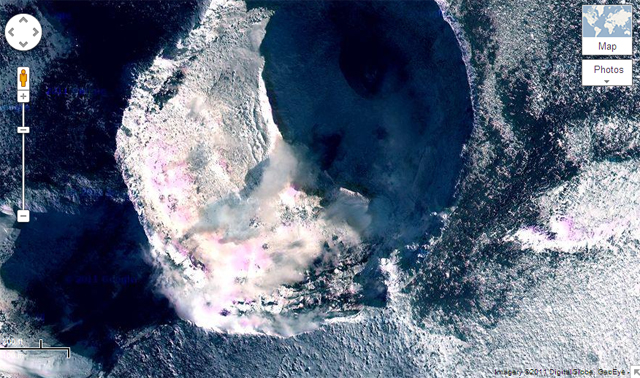 Photo Credit: ©Google, ©Digital Globe, ©GeoEye
The cone of Erebus volcano on Ross Island as seen on Google maps.
The imagery is a slightly lower resolution version than what PGC receives from the National Geospatial-Intelligence Agency

. The NGA imagery is reserved for federally funded projects and agencies, according to Morin. Google licenses the imagery for public use.
"A high-end glaciologist, someone doing logistics, and the 13-year-old on Google Earth in his bedroom are all on a level playing field now. That's the extraordinary thing," Morin said.
Aerial photos taken by Navy airplanes dating back to the 1950s are also being added to Google Earth. So, for example, someone interested in Lake Bonney in the Dry Valleys can use a slide tool to travel back in time to 1957 to see how the lake level has changed over the decades.
The idea is that scientists and other USAP users can employ tools like Google Earth first before seeking out even more detailed imagery and maps from PGC, according to Morin.
"Google has been so incredibly helpful," he said.
PGC has acquired imagery of more than 80 percent of the polar regions, including Siberia, Canada, Greenland and subantarctic islands at half-meter resolution. That's good enough to see individual rocks or tents on the ground. Cartographers at PGC then take those satellite snapshots and convert them into highly accurate maps, some of which have been geo-referenced with high-end GPS.
"Now that we have a good picture of the continent, we're in a good position to improve the accuracy of all of the Antarctic names," said Morin, explaining that the majority of place names were tagged before GPS and the era of high-resolution imagery.
PGC maintains a satellite office at McMurdo Station

during the summer field season from October to February to provide research teams and logistics planners with imagery and maps with near-real-time capability.
Meanwhile, Morin will head to the Antarctic Peninsula this year to geo-reference existing imagery to improve map accuracy. High-precision GPS will bring accuracy from being off by as much as 30 meters to less than a meter.
"We start knowing where an outcrop is within a horizontal accuracy about the size of a coffee table," he noted. "That's what we can do when we get enough points in the right place."
The imagery is not just a useful tool for observing calving from ice shelves or for scouting a location for a field camp. Scientists are using it as a tool for research, such as monitoring penguin colonies from space based on the discoloration on snow from bird excrement or counting the number of seals clustered around a crack in sea ice.
"Imagery can free biologists from working in one place," Morin said. "We're pretty much working with everyone directly or indirectly."
NSF-funded research in this story: Paul Morin, University of Minnesota, Award No. 1043681

.