| | |
| --- | --- |
| Photo Credit: ©DigitalGlobe Inc.; Image provided by National Geospatial-Intelligence Agency Commercial Imagery Program | A satellite image shows chinstrap penguin colonies at Baily Head, Deception Island, in 2003. The white patches are the colonies. Researchers are using high-resolution imagery shot from satellites to find, count and assess the population health of penguin and seal colonies around the Antarctic. |
Eyes in the sky
Scientists use satellites to track health of seal, penguin populations in Antarctica
Posted February 17, 2012

Penguins from outer space. Sounds like the title of some new B-movie science fiction film starring Vin Diesel.
But polar researchers are increasingly using high-resolution imagery shot from orbiting satellites to find, count and assess the population health of penguin and seal colonies around the Antarctic.
"The satellite imagery is the most important advancement in my field since satellite tagging. I think it's an absolute game-changer," said Heather Lynch

, an assistant professor at Stony Brook University

involved in a long-term census survey of brushtail and crested penguins around the Antarctic Peninsula.
"Suddenly, we know what we don't know," Lynch explained. "We can look through the imagery and find colonies that we never knew existed, and look at population changes at colonies that were either inaccessible because of their location or they were impossible to census because of their size."
Lynch is an active user and advisory member of the Polar Geospatial Center (PGC)

, based at the University of Minnesota

. PGC has access, through the National Geospatial-Intelligence Agency

, to commercial satellite imagery with half-meter resolution — about the breadth of a man's shoulders. The National Science Foundation

-funded center provides high-resolution imagery and maps for U.S. Antarctic Program

research and operations.
The main point of contact for all those users is Michelle LaRue

, a research fellow at PGC whose interest in wildlife ecology has segued nicely with the remote sensing work. She has collaborated closely with Antarctic researchers involved in studying the polar region's most iconic animals, including Weddell seals and emperor penguins.
LaRue was the lead author on a paper published last year in the journal Polar Biology that argued that satellite imagery is a reliable way to assess seal abundance and population trends. She counted seals in pictures in collaboration with a research group from Montana State University (MSU)

that conducts an annual population census of Weddell seals in McMurdo Sound around an area called Erebus Bay.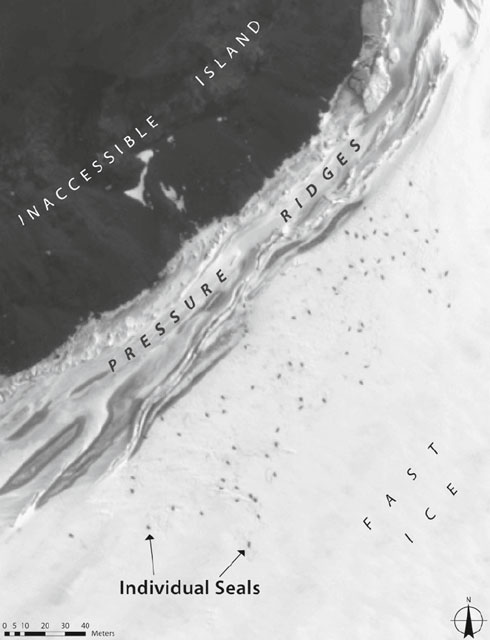 Photo Credit: ©DigitalGlobe Inc.; Image provided by National Geospatial-Intelligence Agency Commercial Imagery Program
Satellite image of Weddell
seals hauled out east of Inaccessible Island, Erebus Bay, Antarctica.
[See previous article —
Sealed and delivered: Long-term population study of Weddell seals makes some 'super' discoveries
.]
"The counts are highly correlated, which basically means what we're seeing in the satellite images is representative of what's on the ground at the same general time," said LaRue, who is working on a PhD in conservation biology at the University of Minnesota.
Robert Garrott

, principal investigator for the MSU team, along with Jay Rotella

, also a professor in MSU's Ecology Department

, said the collaboration is beneficial to both sides.
"We can ground truth and help refine Michelle's algorithms and her ability to actually count seals on the ice," he said. In turn, the satellite technology and associated methodology will help the project expand beyond Erebus Bay without chartering an expensive research vessel.
"We can start asking questions about seal population and ecology over larger spatial scales without all the logistic support," Garrott said.
Lynch is certainly a believer in the technology. She and colleagues have a paper in press with Polar Biology outlining their methodology to use satellites to survey colonies of Adélie, chinstrap and gentoo penguins around the Antarctic Peninsula. The latter species is thriving as the Antarctic Peninsula region warms, while the other two are in steep decline. The paper also includes work on a crested penguin known as a macaroni, with a prominent yellow crest that looks like long, wild eyebrows.
Detailed counts of the penguins around the peninsula are inherently more difficult than the seal census. The large, dark bodies of the Weddell seals stand out starkly on the white sea ice. The terrain on the islands around the peninsula, on the other hand, is generally dark and snow-free in the summer months where the birds breed and raise their young.
A combination of extensive fieldwork and familiarity with each species' ecology helped with interpretation of the satellite pictures, according to Lynch, a co-principal investigator on the Antarctic Site Inventory program, which was started nearly 20 years ago by Ron Naveen, head of the nonprofit science and education organization Oceanites Inc.

[See previous article — The big picture: Broad-scale study suggests sea ice not driving changes in penguin populations.]
"The remote sensing stuff is pretty incredible," Naveen said. "We're not quite putting our on-the-ground work out of business, which I'm happy about because I really enjoy doing it, but it's really an amazing supplement to what we've been up to for many years."
The imagery is also a valuable tool to the group's fieldwork, which spans more than 140 locations around the Antarctic Peninsula. "We were able to find penguins that were not on maps previously," Lynch noted. "It's going to make the time we spend in the field much more efficient."1 2 Next