| | |
| --- | --- |
| Photo Courtesy: Michelle Brown | Austin, Texas middle school teacher Michelle Brown hikes near McMurdo Station shortly after arriving in Antarctica as a participant in the PolarTREC program, which brings together polar researchers and teachers to help strengthen science curriculum in the classroom. |
Remote assignment
Middle school teacher heads to the end of the world for science education
Posted March 9, 2012

On Nov. 9, I stepped away from my eighth-grade classroom at O. Henry Middle School

in Austin, Texas, and made my way to the icy worlds of McMurdo Station, South Pole Station

and a remote site on the Antarctic plateau called AGO 4. I was participating in the PolarTREC program

, which brings together polar researchers and teachers to help strengthen science curriculum in the classroom.
My initial impressions of Antarctica were striking. Stepping onto the ice from the belly of a huge military cargo plane, I was hit with a blast of cold air and blinding light. To the north and east were hundreds of miles of sea ice, to the south and west were snow-covered mountains. My adventure had begun.
As we left behind the sea ice and drove into McMurdo Station, the landscape grew more familiar. Dirt roads, vehicles and buildings made McMurdo feel more like a small mining town than an isolated research station.
Robert F. Scott and his men first built on Antarctic soil in 1902, when they erected a shelter called Discovery Hut. It wasn't until 1955 when the U.S. Naval Air Force constructed a base near the hut that McMurdo Station was established.
Over the years, the station grew, and humans altered the environment around them. Unusable goods such as oil drums and derelict vehicles were dumped into the icy waters of McMurdo Sound, landfills were added as more waste was produced, and untreated sewage flowed out into McMurdo Sound.
The Antarctic Treaty System

, an international agreement to protect Antarctica both politically and environmentally, helped change this pattern by adopting the Protocol on Environmental Protection to the Antarctic Treaty

, which includes procedures to curtail pollution.
Instead of dumping trash into landfills at McMurdo, waste is carefully sorted and shipped back to the United States. In 2001, a sewage treatment plant was established and now only treated water is pumped back into the sea. There are strict protocols on avoiding and cleaning up fuel and chemical spills, and wind turbines were recently installed to lower fuel dependency for power.
To help ensure McMurdo is not reversing course, a research team from Texas A&M University

, led by principal investigator Mahlon Kennicutt

, annually monitors the level of pollutants like trace metals and hydrocarbons in the sediment. I had the incredible opportunity of spending four weeks with this team, assisting them in their research while reporting what I was learning back to my classroom through an online journal and live video chats.
We began by collecting sediment samples on the seafloor where debris and sewage have affected the ecosystem. To access the seafloor, we used a large machine to drill a dive hole through the six-foot-thick sea ice. A dive hut was dragged over the hole to allow divers to stay warm and keep the hole from freezing shut.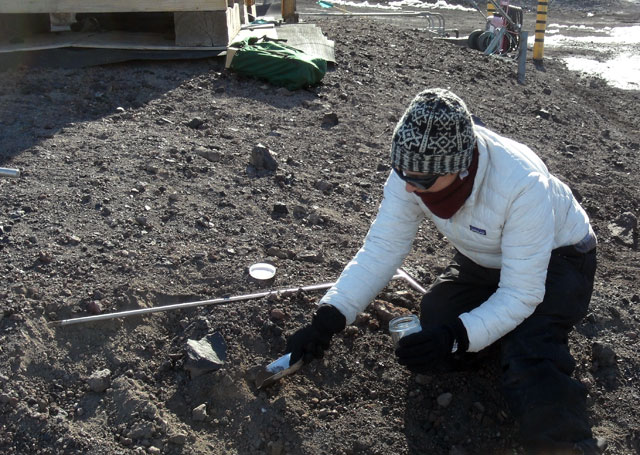 Photo Credit: Terry Palmer
PolarTREC Teacher Michelle Brown scoops up soil samples to be analyzed for pollutants.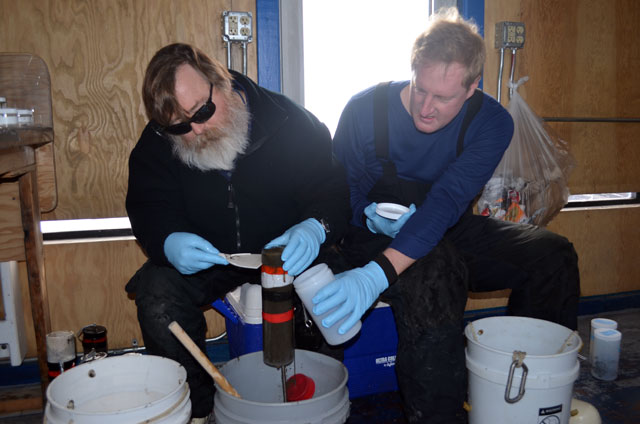 Photo Credit: Michelle Brown
Texas A&M scientists Steve Sweet, left, and Andrew Klein handle a sediment sample from the seafloor.
Terry Palmer

, our team member from the Harte Research Institute at Texas A&M Corpus Christi

, along with Steve Rupp, a professional diver with the U.S. Antarctic Program

, dove into the 28-degree Fahrenheit water wearing insulated dry suits to stay warm. They returned with sediment samples and marine organisms, whose tissues will also be tested for pollutants. I was fascinated by the variety of life that would surface from the dark, icy waters: bright orange starfish, lanky sea spiders, and slimy polychaete worms were just some of the creatures that emerged.
We also collected sediment samples nine miles north of McMurdo Station at Turtle Rock. As we approached the sampling site, I noticed large dark shapes dotting the ice. About 50 Weddell seals, mostly mothers nursing their pups, greeted us. I was mesmerized by the seals and sat for hours watching them bask in the sun and listening to their grunts and strange creaking noises.
After our team collected sediment samples from the seafloor, we moved onto land. A computer program randomly selected sampling locations around McMurdo Station, including areas that had a higher likelihood of chemical or fuel spills.
Andrew Klein

, the leader of our research team and a geography professor at Texas A&M University, and Joni Kincaid

, his graduate student, taught me how to locate sampling spots using a GPS. We collected sediment samples and shipped them back to Texas A&M University to be analyzed for contamination by senior research associate Steve Sweet

.
Our research team needed to collect sediment samples away from McMurdo Station to compare our results. We took a helicopter to Cape Bird, which sits on the opposite side of Ross Island, about 35 miles north of McMurdo Station. We passed by Mount Erebus, an active volcano, and miles of pristine ice to land on a rocky coast that had a strange and distinct mottled appearance.
The Cape Bird penguin rookery is occupied by about 35,000 pairs of breeding Adélie penguins. We collected sediment samples away from the rookery and spent the afternoon watching penguins. The short, sometimes clumsy birds would walk right by me as they traveled from their nests into the ocean.
After our sampling work was done, the Texas A&M group prepared for their return to Texas. I prepared for my next adventure: traveling to the South Pole and a remote field site.1 2 Next