| | |
| --- | --- |
| Photo Credit: Jeff Otten | Mushrooms were discovered growing earlier this year on Amsler Island near Palmer Station. The discovery is a rare but not unheard of phenomenon. Still, the find will be examined to see if the species is native to the area or part of an ongoing biological invasion caused by climate change and human activity. |
Mushrooming problem?
Fungi makes rare appearance near Palmer Station
Posted March 26, 2012
Jeff Otten has spent eight seasons at Palmer Station

since 1998, and he was more than a little surprised to see the photos brought back from nearby Amsler Island off the Antarctic Peninsula.
A week later, he went to see the mushrooms for himself.
"It was pretty amazing to see mushrooms growing around here," said Otten, who works in the station's small IT department during the summer field season. "I would not have thought they could grow here, but that's obviously not the case."
Less than 1 percent of Antarctica is not covered by ice, so there are few places for plants and fungi to grow. In fact, there are only two species of flowering plants, Antarctic hair grass (Deschampsia antarctica) and Antarctic pearlwort (Colobanthus quitensis). Most of the vegetation — found on the more northerly islands off the wetter and warmer western Antarctic Peninsula — consists of so-called lower plant groups such as mosses, lichens and fungi.
There are about 20-odd species of macro-fungi that have been reported to exist in the Antarctic, according to the British Antarctic Survey (BAS)

, which has several research stations around the peninsula region. In addition, there are about 100 species of mosses, 25 species of liverworts and upwards of 400 species of lichen.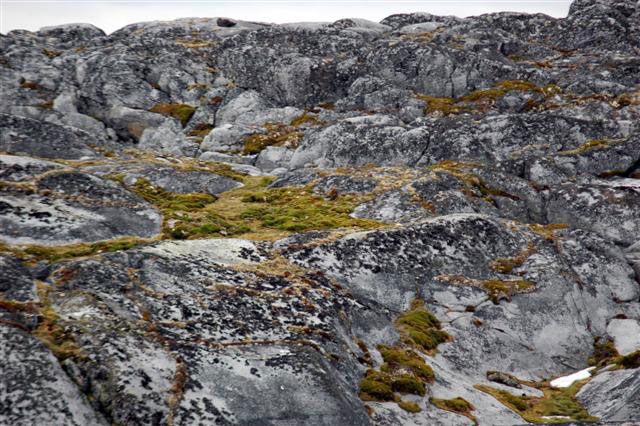 Lichen covers the surface of a rocky island near Palmer Station.
The mushrooms found on Amsler Island, which sits at about 64 degrees south latitude, is not the farthest south location recorded for fungi. BAS researcher Ronald I. Lewis Smith, in a paper published in an anthology called Foundations for Ecological Research West of the Antarctic Peninsula, reports mushroom spores have been found under rocks and amongst moss at Rothera Point, located at about 67 degrees south latitude.
Anecdotally, Smith wrote spotting the southernmost fruiting body of fungi — the familiar cap and stem — on Leonie Island, also around 67 degrees south latitude.
Alexandra Isern, program director for Antarctic Earth Sciences

in the U.S. National Science Foundation's Office of Polar Programs

, was among the party that first discovered the mushrooms on Amsler Island. Plans are under way to send a sample to Robert Blanchette

, a professor at the University of Minnesota

and head of the school's Forest Pathology and Wood Microbiology Research Laboratory

.
Blanchette's team has studied the molds and fungi that grow in the historic wooden structures that early explorers built in Antarctica during the turn of the 20th century. They have also examined the microorganisms living in another historic structure, East Base, the oldest extant U.S. Antarctic station, built in 1940 on Stonington Island in the Antarctic Peninsula area. [See previous articles — Scientists tackle Antarctic mold: Study contributes to effort to restore historic buildings around the continent.]
Blanchette said he is waiting to receive the samples to identify them.
"We will be isolating DNA from them and sequencing them to determine what they are," he said via email. "Once we get them identified, we will be able to better answer if these are an introduction or native to the area."
Blanchette said specific conditions are required to produce the fruiting bodies of the mushroom.
"The conditions on Amsler apparently were just right for fruiting to take place this year," he said. "The fungus could have been growing in the soil for many years and just never had the proper conditions to fruit — so it was not previously ever seen."
The Antarctic Peninsula is warming up faster than just about anywhere else on the planet, with average winter temperatures 6 degrees Celsius higher than they were six decades ago. Climate change appears to already be affecting the marine ecosystem, as National Science Foundation-funded researchers document shifts in species, as conditions change that favor subantarctic or temperate species, from phytoplankton to penguins.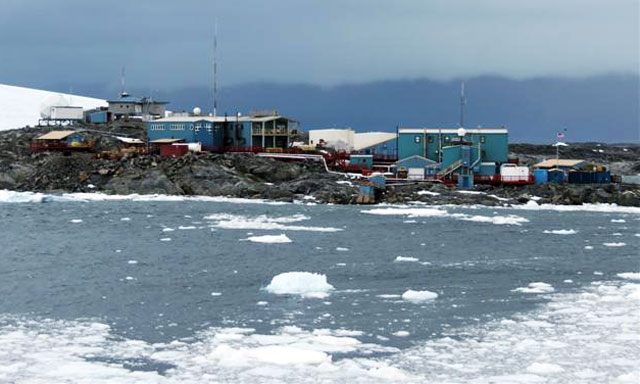 Palmer Station
Other species appear to be invading. Scientists have recently reported findingthat a species of king crab is slowly creeping from its deep ocean habitats onto the continental slope as the waters slowly warm, threatening marine communities that have evolved over millions of years without the pressure of shell-crushing predators. [See previous article — Crushing blow: Scientists investigate invasion of shell-breaking crabs in West Antarctica.]
And earlier this month, an international team of scientists published a study in the journal of the National Academy of Sciences that offered the first continent-wide assessment of invasive species in Antarctica. The study found that alien plant species are increasingly hitchhiking their way to Antarctica on scientists and tourists, according to a press release

from the Australian Antarctic Division

.
In 2007-2008, during the International Polar Year

, researchers from Australia, South Africa, the Netherlands, France, Japan, United Kingdom and Belgium sampled, identified and mapped the seeds carried into Antarctica by about 1,000 visitors. They found an average of just below 10 seeds in the clothing and equipment of each person surveyed.
"At the moment our findings predict that the ice-free areas along the western Antarctic Peninsula are the most likely places for weed species to arrive, and this is what we find is happening on the ground," said Australian Antarctic Division terrestrial ecologist Dana Bergstrom, a co-author on the study.
"However, we think that in another 100 years, as the climate warms and glaciers retreat, other areas will also be at risk including other parts of the Antarctic Peninsula, the Ross Sea and East Antarctic coastal regions."
Incidentally, Amsler Island, where the mushrooms were discovered, was once thought to be part of Anvers Island, home to Palmer Station, before the collapse of an ice bridge revealed it was a separte body of land. Researchers have suggested that warming temperatures are to blame for the collapse of the ice and retreat of local glaciers.