| | |
| --- | --- |
| Photo Credit: Sam Bowser | A "primitive" foramanifera attacks a juvenile starfish. Scientist Sam Bowser believes early-evolving forams played a role in the evolution of multicellular life hundreds of millions of years ago. |
Page 2/2 - Posted April 13, 2012
New Harbor also offers insight into how Antarctica may look in the future
The how and why of foraminifera behavior and ecology is a constant topic at the New Harbor field camp on the shore of Explorers Cove, where Bowser and his team typically spend two months every Southern Hemisphere summer in a revamped Jamesway tent that serves as bunkroom, kitchen and living room.
What's not always typical are the field team members who join Bowser from year to year. A believer in combining art and science, Bowser invited landscape painter Laura Von Rosk

to join him on this past season's expedition, which involves divers plunging through holes in the sea ice and collecting sediments from the seafloor down to about 20 meters.
Later, under the microscope, the violent realm of the forams is revealed to the eye.
"Being immersed in somebody else's research is a unique experience," Von Rosk said while shoveling bits of ice out of a dive hole on a warm Antarctic summer day. "It's like stepping into somebody else's world."
"It's very intense living with six other people – and I mean that in a good way, too," she added.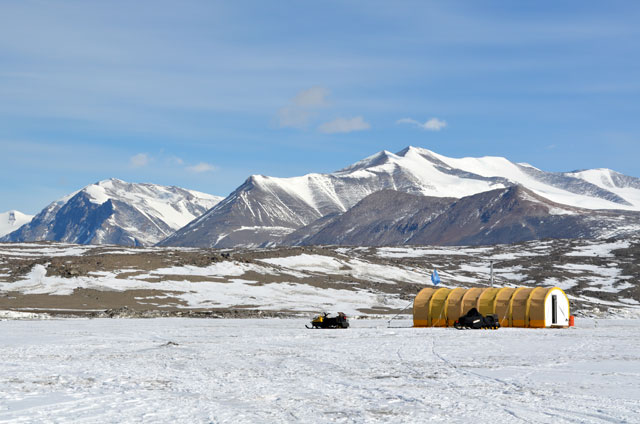 Photo Credit: Peter Rejcek
Two snowmobiles are parked near a tent on the sea ice that is used by the team as a dive locker for storing scuba equipment.
It's also been a learning experience for Danielle Woodward, a recent marine science graduate from the University of Hawaii at Hilo

who has been scuba diving since she was 12 years old. She got certified in dry suit diving on the tropical island before going to Antarctica for the 2011-12 season.
Diving in water just below the freezing point takes a lot more energy than swimming through the bathtub-warm waters of Hawaii, Woodward said. Not to mention the physical struggle of squeezing into a dry suit, the skintight hood and the lobster-claw gloves.
"It takes about 45 minutes for us to get in our gear," she said. "By the time you get your work done and back to the surface, you're whipped."
One of her principal jobs while under water is to drill shallow sediment cores, which the researchers will use for both physical counts of forams and more high-tech genetic sequencing techniques to identify species. Most of the work is done at depths of less than 25 meters.
"When you're coring, you're not necessarily pushing the depth, you're pushing the time. It takes the entire dive just to core. Then you have to bring up the cores," Woodward said.
One of her favorite dive spots is a place called Ice Wall, where a chunk of ice from the last ice age, which peaked around 18,000 years ago, is preserved under the water.
But Explorers Cove isn't just a place to understand the past, Bowser repeatedly insisted, thinking beyond foraminifera. The relatively ice-free coast and the misshapen ice — cracked and dirty with sediment, with moats of fresh water snaking along the shore — could be a picture of Antarctica in the not too-distant future as the ice sheets and glaciers recede.
"This could be a real model of what we expect Antarctica to look like," Bowser said. "I think this is a very important place, and I think much smarter people than me should come in and take a look at it. I have a nice camp all set up."
He added, on a more serious note: "Without good knowledge of the present, you'll never figure out the past. Nor will you ever be able to confidently predict the future."
NSF-funded research in this story: Sam Bowser, New York State Department of Health, Award No. 0944646

.Back 1 2