| | |
| --- | --- |
| Photo Credit: Ryan R. Neely III/Antarctic Photo Library | A clean air-monitoring instrument at the South Pole Station measures for CO2 and other atmospheric constituents. NOAA scientists recently reported CO2 hit 400 ppm in the Arctic. Researchers expect the South Pole's Atmospheric Research Observatory to be the last place on Earth to measure 400 ppm in about seven years. |
Going up
CO2 hits 400 ppm in Arctic, with Antarctic not lagging too far behind
Posted June 1, 2012
The Arctic crossed a disturbing threshold this past spring — and the Antarctic isn't too far behind.
NOAA

scientists recently announced that the concentration of carbon dioxide (CO2) in the atmosphere around Barrow, Alaska

, reached 400 parts per million (ppm) in April, the first time a monthly average measurement for the greenhouse gas pushed past 400 ppm at a remote location.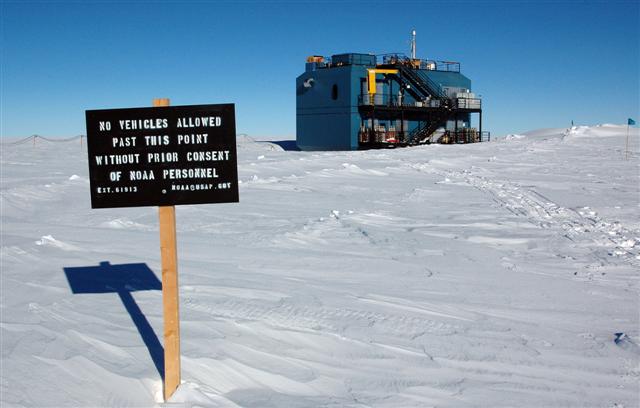 The Atmospheric Research Observatory at the South Pole Station.
Average global levels of CO2 were 390.4 ppm in 2011, according to NOAA measurements. The federal agency predicts the global average will likely reach 400 ppm by 2016.
Before the Industrial Revolution of the 1880s, global average CO2 was about 280 ppm. No time in the last 800,000 years — the oldest paleoclimate records available from ice cores — has CO2 been as high as today.
"Turning up the levels of greenhouse gases in our atmosphere is like turning up the dial on an electric blanket," said Jim Butler, director of the NOAA's Earth System Research Laboratory (ESRL) Global Monitoring Division

in Boulder, Colo., in a press release

. "You know it will keep getting warmer, but you don't know how quickly the temperature will rise, and it can take awhile for the blanket – or the atmosphere – to heat up."
Carbon dioxide — a naturally occurring atmospheric constituent that has been buoyed tremendously by human activities such as combustion of fossil fuels — is the most significant greenhouse gas contributing to climate change.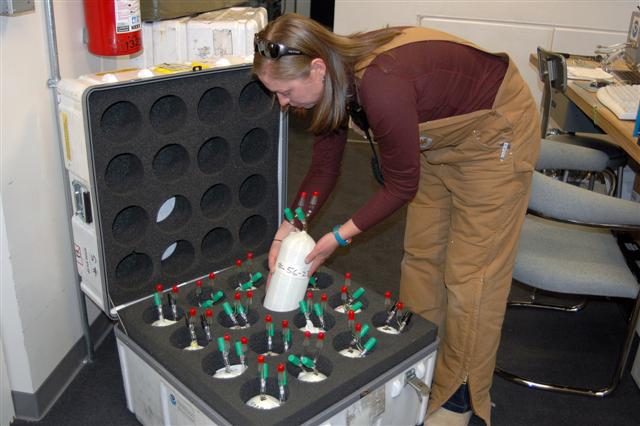 NOAA ARO station chief Christine Schultz places an air sample from the South Pole in a case destined for the United States.
Barrow is one of six baseline observatories maintained by NOAA's ESRL Global Monitoring Division around the world. At the southern extreme is the Atmospheric Research Observatory (ARO)

at the Amundsen-Scott South Pole Station

, which is managed by the National Science Foundation (NSF)

, as part of the U.S. Antarctic Program (USAP)

.
In an email to The Antarctic Sun, Butler said the South Pole observatory would likely reach 400 ppm in about five or six more years. It currently records about 390 ppm.
"In seven years, you can figure we will have seen the last CO2 value in the atmosphere [below 400 ppm] for a very, very, very long time. And that last value likely will come from South Pole," Butler said.
The lag between the two remote locations is due to atmospheric circulation patterns, as well as the fact that the Northern Hemisphere accounts for more than 90 percent of the CO2 in the air, according to Butler.
"We'll be having [more] press releases, as this disturbing milestone works its way south and higher in significance," he said.