| | |
| --- | --- |
| Photo Credit: Dave Munroe/Antarctic Photo Library | Waves crash over the stern of the research vessel NATHANIEL B. PALMER. The Southern Ocean is a difficult place to work. An effort is under way by researchers to create a coordinated observation network to monitor and measure the Southern Ocean. |
Coordinated effort
Proposal would create comprehensive Southern Ocean Observing System
Posted October 9, 2007
It boasts the world's large ocean current. Its cold waters allow it to sponge up more carbon dioxide from the atmosphere than any other ocean body. It's home to a unique — and partly endemic — menagerie of organisms.
"The Southern Ocean is basic to the Earth system. It connects the ocean basins. It is the site of key water mass formation. It drives ocean global circulation," said Oscar Schofield

. "There's no doubt of the importance of the Southern Ocean."
But the world's "newest" ocean — it was only recognized as such in 2000 — is the least understood by scientists thanks, in part, to its remoteness, its wild weather and often ice-choked coasts. An ongoing effort to create a Southern Ocean Observing System (SOOS)

that would monitor and measure it on a far broader scale seeks to change that in the next decade.
"We need sustained and internationally coordinated research efforts, because the Southern Ocean is big and it's beyond, I would argue, the capabilities of a single nation," Schofield told a packed room at the Scientific Committee on Antarctic Research (SCAR)

Open Science Conference in Portland, Ore., in July.
Schofield is a professor of marine science and co-director of the Coastal Ocean Observation Laboratory (COOL)

in the Institute of Marine and Coastal Sciences

, part of the School of Environmental and Biological Sciences at Rutgers University

. He currently serves as the co-chair for the SOOS scientific steering committee

.
Schofield is also a principal investigator on the Palmer Long Term Ecological Research (LTER)

project, a multidisciplinary program that studies the marine ecosystem along the western Antarctic Peninsula, which is undergoing some of the most marked climate changes on the planet. Average summer temperatures have increased about 3 degrees Celsius in the last half-century and double that over the winter, with sea ice duration dropping by 90 days in the coldest Antarctic months.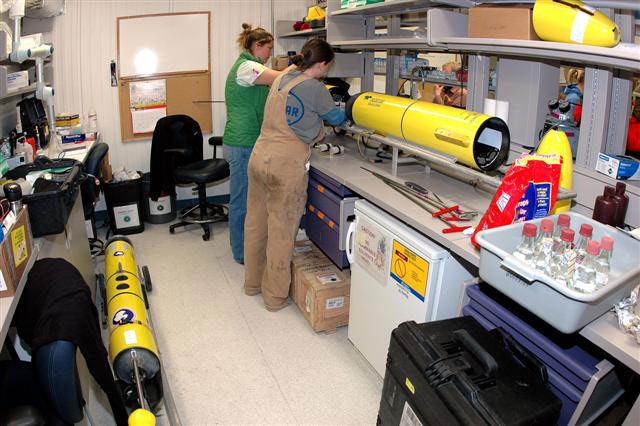 Scientists prepare an ocean glider for deployment at Palmer Station. Researchers hope to deploy a fleet of such instruments in the future to better sample the Southern Ocean.
Rising ocean temperatures, the effects of ocean acidification and new predation by invasive species are additional pressures that are already changing the world's fourth largest ocean.
"These are impacting ecosystems," Schofield said. "There's not doubt there's good justification that we need to monitor and understand changes in this Southern Ocean system if we're to have any understanding of where it's going in the future — much less mitigate impacts."
The vision for SOOS is to create a comprehensive and multidisciplinary observing system that covers everything from physical oceanography to biology to the Southern Ocean's role in the carbon cycle. It would serve as a sort of umbrella organization to unify existing national and international programs, ensuring that data collected with different research platforms, such as vessels and robots, are standardized.
"Standardization is a huge challenge," Schofield noted in a later phone interview.
Data accessibility is also a challenge — but a key component to the SOOS program if it is to work.
"Part of it is going to be getting everyone willing to share — where everyone feels they're an equal partner and have more to gain by sharing their data," Schofield said.
The push for a comprehensive observing system for the Southern Ocean began more than a decade ago, but gained momentum in 2006 during a workshop involving some of the major international Antarctic organizations, including SCAR and the Census of Antarctic Marine Life (CAML)

.
SOOS is still very much in the design phase, according to Schofield, with the establishment of a program office in Australia and the recent launch of a website. The scientific steering committee was just formed last year.
Despite being in the nascent stages of the program, Schofield is hopeful that within the next decade a far more robust network of ship-based measurements, ocean floats and autonomous gliders and robots will ply the Southern Ocean. His COOL team at Rutgers helped pioneer the use of ocean gliders around Antarctica in 2007.
Schofield said it's not unreasonable to imagine gliders — torpedo-shaped robots that can cruise thousands of kilometers for weeks or months and collect physical oceanography data such as temperature and salinity — cruising from one Antarctic research station to another along the whole coast of the continent. More autonomous underwater vehicles will also become the norm, venturing underneath ice shelves on a regular basis.
"Ten years ago, that was a pipe dream. Now, we're here with the technologies that are mature enough to talk about it. In 10 years, they'll be fully integrated in; it will be just how we do business," Schofield said. "I picture that these will become standard tools of the ships and the stations."
Schofield said there is growing enthusiasm from the science community, which he hopes will become more involved in the design of the system, from identifying the high-priority objectives to establishing a data management system.
"I think the Southern Ocean Observing System is something the community is behind and also recognizes that there is a very strong need for something like that, for coordinated measurements," noted Eileen Hofmann

, a professor of oceanography at Old Dominion University

who was an editor on the "SOOS: Initial Science and Implementation Strategy" document.
Added Schofield, "SOOS is just beginning; the journey is just beginning."