| | |
| --- | --- |
| Photo Credit: Maggie Amsler | Members of the University of Alabama at Birmingham research team dive near Palmer Station for a study on the marine ecosystem that James McClintock is a principal investigator on. McClintock recently published a book about climate change in Antarctica. |
Lost Antarctica
USAP scientist publishes book about climate change on southernmost continent
Posted November 16, 2012

James McClintock

, a professor at the University of Alabama at Birmingham

and National Science Foundation

-funded researcher, has distilled 30 years of research and experiences in Antarctica into a new book, Lost Antarctica: Adventures in a Disappearing Land

.
McClintock's first book traces the evolution of his career as a young graduate student on his first expedition to his current research into the effects of ocean acidification and invasive species on the Antarctic environment. Lost Antarctica has garnered praise from such science luminaries as Edward O. Wilson and Susan Solomon to billionaire philanthropist Bill Gates and historian Douglas Brinkley.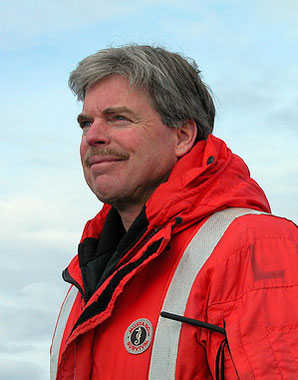 James McClintock
McClintock recently answered a few questions about the book for The Antarctic Sun.
1. What made you decide to write a popular science book, and what do you see about the story that you have to tell that makes it stand out against the recent canon of climate-change books? Obviously, few if any delve into Antarctica as you do, though there have been a few mainstream books over the years.
I initially began my college studies as an English major — before discovering marine biology in the second half of my freshman year. As such, I have had a long-time interest in writing. About three years ago, I decided that there was a need for more established scientists to step up to the plate and take important science to a broad general audience. Earlier in my career I had befriended E.O. Wilson, a two-time Pulitzer Award-winning Harvard scientist and Alabamian, and he saw the potential and encouraged me to write. He also provided me the guidance I needed to secure a literary agent and develop a book proposal to market to publishing firms.
From the [beginning], I set out to write a book that set itself apart from a growing laundry list of climate-change books. I wanted to engage my readers with a "page-turner," something difficult to do with page after page of facts about climate change. Accordingly, I interwove my narrative about the dramatic ecological effects of climate change occurring on the Antarctic Peninsula with stories of my 30 years and adventures and discoveries as an Antarctic marine biologist. As such, I also believe my book stands apart from those written about Antarctica from the perspective of writers and reporters that have visited Antarctica.
2. The book not only covers your research but also delves into a number of other projects under way, from biological (the Palmer LTER program

) to glaciological and geological (the LARISSA program

). There's such a large amount of research that goes on around the Antarctic, how did you choose what to include?
I chose ongoing research programs in Antarctica that fit two criteria. They had some link to climate-change research, and there had to be individuals involved in the program that I knew personally, as friends and/or colleagues. This allowed me to personalize my writing about research programs related to but tangential to those I am directing myself.
3. You devote a whole chapter of the book to ocean acidification, and you recently embarked on a project with your long-time colleague Chuck Amsler

, also at UAB, on this very subject at Palmer Station

, as well as conducted some preliminary experiments before 2012. What are the results so far from your experiments and observations, and how concerned are you about the vulnerability of polar marine organisms to acidifying oceans based on current climate projections?
The research program I am collaborating on with Chuck Amsler and Robert Angus

— both faculty in my biology department here at UAB — has completed its first of two field seasons at Palmer Station. We have two doctoral students involved in the research. Julie Schram and Kate Schoenrock spent the 2011-12 field season investigating the impacts of ocean acidification and rising elevated seawater temperature on calcified marine invertebrates (two gastropod species) and a calcifying alga (coralline alga), respectively.
They are currently analyzing their data and conducting laboratory-based studies on the specimens shipped back to UAB. The results should become apparent over the next few months. I am hoping that the conditions we simulated in our studies (levels of carbon dioxide and temperature anticipated my mid-century) will demonstrate that at least over the near term there are not negative effects on the species we investigated. The jury is still out.