| | |
| --- | --- |
| Photo Credit: Susan Kelly | WISSARD project scientists watch data transmitted in real time from instruments being lowered into the borehole during the December drill operation tests. |
Page 2/2 - Posted January 14, 2013
Pioneering subglacial research presents tough challenges
Of course, conducting research in Antarctica adds to the complexity of any operation. Weather will be the wildcard, as the scientists, hotwater drillers and support personnel will fly from McMurdo to the ice plain above Lake Whillans aboard ski-equipped aircraft. The field camp population may swell to more than 50 people if everyone is able to get in on schedule.
(As this story was being posted, weather had already delayed the first flights for two straight days. An advance team that was to work on a network of GPS receivers used to monitor the vertical movement of the ice was also delayed repeatedly the week before.)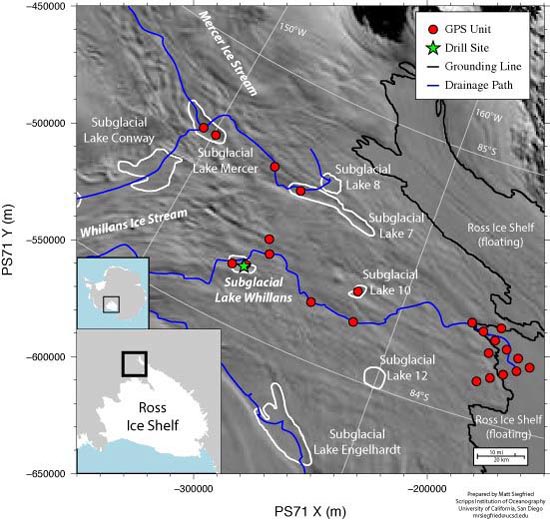 Photo Credit: WISSARD
Map shows the location of subglacial Lake Whillans and the GPS network that monitors the movement of the surrounding ice sheet in response to the filling and draining of the lake below.
Project personnel have met daily — often several times a day — at McMurdo Station's Crary Lab, as plans are refined and revised to maximize the science in response to the ever-changing conditions and challenges.
"I'm really impressed. They're really delving into the details to make it work," said Susan Kelly, the project's education and outreach coordinator who manages the WISSARD website

and social media platforms, including its own Facebook page

.
The very best case scenario calls for a week of round-the-clock science operations. The team is braced for the possibility that they could end up with just one manic day to retrieve samples from the lake. Returning with one liter of water and one meter of lake sediment cores would be considered a success under those circumstances.
"All of that is weather dependent," Powell emphasized, noting that the entire operation will shut down at the end of the month.
The deadline itself is based on the tractor traverse timeline: The drivers and their vehicles must drive back across the Ross Ice Shelf before mid-February. That's when the summer field season at McMurdo Station winds down and intracontinental flight operations cease, meaning no air support in case of an emergency.
Whatever the schedule, the WISSARD team, aside from hard samples, is also keen to send another key piece of equipment into the lake during the limited amount of time. The Micro-Submersible Lake Exploration Device (MSLED) is a slim submersible designed by collaborator Alberto Behar

, an associate professor at Arizone State University

. MSLED sports chemical sensors and a high-resolution imaging system to scope out the environment below the ice.
"You can learn a lot just by observing. Just having a visual from MSLED's camera will represent new data," Powell noted.
The 2012-13 summer field season marks something of a new era for subglacial research, with three projects under way.
An effort by the British Antarctic Survey (BAS)

this season to reach subglacial Lake Ellsworth ended on Christmas Day when the hotwater drilling operation failed to bore through the ice properly, seeping into the porous upper layers of the ice sheet. The project had been delayed previously following an equipment failure with a boiler used to heat the water for drilling.
Meanwhile, Russia's Arctic and Antarctic Research Institute

announced Jan. 10 that its scientists had obtained the first sample of transparent ice from the water of Lake Vostok, the largest subglacial lake in Antarctica.
While all three projects are studying subglacial lakes, the environments are quite dissimilar. Lake Vostok is believed to have been isolated for millions of years. Lake Ellsworth may have occupied an ancient fjord for hundreds of thousands of years. Meanwhile, the periodic draining and filling of Lake Whillans represents an entirely different subglacial paradigm than the others do.
It took the Russians decades to punch their way down into Vostok. The British are discouraged but not defeated, as Martin Siegert, principal investigator of the BAS experiment, vowed, "I remain confident that we will unlock the secrets of Lake Ellsworth in coming seasons."
Now the Americans are itching for their chance.
"This is an incredible opportunity that was only made possible by the hard work of so many people from the USAP community," said Jill Mikucki

, an assistant professor at the University of Tennessee, Knoxville

, and a principal investigator on the biological component of the project.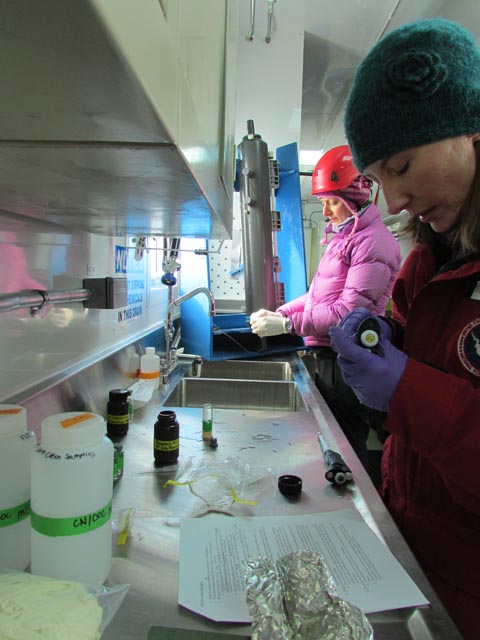 Photo Credit: Susan Kelly
Scientists Jill Mikucki, left, and Trista Vick-Majors set up the custom-built mobile science lab that will be at the field site. Researchers will prepare samples and complete sensitive microbial and geochemical analysis in the field.
"You can plan, as we have, for years to make a vision of a project into reality — but to actually be here, in McMurdo, and see the pieces coming together from logistics, science and drilling — it is extremely exciting," she said.
The biologists will perform some of their initial analyses at the field site from two labs specially built for WISSARD. The possible discovery of microorganisms in the water or sediment would represent the first finds from such a subglacial environment.
"There are some things that we may know fairly quickly on site, while other measurements will take some time to fully analyze," Mikucki said.
The WISSARD team certainly understands the lofty expectations of the science community in these nascent days of subglacial research. However, they are also motivated by a very human desire.
"The main thing on our minds is to get it done for ourselves. We've put so much time and effort getting to this point," Powell said. "We're excited."
NSF-funded research in this story: John Priscu, Mark Skidmore and Andrew Mitchel, Montana State University, Award No. 0838933

; Slawek Tulaczyk, University of California-Santa Cruz, Award Nos. 0839142, 0838947

; Ross Powell and Reed Scherer, Northern Illinois University, Award Nos. 0839107, 0839059

; Ross Virginia and Jill Mikucki, Dartmouth College, Award No. 0838896

; Brent Christner, Louisiana State University, Award No. 0838941

; Jeffrey Severinghaus and Helen Fricker, University of California-San Diego Scripps Institution of Oceanography, Award No. 0838885

; Robert Jacobel, Saint Olaf College, Award Nos. 0838855, 0838854

; Sridhar Anandakrishnan, Pennsylvania State University, Award No. 0838763, 0838764

; Susan Schwartz, Andrew Fisher and Slawek Tulaczyk, University of California-Santa Cruz, Award No. 1043784

; and Alberto Behar, Arizona State University, Award No. 1142123

.