| | |
| --- | --- |
| Photo Credit: Bedmap2/British Antarctic Survey | The international Bedmap2 project reveals Antarctica's subglacial landscape in greater detail than ever before. Researchers say it will be an important tool in modeling future sea-level rise as the Antarctic responds to climate change. |
Under the covers
Bedmap2 project reveals Antarctica's subglacial landscape in new detail
Posted March 8, 2013
Scientists revealed what lies underneath Antarctica's massive ice sheets in unprecedented detail in a new map that was published in the open-access journal The Cryosphere last month. Researchers say it will be an important tool in modeling future sea-level rise as the Antarctic responds to climate change.
The Bedmap2

project, part of the International Polar Year

program, involved work from 60 authors from 35 institutions in 14 countries. The effort was coordinated by the British Antarctic Survey (BAS)

. A number of U.S. researchers were involved in the effort whose work was funded, in part, by the National Science Foundation (NSF)

.
The original Bedmap project, completed in 2000, brought together an international consortium of Antarctic scientists who pooled data from several decades of polar expeditions, according to the BAS Bedmap2 project website.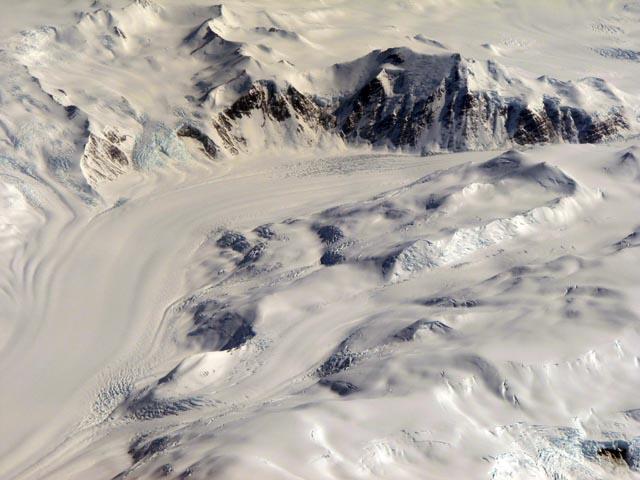 A glacier flows through ice-covered mountains in Antarctica.
That effort produced the first comprehensive maps of the Antarctic landscape underneath the ice sheet. It also resulted in estimates of ice sheet thickness and volume that researchers used to model ice sheet flow and sea-level rise. It has also been used for studies of geology, tectonics, crustal seismics, and even ice core interpretation, according to the project website.
Since the first Bedmap project, about 265,000 kilometers of new over-ice survey lines using seismic and radar instruments have been acquired, including major new surveys of the Amundsen Sea embayment, Vostok area, Ellsworth Land, Dronning Maud Land and Terre Adélie, as well as numerous other measurements on glaciers, ice streams and shelves.
"Bedmap2 brings together the collective efforts of an international community of surveyors, since the beginning of the scientific era in Antarctica, to map the ice sheets and underlying landscape with an unprecedented combination of detail and extent," the authors wrote.
The new survey also describes surface elevation and ice thickness, in addition to the subglacial landscape. The ice thickness grid was created from 25 million measurements – more than two orders of magnitude greater than were used in the original Bedmap.
"In most parts of Antarctica, the subglacial landscape is visible in much greater detail than was previously available, and in many areas the improved data coverage has revealed the full scale of mountain ranges, valleys, basins and troughs, only fragments of which were previously indicated in local surveys," the authors noted.
Bedmap2 matches up fairly closely with the original Bedmap in terms of the volume of ice contained in the Antarctic ice sheet – 27 million cubic kilometers — and its potential contribution to sea-level rise at about 58 meters. The original Bedmap project estimated Antarctica's ice sheets could contribute about 57 meters to current sea level.
But the mean thickness of the ice sheet is 4.6 percent greater based on the updated surveys. In addition, the mean depth of the bed beneath the grounded ice sheet is 72 meters lower and the area of the ice sheet grounded on bed below sea level increased by 10 percent.
"The fact that more ice rests below sea level means that on millennial timescales, increased volumes of ice are potentially vulnerable to ocean-driven loss," the authors conclude. "More analysis is required to quantify this risk, and the more immediate threat to coastal ice."