| | |
| --- | --- |
| Photo Credit: David Ainley/Courtesy University of Minnesota | Researcher Kattie Dugger walks among nesting Adélie penguins on Beaufort Island in the Ros Sea. Using archival photos and satellite imagery, scientists have found that the population size of the penguin colony increased 84 percent over a 50-year period as the ice fields retreated. |
Spreading out
Ross Sea penguin population increases as ice fields retreat
Posted April 26, 2013
Scientists from the United States and New Zealand, using a mix of old and new technology,found that the population size of an Adélie penguin colony on Antarctica's Beaufort Island near the southern Ross Sea

increased 84 percent over a 50-year period as the ice fields retreated.
The research, published this month in the PLOS ONE journal, used aerial photography dating back to 1958 and modern-day satellite imagery, to track the population boom from 35,000 breeding pairs to 64,000 breeding pairs by 2010.
The biggest changes came in the last three decades, with the average summer temperature in that area increasing about a half a degree Celsius per decade since the mid-1980s, according to the research.
The study showed that available habitat for Adélie penguins on the main portion of the Beaufort colony, on the south coast, increased 71 percent since 1958, with a 20 percent increase from 1983-2010. The extent of the snow and ice field to the north of the main colony did not change from 1958-1983, but then retreated 543 meters from 1983-2010.
In addition to the overall population growth, researchers saw an increase in population density within the colony as it filled in what used to be unsuitable habitat covered in snow and ice. The researchers suggest that the penguins, which require ice-free areas to breed where they build nests out of small stones, may benefit from a warming climate.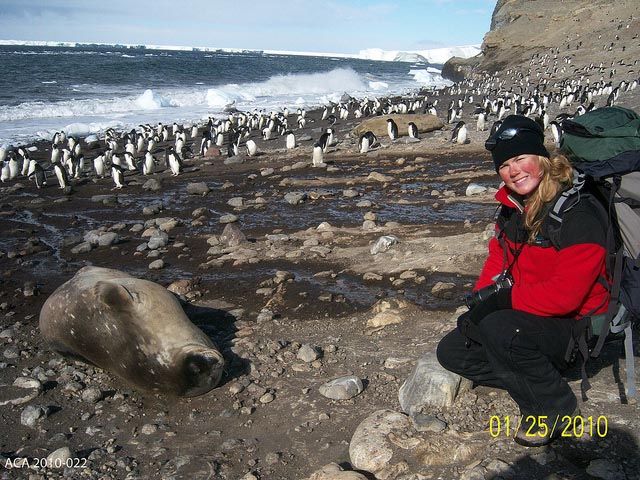 Photo Courtesy: University of Minnesota
Michelle LaRue, with the University of Minnesota, conducts fieldwork on Beaufort Island.
"This research raises new questions about how Antarctic species are impacted by a changing environment," said Michelle LaRue

, the paper's lead author and research fellow at the Polar Geospatial Center

at the University of Minnesota's College of Science and Engineering

, in a press release

.
"This paper encourages all of us to take a second look at what we're seeing and find out if this type of habitat expansion is happening elsewhere to other populations of Adélie penguins or other species," she added.
They also found that the emigration rates of birds banded as chicks on Beaufort Island to colonies on nearby Ross Island decreased after 2005 as available habitat on Beaufort increased, altering the population dynamics.
"We learned in previous research from 2001-2005 that it is a myth that penguins never move to a new colony in large numbers. When conditions are tough, they do," said David Ainley

, a senior marine wildlife ecologist with H.T. Harvey and Associates

, an environmental consulting company in California, in the University of Minnesota press release.
"This study at Beaufort and Ross islands provides empirical evidence about how this penguin attribute will contribute to their response to climate change," he noted.
Bill Fraser, a seabird ecologist who works on the other side of the continent, along the Antarctic Peninsula where the environment is rapidly changing and Adélie penguins are in steep decline, said the LaRue et. al. paper demonstrates the importance of terrestrial habitat as a driver of population dynamics.
"We have known that to be the case based on our Palmer [Long Term Ecological] Research

for nearly two decades, but were originally criticized a bit for thinking that way when we tried publishing our results in 1997," said Fraser, who was not involved in the Beaufort Island study.
However, he added that the fossil record for the last 45,000 years in the Ross Sea region shows that the species was quite mobile, so the conclusion isn't too surprising.
"I also understand why they are making that point, as there is this misconception out there that Adélies are so loyal to their natal colonies that they will not abandon them to search for other breeding sites," said Fraser, with the Polar Oceans Research Group, a private nonprofit organization in Sheridan, Mont.
"What seems clear to me, is that when populations are increasing, as in the Ross Sea, source populations will export individuals to new habitats, whereas when populations are decreasing, as in the Palmer region, source populations lose that ability, resulting in an overall loss of colonies – and the apparent perception that birds don't 'move,'" he said via email.
In the future, the researchers say they plan to use additional satellite imagery to look at other Adélie penguin populations to help understand the dynamics and environmental factors that influence regional populations.
"This study brought together researchers from different academic disciplines who all contributed their expertise," LaRue said. "We had people who study climate change, spatial analysis, and wildlife population dynamics. This is how good science leads to results."
NSF-funded research in this article: Paul Morin, University of Minnesota, Award No. 1043681

; David Ainley, H.T. Harvey and Associates, Award No. 0944411

; David Ainley and Raymond Ford, Award No. 0440643

. Other researchers involved in the study included Matt Swanson, a graduate student researcher at the University of Minnesota Polar Geospatial Center; Katie M. Dugger from Oregon State University; Phil O'B. Lyver from Landcare Research in New Zealand; Kerry Barton from Bartonk Solutions in New Zealand; and Grant Ballard from PRBO Conservation Science in California. University of Minnesota press release provided background and quotes for this article.