| | |
| --- | --- |
| Photo Courtesy: Hubert Staudigel | Researcher Hubert Staudigel takes temperature measurements in Wormhole Tongue ice cave on Mount Erebus. Staudigel and colleague Laurie Connell recently published findings that showed a fungal community in nearby Warren Cave contained species linked to humans. |
Fungi erupt on Erebus
Discovery of fungal communities in ice caves highlights human contamination
Posted June 28, 2013

Researchers have identified more than 60 species of fungi from an ice cave near the top of Mount Erebus

, an active volcano in Antarctica. The find demonstrates the hardiness of organisms to survive in extreme environments — and the potential for human contamination in even the most pristine places.
Laurie Connell

at the University of Maine

and Hubert Staudigel

with Scripps Institution of Oceanography

at the University of California in San Diego

published their findings last month in the journal Biology

. Connell's laboratory analyzed soil samples taken from Warren Cave near the top of the 3,794-meter-tall volcano.
It's the first report of a fungal community being associated with what scientists call a dark oligotrophic volcanic ecosystem (DOVE) in Antarctica. DOVEs are nutrient-poor places in the Earth's lithosphere, consisting of the crust and upper mantle, where life is able to subsist despite the absence of light for photosynthesis.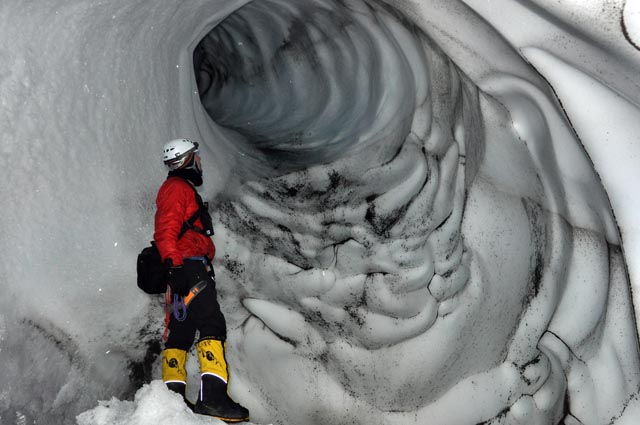 Photo Credit: Hubert Staudigel
Photographer Alasdair Turner looks into a corkscrew hole in Wormtongue Hole ice cave.
"We don't know how this deep biosphere works with the surface biosphere that we see all the time," Staudigel said. "We suspect it's important, but we know very little about it."
Staudigel is the principal investigator on a five-year field project in Antarctica to examine extreme environments like Mount Erebus to learn more about life in the early stages of Earth, when there would have been few if any sources of organic matter. Instead, microorganisms would have fed on rock minerals or perhaps the noxious gases of a hyper-volcanic young planet. [See previous article — It was a dark and cold ...: Scientists seek extremophiles in Antarctica's harshest environments.]
The ice caves that dot the flanks of Mount Erebus are an ideal place to study such extremophiles.
Gas and steam vent from the sides of Mount Erebus through fissures called fumaroles, sometimes carving out caves just below the ice-crusted surface. Warren Cave is located about 300 meters from the volcano's rim near an established field camp called Lower Erebus Hut.
Its easy accessibility for scientists and field parties — some visits perhaps dating back to the Heroic Age of Antarctic Exploration during the early 20th century — has made it one of the most visited and studied of the 120 known caves on the volcano. That has also made it more susceptible to human contamination.
About a third of the 61 fungi species that Connell and her team identified represented Malassezia species, fungi that are associated with skin surfaces of animals and require high lipid content for growth.
"I was surprised at [the high diversity] at first, but when I started looking at what we had, I realized we had a lot of things that were human associated," said Connell, a co-principal investigator on the National Science Foundation

-funded project and lead author on the Biology paper

.
Until recently, the decades-long research at Mount Erebus, led by Phil Kyle at New Mexico Institute of Mining and Technology

(New Mexico Tech), focused on volcanology, geology and related sciences. But now there is a growing awareness by biologists like Connell that the ice caves offer tremendous potential for studying life in extreme environments.
But human contamination, from food scraps to dandruff, has the potential to upset these natural laboratories, Connell said, "because the communities are so tiny there, adding even a small amount of carbon and other nutrients is probably going to impact it significantly."
Last year, the United States presented a working paper at a meeting of the Antarctic Treaty

nations in Hobart, Australia, that urged developing a code of conduct to help manage human impact to the subterranean system on Erebus and other geothermal environments. [See previous article — Clean conduct: New rules proposed for entering ice caves on Mount Erebus.]
In the interim, the National Science Foundation (NSF), which manages the U.S. Antarctic Program (USAP)

, instituted a moratorium on visits to all ice caves unless for scientific research. Access to pristine caves was restricted except for purposes of collecting data on microbial communities. In those cases, scientists must use clean-access protocols.