| | |
| --- | --- |
| Photo Credit: Alasdair Turner | Hundreds of sea stars were discovered washed up on the snow-covered beach at Cape Evans on Ross Island earlier this month. The phenomenon has scientists and others scratching their heads. |
On the seashore
Hundreds of sea stars wash up at Cape Evans
Posted September 13, 2013
Hundreds of sea stars were discovered washed up on the snow-covered beach at Cape Evans on Ross Island earlier this month. The phenomenon has scientists and others scratching their heads.
"I have never seen anything like that in my life before," said Alasdair Turner, a field mountaineer for the U.S. Antarctic Program (USAP)

. Turner was part of a team in early September that established an over-snow route to Cape Evans, where British explorer Robert Falcon Scott built an expedition hut in 1911

.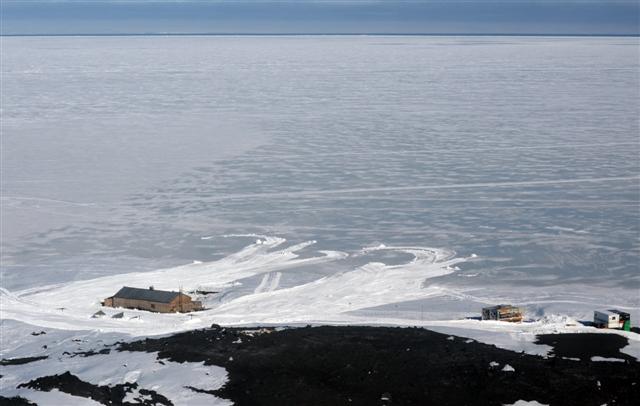 Scott's Hut at Cape Evans.
"We had an incredible trip to Cape Evans … while putting the route in," he reported via e-mail. "There are a couple of icebergs grounded at Cape Evans and the sun was setting between them. The beach at Cape Evans is covered in hundreds and hundreds of frozen starfish and a few other sea creatures."
Stacy Kim

, a benthic ecologist at Moss Landing Marine Laboratories

, said based on the photo she saw that it appeared there was a strong wave/wind event while there was open water in front of the beach that washed the sea stars (Odontaster validus) onto the shore.
"In the shallowest, most disturbed zone [of McMurdo Sound] there is almost nothing but sea stars," said Kim, who has studied the marine creatures that inhabit the seafloor in Antarctica since 1988. She is currently leading a project examining the food web connections of the Ross Sea. [See previous article — Predator and prey: Researchers hunt for answers to dynamics of Ross Sea ecosystem.]
"I've never seen or heard about anything like this," she added, noting that early explorers like Scott and Ernest Shackleton, who spent months and years living and exploring along Ross Island's rocky shores, never reported such an event in their journals.
"Nothing in the Shackleton journals, and they were there a lot," Kim said.
USAP diver Rob Robbins, who will be headed to Antarctica for his 35th straight trip during 2013-14 austral summer, surmised that the sea stars were "stuck in the underside of the ice and [were] drug up."
Some thought skuas, a seagull like scavenger, might feast on the sea stars. But David Ainley, a senior ecologist with ecological consulting firm H.T. Harvey and Associates

in California who studies penguins and other seabirds, didn't think that would be the case.
"Nope, skuas, like gulls, wouldn't have a clue about what to do with a sea star," he explained by e-mail. "Way too big to swallow whole (though some might try), and otherwise not easy to render into bite-sized pieces.
"And by the time the skuas do arrive this season, these sea stars will be freeze-dried and not very enticing as food."