| | |
| --- | --- |
| Photo Credit: Bob Garrott/NWF's Permit No. 17236 | Weddell seal field team leader and scientist Thierry Chambert tags the 21st pup born to a 30-year-old Weddell mom during the 2013-14 field season. SPENO 5970, as the 30-year-old female is known, has produced the most pups over a lifetime. |
Ripe old age
30-year-old Weddell seal gives birth to 21st pup
Posted November 22, 2013
Weddell seals can live up to about 30 years. One female that is part of a long-term population study of her species reached that milestone this year – and just gave birth to her 21st seal pup.
SPENO 5970, as the 30-year-old female is known in the Weddell seal population dynamics project

run by Montana State University (MSU)

, is one of the oldest Weddell seals in the 45-year history of the study.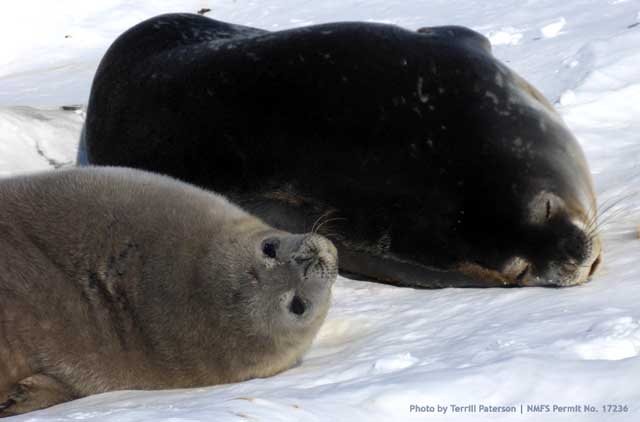 Photo Credit: Terrill Paterson/NWF's Permit No. 17236
The 30-year-old Weddell seal and her 21st pup.
She is also the project's record holder for producing the most pups over a lifetime, according to the Weddell Seal Science blog

, which is maintained by videographer Mary Lynn Price

, who supports the education and outreach component of the Weddell seal population dynamics study.
The MSU study – led by principal investigator Jay Rotella

, along with co-PI's Robert Garrott

, both at MSU, and Don Siniff

, professor emeritus at the University of Minnesota

– has statistics on more than 22,500 seals in its database. Records of the Weddell seal colony of Erebus Bay, located at the southern extent of the Ross Sea, first began in 1968. [See previous article — Sealed and delivered: Long-term population study of Weddell seals makes some 'super' discoveries.]
For the last 30 years, all the pups born into the population have been tagged and tracked, meaning about 80 percent of the current seal population are in the database. About 65 percent are of known age.
SPENO 5970 was born in 1983, returning to the colony intermittently before her first pup was born in 1990 at a location called Hutton Cliffs. Her 20th pup was born last year. [See previous article — Maternal milestone: 29-year-old Weddell seal gives birth to 20th pup.]
Rotella reported on the Weddell Seal Science Blog that he was able to determine that SPENO 5970's first 20 pups included 10 females and 10 males.
"Of those offspring, two sons and two daughters have been seen again, which is right in line with what we'd expect based on other analyses [indicating] that roughly 20 percent of the seals make it to adulthood," he said.
SPENO 5970 seems to exemplify what the researchers informally refer to as supermoms – individuals that live longer and produce more pups than other Weddell seals. Similar to a theory put forth by seabird researcher David Ainley about successful Adélie breeding penguins, progeny from Weddell seal supermoms may be responsible for sustaining the colony, particularly in lean years. [See previous article — Super breeders: Fittest Adélie penguins appear to sustain colony populations.]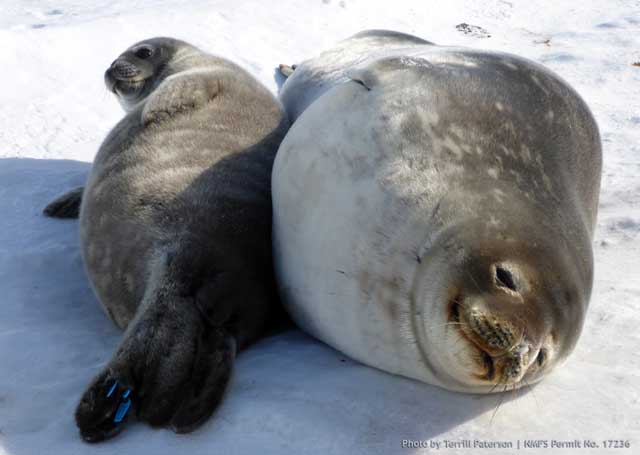 Photo Credit: Terrill Paterson/NWF's Permit No. 17236
The 22-year-old daughter of SPENO 5970 and her 14th pup.
While capable of surviving three decades in Antarctica's harsh climate, females that survive the juvenile period (first two years of life) more typically live for about 15 years, giving birth to an average of two pups every three years. SPENO 5970 has given birth every year since 1990 except for 1993, 2010 and 2011.
Longevity and fecundity seem to run in the family. Two of SPENO 5970's surviving daughters have returned to the pupping colonies to give birth themselves. One is a 22-year-old that has produced 14 pups so far. One of that daughter's pups –SPENO 5970's granddaughter – has given birth to five pups.
Follow the Weddell seal research team in the field this season at the Weddell Seal Science blog

.
NSF-funded research in this story: Jay Rotella, Robert Garrott, and Donald Siniff, Montana State University, Award No. 1141326

.