In the video above, scientists and NSF officials discuss the purpose of the IceCube Neutrino Observatory upon completion of its construction at the end of 2010. Three years later, the world's largest neutrino detector has made history with the detection of very high-energy neutrinos from outside the solar system.
From a galaxy far, far away
IceCube finds first solid evidence of neutrinos from outside the solar system
Posted November 29, 2013
Researchers with the IceCube

collaboration have announced that a National Science Foundation (NSF)

-built detector at the Amundsen-Scott South Pole Station

allowed them to observe 28 very high-energy neutrinos that constitute the first solid evidence for astrophysical neutrinos from cosmic accelerators such as black holes.
"This is the first indication of high-energy neutrinos coming from outside our solar system," says Francis Halzen

, principal investigator of IceCube and the Hilldale and Gregory Breit Distinguished Professor of Physics at the University of Wisconsin-Madison

. "It is gratifying to finally see what we have been looking for. This is the dawn of a new age of astronomy."
Details of the research are in the Nov. 22 edition of the journal Science.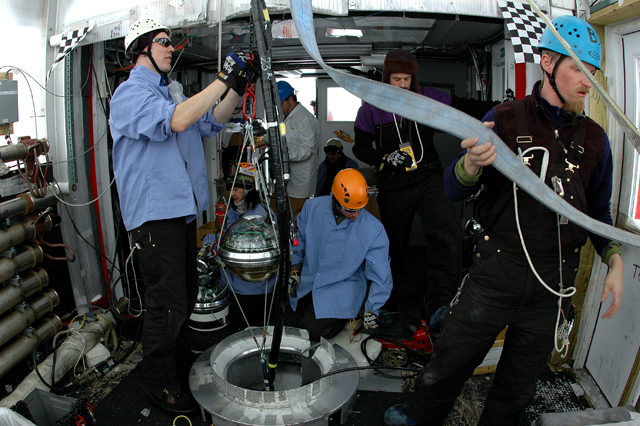 The IceCube deployment team prepares the final string of digital optical modules for the subglacial neutrino detector on Dec. 18, 2010.
The IceCube collaboration made the discovery using the IceCube Neutrino Observatory, a particle detector buried in Antarctic ice at the U.S. Amundsen-Scott South Pole Station. NSF built the detector using a Major Research Equipment and Facilities Construction (MREFC) award, with assistance from partner funding agencies around the world. Officials in NSF's Polar Programs and Physics

divisions manage the observatory's operations, as well as the U.S. portion of the IceCube science research projects.
NSF's Division of Polar Programs has a presidential mandate to manage the U.S. Antarctic Program

, through which it coordinates all U.S. research on the southernmost continent and aboard ships in the Southern Ocean and provides all of the logistics needed to support that science.
"IceCube is a wonderful and unique astrophysical telescope. It is deployed deep in the Antarctic ice, but looks over the entire universe, detecting neutrinos coming through the Earth from the northern skies, as well as from around the Southern skies," said Vladimir Papitashvili, Antarctic astrophysics and geospace science

program director.
Added Jim Whitmore, program director on the particle astrophysics

program, "The IceCube Neutrino Observatory has opened a new era in neutrino astrophysical observations. It is in the forefront of the entire field of neutrino astronomy, now delivering observations that have been long-awaited by both theorists and experimentalists."
See more of the story from NSF here

.