| | |
| --- | --- |
| Photo Credit: PGC Antarctic Imagery Viewer | The Polar Geospatial Center Imagery Viewer allows scientists and others with federal funding or affiliations to create maps from a high-resolution satellite mosaic of Antarctica. Pictured here is Ross Island, home to McMurdo Station and Scott Base. |
DIY mapping
Polar Geospatial Center releases new application with high-res satellite imagery
Posted November 29, 2013
Talk about a bird's eye view.
The Polar Geospatial Center (PGC)

at the University of Minnesota

has produced high-resolution imagery and maps of the Antarctic and Arctic in unprecedented detail. Now the National Science Foundation

-funded center has created a series of web-based mapping applications for viewing high-resolution, commercial satellite imagery mosaics of the polar regions.
"For us, this is a fairly big deal," said Paul Morin

, PGC director. "This is our attempt to do a half-meter mosaic of both poles that is accessible to non-experts in high-end remote sensing."
PGC was originally established in 2007 and called the Antarctic Geospatial Information Center, as it primarily supported the U.S. Antarctic Program (USAP)

, which is managed by the National Science Foundation (NSF). The mission to provide basic geospatial services for Antarctica quickly evolved to encompass most of the cryosphere.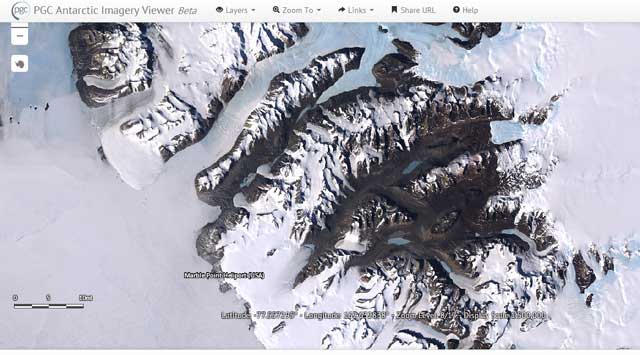 Photo Credit: PGC Antarctic Imagery Viewer
The McMurdo Dry Valleys are one of the key features in the PGC Antarctic Imagery Viewer.
The latest product, PGC's Imagery Viewers, allows users to do their own map-making for locations across Antarctica, Greenland and Alaska.
"This is allowing us to see the ground. In the future, we'll be working to fill in imagery for more and more of the poles," Morin said.
It was only six years ago that scientists funded by NSF and other U.S. and international science agencies released the Landsat Image Mosaic of Antarctica

, or LIMA, which boasted 15-meter resolution imagery for the first true-color map of Antarctica up to 82 degrees south. [See previous article — Getting on the map: New high-resolution mosaic of Antarctica offers unparalleled views of the seventh continent.]
Now, with the commercial imagery available to PGA through the National Geospatial-Intelligence Agency

, the picture of Antarctica is 900 times higher resolution, to within just 30 kilometers of the geographic South Pole, according to Morin.
"It's every crevasse, it's every penguin colony, it's every rock outcrop," he said.
The satellite imagery is also more up to date. The LIMA mosaic, though published at the end of 2007, relies on nearly 1,100 images captured by the NASA

-built Landsat 7 satellite mainly from 1999 to 2001.
"That's the amazing thing: We have the capacity to shoot the continent of Antarctica once every 45 days at 50-centimeter resolution" Morin noted.
The Antarctica Imagery Viewer took Brad Herried, PGC's web developer and cartographer, about 18 months to complete. One of the big challenges for PGC's image scientist Claire Porter was correcting for the orientation of a massive number of images, which are shot at an angle by DigitalGlobe, Inc.'s commercial satellites overhead and not directly downward on a straight vertical.
All the individual pictures are then be mosaicked together to create a seamless image that will span the entire continent. "Claire had to automate the 'orthorectification' for over 30,000 images to make the mosaic in the current application," Morin said.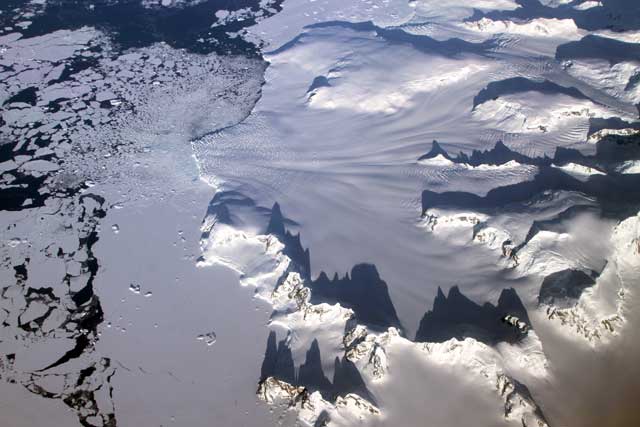 Satellite or aerial image? In this case, this is a photo shot by NASA's Operation IceBridge of several glaciers in the Antarctic Peninsula pass between sharp mountain peaks and converge in a single calving front.
Morin said the online maps can handle the majority of requests PGC gets for satellite imagery and maps.
"Any researcher who has federal funding can have access to this," he explained, adding that the imagery is also available to federal employees and government contractors. The imagery is licensed for federal government use and is not available to the general public.
The other requests involve specific requirements, such as satellite images related to a particular date or purpose.
For example, scientist Joe Levy

with the University of Texas at Austin

is studying buried ice in Garwood Valley, the most southerly of a series of small basins in the McMurdo Dry Valleys

. The buried ice, dating back to the Last Glacial Maximum about 20,000 years ago, is slowly becoming exposed and melting away. [See previous article — Valley of buried ice: Garwood reveals layers of climate history from Last Glacial Maximum.]
"He wants to watch Garwood fall apart, so we shoot it over and over," Morin said. "You can't do that in this viewer."
Like Google Maps, the Imagery Viewers offer layering options, though those are limited at this time to things like research stations, field camps and airfield landing sites. Eventually, more options will come online, including historical data, as the maps are updated and refined.
"It's going to be an ongoing thing, as people give us suggestions for what they want," Morin said. "It is Google Maps on steroids. This is the thing that I love to talk about: Google has a limit on the amount of imagery it can put into the poles – we don't."
NSF-funded research in this story: Paul Morin, University of Minnesota, Award No. 1043681

.