| | |
| --- | --- |
| Photo Courtesy: Jenn Burns (Marine Mammal Protection Act #17411) | Researchers complete their work with a Weddell seal female as part of a project to determine how changing environmental conditions might affect its life cycle, as well as similar species in the Arctic. |
Page 2/3 - Posted January 10, 2014
A perfect population
Weddell seals (Leptonychotes weddellii) are a long-lived, top predator in the Antarctic, with a circumpolar range throughout the Southern Ocean. Each year, beginning in October, about 400 seals are born into the Erebus Bay population.
Lactation lasts about six weeks or so. After a pup is weaned, it's left on its own to learn to hunt while the mother mates again with a male that has been below the ice defending its territory. Weddell seal females become pregnant immediately, but embryonic implantation is delayed so that the pups are born at around the same time each year. Normal gestation is about eight months.
Molting, like these other big life history events such as breeding and nursing, requires quite a bit of energy. The visible part of the process – that fuzzy, ratty look of the seal's coat that gives it a mangy appearance – actually represents the last stages of molting. A completely cellular cycle takes place prior, requiring the seals to remain hauled out of the water.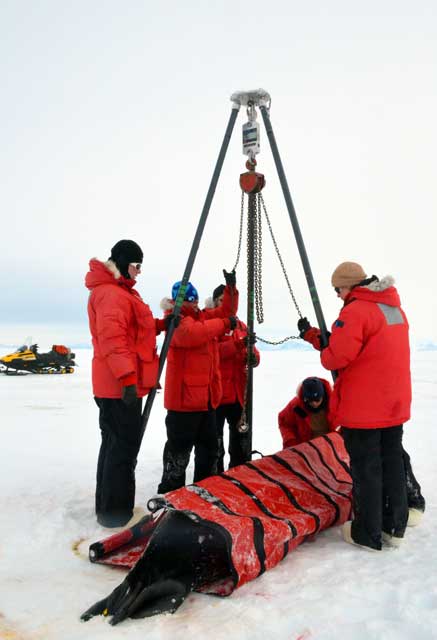 Photo Credit: Peter Rejcek (Marine Mammal Protection Act #17411)
The "skip" breeder tips the scale at more than 400 kilograms.
Burns believes the skip breeders may start molting earlier because they have more energy reserves than the breeders, which can lose up to 40 percent of their body weight while lactating.
"They have to get some of that back before they molt," Burns says. "If [environmental] conditions are really poor, they may not get it back, and that may delay their molt and increase their probability of not pupping next year.
"There are two sets of linkages we are looking at – the link within a given season pupping to molting, and then an overwinter link from molting to next year's pupping," she adds.
And that gets to the bigger picture: How might changing environmental conditions affect the life cycle of animals like the Weddell seal? The problem is particularly acute in the Arctic, where sea ice may virtually disappear for much of the year before century's end.
Many seal species in the Arctic rely on sea ice as a key part of their habitat. Its disappearance, as well as possible disruptions in food availability due to environmental changes, might alter patterns of breeding and molting, among others.
"All of the Arctic pinniped populations have human communities that rely upon them. We really don't understand all of the potential threats of climate change and environmental warming to these species," Burns notes.
Logistically, the Arctic seal populations are more difficult to work on than the well-studied Weddell seal population.
"There are no real tagged populations that we can ask any of these questions in the Arctic," Burns says. "These guys down here offer us the perfect population."