Video Information
In the time-lapse video above, scientists and engineers test the IceMole drill at Canada Glacier in Taylor Valley, McMurdo Dry Valleys. The maneuverable drill, designed and built by German engineers at FH Aachen University of Applied Sciences, is capable of boring into ice and making turns within the glacier. There is no sound associated with this video. Video courtesy of Clemens Espe.
The next step
U.S. scientists, German engineers prepare to explore below Blood Falls in 2014-15
Posted February 21, 2014
Microbiologist Jill Mikucki

first saw a photo of Blood Falls

during a class for her master's degree at Portland State University

. It immediately captivated her.
Fast-forward about a dozen years. Mikucki is now an assistant professor in the Department of Microbiology at the University of Tennessee in Knoxville

. Investigating the weird and wonderful world of Blood Falls – a red-stained splash on the face of the Taylor Glacier caused by microbes lurking somewhere below the ice – has remained a passion throughout her career.
Her latest project will probe deeper into the mystery of the subglacial ecosystem, with some help from German engineering.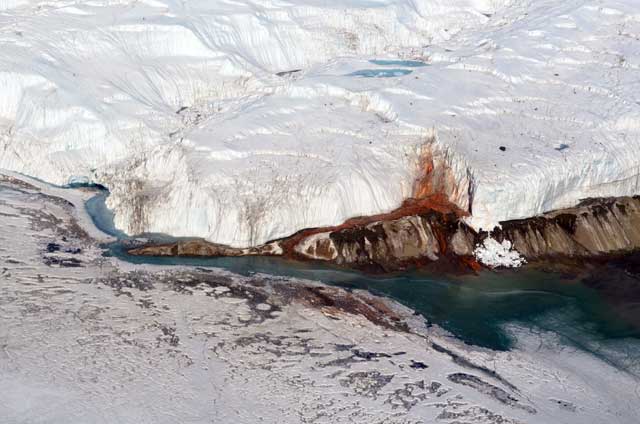 Photo Credit: Peter Rejcek
Blood Falls at the terminus of Taylor Glacier results from the discharge of iron-rich, saline liquid that percolates from a briny subglacial pool somewhere upstream of the massive river of ice.
"We're still struggling to understand what causes Blood Falls itself. Why does it come out right there at the snout? … It's very interesting to think about how long these [microbial] systems may have been isolated and what happens when they're below the ice with no light," said Mikucki after returning to McMurdo Station

from the McMurdo Dry Valleys

where she had spent more than two weeks testing the technology that will be used to burrow into Taylor Glacier next year.
Mikucki and her U.S. colleagues have teamed up with a group of German engineers, led by Bernd Dachwald from FH Aachen University of Applied Sciences

, who have developed an instrument that may one day bore into the icy moons that surround Jupiter and Saturn.
"Blood Falls represents a great analogue of what you might encounter going through ice and collecting some liquid sample below another world," noted Mikucki, whose project, Minimally Invasive Direct Glacial Exploration (MIDGE), is supported by the National Science Foundation's Division of Polar Programs

. The DLR German Space Administration

is providing funds to develop IceMole for a project called Enceladus Explorer
The apparent existence of microbial life at Blood Falls also has implications for Snowball Earth – the theory that the planet was once covered almost entirely in ice hundreds of millions of years ago.
"Even if you have thick ice, that doesn't deter life. There's plenty of energy down there," Mikucki said.
The IceMole, as the German probe is called, is a long rectangular metal box with a copper head and screw at one end capable of melting its way through ice – but not just straight down like a conventional electro-thermal drill. Differential heating at the tip allows IceMole to change directions. It looks a bit like a very large hypodermic needle poised to inoculate a glacier.
"We are able to steer it. It's not a very quick turn. It has a turning radius of 15 meters," said Gero Francke, an engineer from FH Aachen. Scientists are looking to so-called cryovolcanoes on Enceladus, the sixth largest moon around Saturn, as one possible place in the solar system that may harbor life.