| | |
| --- | --- |
| Photo Credit: Nell Hermann | The Polar Ambassador Club, a group of 20 high school students work closely with seventh grade students to increase awareness of Palmer Station LTER research during the field season. |
Beyond the research
Palmer LTER expands its education and outreach effort
Posted April 4, 2014
A large part of advancing the public's understanding of climate change along the Antarctic Peninsula involves outreach from both Palmer Station

and aboard the research vessel Laurence M. Gould

.
Palmer LTER Education and Outreach coordinator Beth Simmons is actively developing ways to transfer this knowledge to the public. Simmons has partnered with the Sandwich STEM Academy

in Massachusetts, utilizing webcam

technology to transport 500 students in real-time to Torgersen Island, the site of an Adélie penguin rookery, located about two kilometers from Palmer Station.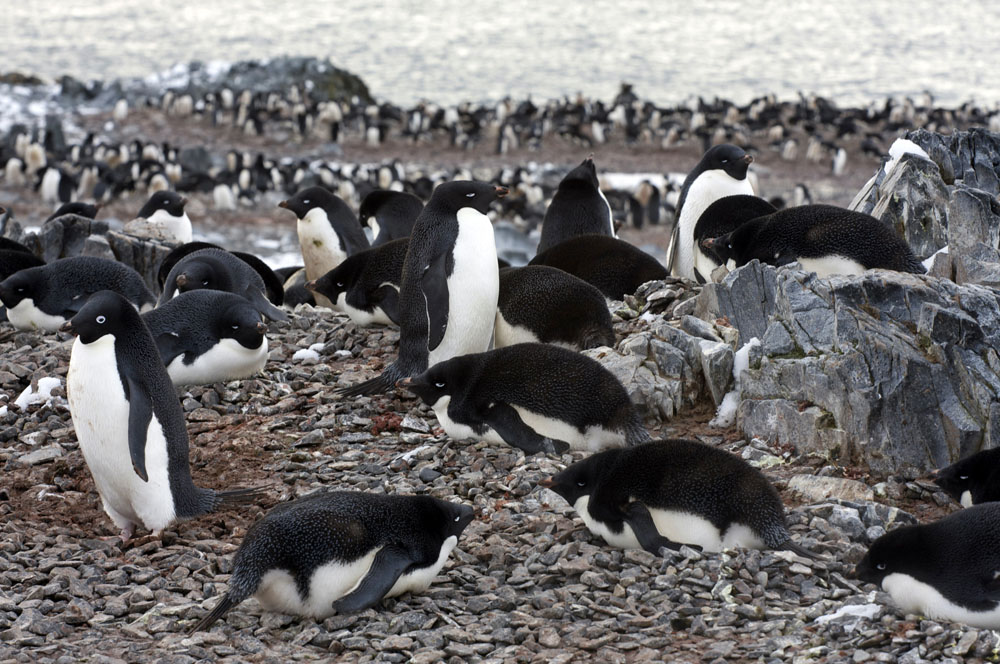 Adélie penguins on Torgersen Island, where a webcam during the austral summer allows the public to view the breeding colony.
"The webcam will serve as a vehicle to engage students in virtual 'scientific research sessions,' collecting observational data related to the arrival and survival of our iconic Adélie penguins," she said.
Simmons said that one of the advantages of using this technology is that "it will also afford students several opportunities to participate in collaborative 'instant video chats' with leading penguin experts while they conduct their observations."
With an 80 percent decrease in the population of sea ice-dependent Adélie penguins in the Palmer area, these kinds of experiences serve as powerful ways for students to witness the effects of climate change at the ends of the Earth from their iPads, according to Simmons.
The project will launch in September 2014, and the Palmer LTER's new website

will serve as a driving force in bringing the science to broader audiences, including entire school districts.
Return to main story — Never a dull moment: Palmer LTER scientists still encounter surprises after 22 years of observations.