| | |
| --- | --- |
| Photo Credit: John Goodge/Antarctic Photo Library | Scientists collect rocks in the Transantarctic Mountains that are 1.4 billion years old. More than 99 percent of Antarctica's geology is below the ice. A new project seeks to recover rocks underneath the ice sheet, as well as samples of ancient ice near the bedrock. |
Quick access
New drilling system will allow scientists to recover old ice, buried rocks from Antarctica
Posted August 22, 2014
It's not easy being a geologist in Antarctica, considering that more than 99 percent of the continent is covered by ice that can be upwards of four kilometers thick in places.
But below all that ice possibly sits the answers to a host of questions: What is the tectonic history of Antarctica? How did it fit into the puzzle of supercontinents that merged and broke apart over hundreds of millions of years? What rocks even comprise Antarctica?
These are the sorts of problems that motivate geologist John Goodge

, a professor at the University of Minnesota Duluth

and principal investigator (PI) on a project to build a new sort of drilling system to reach Antarctica's hidden landscape, as well as to sample some of the continent's deepest and oldest ice.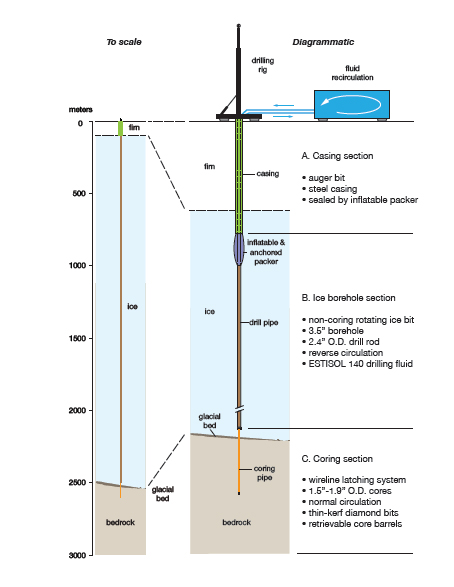 Graphic courtesy: John Goodge
RAID will be capable of penetrating thick parts of the East Antarctic Ice Sheet to make a borehole in ice and take cores of ice and bedrock. The left panel shows the borehole to scale, and the right panel shows the main components of the drilling system.
"We know it has an ancient history," Goodge said during a recent phone interview. "It's probably pretty complicated, as it is on other continents, but we have such a poor record, so fragmentary, that it's hard to put a comprehensive picture together."
The National Science Foundation (NSF)

is providing nearly $9 million to fund the drilling system and equipment necessary to start telling that story.
The Rapid Access Ice Drill, or RAID, will be an entirely new drilling system that will be capable of penetrating Antarctica's thick ice sheets to collect ice and rock cores from below more than three kilometers of ice. [For more details about the drilling system, see the University of Minnesota Duluth press release

.]
While geologists like Goodge are thrilled at the chance to learn about the earth below the ice, glaciologists such as Jeffrey Severinghaus

are keen to find the world's oldest ice, possibly dating back more than a million years in time. The ice contains bubbles of ancient atmosphere and other clues to past climate.
"The overall motivation is to better understand why we have the climate that we have now," noted Severinghaus, a professor of geosciences at Scripps Institution of Oceanography

and co-PI on the RAID project. "This will help to predict how the climate will change over the next few hundred years, and perhaps help predict how fast ice sheets will be lost due to sliding and melting."
Goodge and Severinghaus teamed up following a chance meeting at the U.S. Antarctic Program's

main research facility, McMurdo Station

, in January 2011. During breakfast, the two scientists realized that their mutual goal of getting to the bottom of the ice sheet might provide the synergy needed to attract interest from the NSF.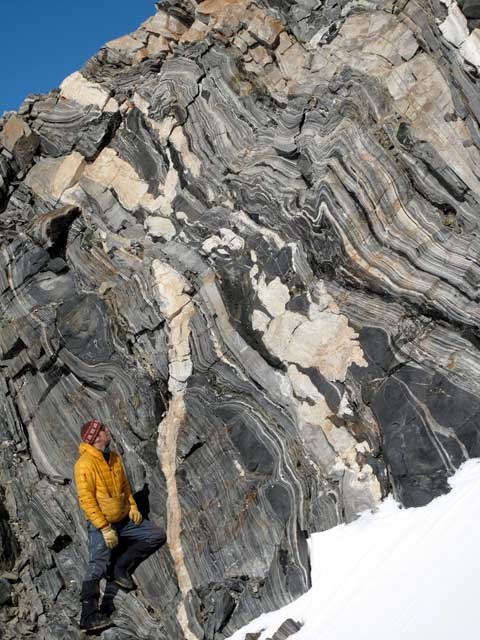 Photo Credit: John Goodge
Scientist Dylan Taylor looks up at a three-billion-year-old rock outcrop of the East Antarctic craton exposed in the Miller Range. Similar rocks may exist several kilometers below Antarctica's ice sheet.
By 2012, the NSF had provided $1.3 million for the development and engineering of the new drill, which was completed by DOSECC Exploration Services, LLC

, based in Salt Lake City. The company has also been contracted to construct and test the drilling system. Goodge said he hopes RAID will be ready for a field test by the 2016-17 austral summer, with a science expedition based at the Amundsen-Scott South Pole Station

to study the East Antarctic Ice Sheet the following year.
"It's like no other project I've ever done before," Goodge said. "This would be so cool for us to have multiple holes through the ice sheet all the way into the geology below."
For Severinghaus and the glaciologists, RAID offers a reconnaissance tool to locate million-plus-year-old ice for a longer-term project in the future.
The goal isn't just about a big, round number. It represents a time when the duration of glacial cycles more than doubled. Sometime before one million years ago, ice ages (called glacial periods by scientists) waxed and waned on a 41,000-year cycle. Now, it's a 100,000-year cycle. Understanding what flipped the switch is important for researchers trying to understand the relationship between changes in climate and greenhouse gas concentrations.
"One hypothesis is that CO2 concentrations in the atmosphere declined, making the world colder," Severinghaus explained by e-mail. "The only way to really test that is to get ancient air bubbles from ice cores of that age, and see if the CO2 indeed declined. Other ways of estimating CO2 concentrations just aren't accurate enough at present."