| | |
| --- | --- |
| Photo Credit: NCALM | A digital elevation map of McMurdo Station produced by NCALM from LiDAR data. |
Page 2/2 - Posted January 30, 2015
Project will produce high-resolution map of Dry Valleys
Antarctic researchers also expect to cover new territory with the NCALM LiDAR system.
"We're going to have an incredibly high-resolution map of the entire Dry Valleys," Fountain said. "This will help the biologists, the geologists, everybody. If you work in the Dry Valleys, you're going to have this great map."
The Polar Geospatial Center (PGC) at the University of Minnesota, which produces satellite-based maps of the Arctic and Antarctic with funding from NSF, will use the NCALM survey of the Dry Valleys in a variety of ways, including calibrating its own satellite data, according to PGC cartographer Cole Kelleher.
"This is the best data that's ever been collected out there," Kelleher said.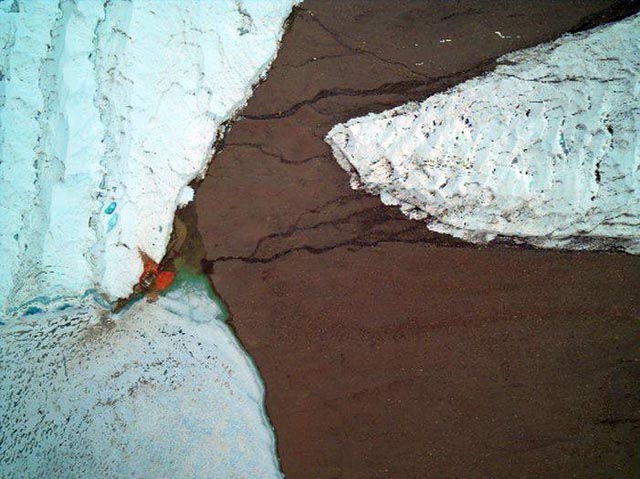 Photo Credit: NCALM
Aerial view of Taylor Valley, including the feature known as Blood Falls, the small colorful spot on the left side of the image.
The satellite maps produced by PGC of the Dry Valleys are currently the standard, with a resolution of a half-meter. The resolution of the LiDAR map is measured in centimeters.
"It's really great when you can see the rocks that hold tent poles down," Kelleher said.
More importantly, the scientists expect to see signs that the permafrost, or frozen ground, in the Dry Valleys more closely resembles changes in the Arctic.
"A lot of the geomorphic features that we see in the Arctic – big thaw slumps and collapsed valley walls and coastal erosion – we think we're going to see a lot more of that in Antarctica," Levy said. "The Ross Sea region will start to look more like coastal Alaska by the end of the century."
That scenario raises additional questions, particularly regarding how an already fragile ecosystem with organisms adapted to live in a dry, cold environment might respond to such an upheaval. Experiments to address that part of the study will be done next year, according to Fountain.
Meanwhile, in addition to the airborne survey this year, scientists will also have boots on the valley floors, using ground-penetrating radar to identify areas where buried ice may exist. The idea is to detect geomorphic features associated with the presence or absence of buried ice and pinpoint those in the new topographic map.
"There are probably hidden debris-covered glaciers all over the Dry Valleys from different ice ages that we just don't know about," Levy said.