Going deep
Drilling project to retrieve longest ice core ever from South Pole
Posted March 26, 2015
The South Pole is a very cold place, with an average annual temperature of around minus 50 degrees Celsius. It's become a premiere location for a variety of atmospheric and astrophysical experiments thanks to its cold, clean, stable atmosphere.
Murat Aydin, University of California-Irvine,
Award No. 1142517


Eric Steig, University of Washington,
Award No. 1141839


Mark Twickler and Joe Souney, University of New Hampshire,
Award No. 1142646

Even the ice is especially cold at the bottom of the world – and that's also a good thing for a team of researchers interested in extracting the first deep ice core at the South Pole.
"Ice cores are a great way to look into the past," said T.J. Fudge, a postdoctoral researcher at the University of Washington who was the on-site science lead for the last few weeks of drilling operations during the 2014-15 summer season.
Working in two shifts around-the-clock – and in a large unheated tent at an ambient temperature of about minus 25C – the group reached a depth of 736 meters below the surface on Saturday, Jan. 24, before shutting down operations until next year. That's almost halfway to the goal of 1,500 meters – a depth estimated to cover about 40,000 years of climate history.
The National Science Foundation's Division of Polar Programs is funding the project, called SPICE

, for South Pole Ice Core.
An ice core is something of a time capsule. Akin to tree rings, which develop annual layers that record different environmental conditions during the year they grew, ice cores also capture clues about Earth's past climate.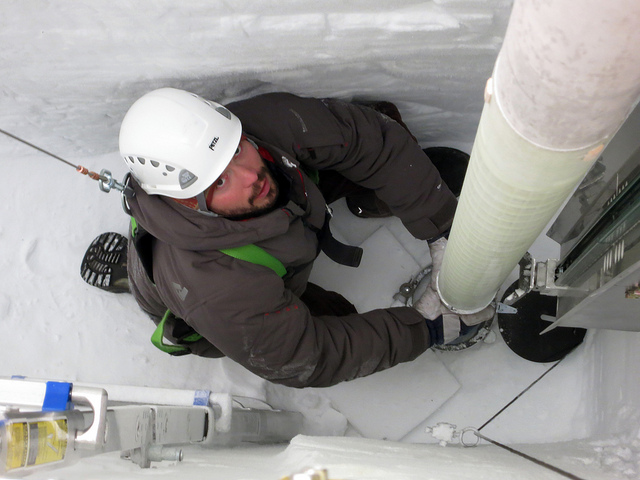 Photo Credit: Murat Aydin
Lead driller Tanner Kuhl guides the Intermediate Depth Drill into position to start ice-coring operations.
In the case of ice cores, however, the timeline is vertical, with the years and centuries rolling back into the past with depth. Scientists can analyze bubbles of various gases trapped in the ice to get a sample of the ancient atmosphere. Dust and chemicals found in the ice can also provide details about past climate.
SPICE is targeting a timeline 40,000 years back into the past as part of an initiative called International Partnerships in Ice Core Sciences (IPICS), which seeks to create a network of ice cores over similar timescales spread across both Antarctica and Greenland.
The target of 40,000 years represents the transition from the last ice age, known as a glacial, to the present warm period called an interglacial. A series of abrupt climate changes also occurred during that time.
"We want to be able to predict how the climate is going to change in the future," Fudge said. "One of the ways we can understand how our climate system works better is to look back in the past at these abrupt changes."
The very cold ice at the South Pole is particularly useful for capturing miniscule traces of rare gases in the atmosphere. Carbon dioxide, the most heavily studied gas due to its influence on climate, is measured in parts per million. Some of the gases researchers are interested in studying to understand past climate from the SPICE core are measured in parts per trillion.
"The very cold temperatures preserve a lot of trace gases," Fudge said.
The SPICE project follows on the heels of a nearly decade-long effort to recover an ice core from the West Antarctic Ice Sheet (WAIS) on the divide where the ice flows in different directions, sort of like the Continental Divide in the United States.
WAIS Divide project scientists and drillers extracted 3,405 meters of ice, the longest ever recovered by a U.S.-based project. Analysis of the ice is still ongoing, focusing on carbon dioxide and its role in abrupt climate change events.
The SPICE project is a much smaller operation, with two years scheduled for drilling the core itself. Located a couple of kilometers from Amundsen-Scott South Pole Station, the site was excavated and trenched to accommodate the drilling system, core processing and storage beginning in November before operations could commence.
The Ice Drill and Design Operations (IDDO) group at the University of Wisconsin-Madison designed and built the drilling system, called the Intermediate Depth Drill. Based on a Danish drill called the Hans-Taunsen drill, the Intermediate Depth Drill was purpose-built for coring 1,500 meters of ice, according to Tanner Kuhl, lead driller for SPICE and a mechanical engineer at IDDO.
"Logistically, this drill is easier to get to the field. It's substantially smaller than the DISC drill system," said Kuhl, referring to the ice-core drilling system at WAIS Divide that required a large, metal arch building to house all the equipment and instruments.
The DISC (Deep Ice Sheet Coring) drill is capable of pulling out 3 1/2 meters of ice at a time from depths up to 4,000 meters, with a diameter of 122 millimeters. The Intermediate Depth Drill can core two meters at a time with a smaller diameter of 98 millimeters. It was first tested last year in Greenland, recovering about 285 meters of ice in about two weeks of drilling.
The team is finding that the colder ice at the South Pole is also harder and slower to drill through than warmer locations, Kuhl noted. The drill head cutters are quicker to dull or even break, he said.
"Cutting of the ice is an extremely slow process to get good core quality, which is primarily what we're after," he added. It takes between 15 and 20 minutes to cut one two-meter-long core at a rate of about two millimeters per second.
The cold ice, of course, also makes it physically hard to handle for the drillers and scientists.
Mindy Nicewonger, a doctoral student at the University of California, Irvine, handles each core only minutes after emerging from the borehole. Her job involves inspecting and measuring each core before it's packaged for shipment back to the United States, a 14,000-kilomter-plus-long journey that involves planes, ships and refrigerated trucks.
She notes any cracks or other imperfections during each inspection that might affect later analyses. A break that freezes, for example, might trap modern air, confusing measurements of the ancient atmospheric record.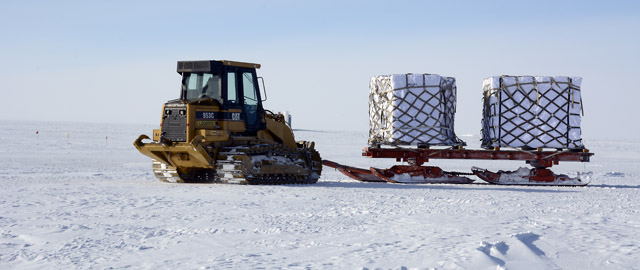 Photo Credit: Peter Rejcek
A tractor moves two boxes of ice cores to be loaded onto an LC-130 for transport to McMurdo Station.
"If you have a lot of breaks, then you're actually losing the gas inside the core," she explained.
Sometimes interesting features show up in the ice as well, such as a visible ash layer found at 306 meters that had been seen in previous, shallower cores in the 1980s. The ash comes from a volcanic event dated to 3,200 years ago in the South Sandwich Islands off the Antarctic Peninsula.
Nicewonger is particularly invested in good core quality, as part of her research focuses on the analysis of trace gases from SPICE. Her work can tease out details about biomass burning – large wildfires in the tropics, for example – and how that changed naturally through time.
Reaching the end of the first season's goal of 700 meters is only the beginning for her work and others.
"We work long hours. It's really exciting," she said. "I know this core is going to provide some awesome science for people like myself and other young students and scientists across the world."