| | |
| --- | --- |
| Photo Credit: Polar Geospatial Center | A high-resolution satellite photo of McMurdo Station shows off the detailed images that the Polar Geospatial Center has access to. |
The Polar Geospatial Center
Mapping Antarctica in the 21st Century
Posted November 30, 2016
The icy surface of Antarctica is a dynamic environment; and conditions can change drastically from year to year or even week to week. Because of these endless changes, making a map of the ever-changing ice cover can be like putting together a map of the clouds.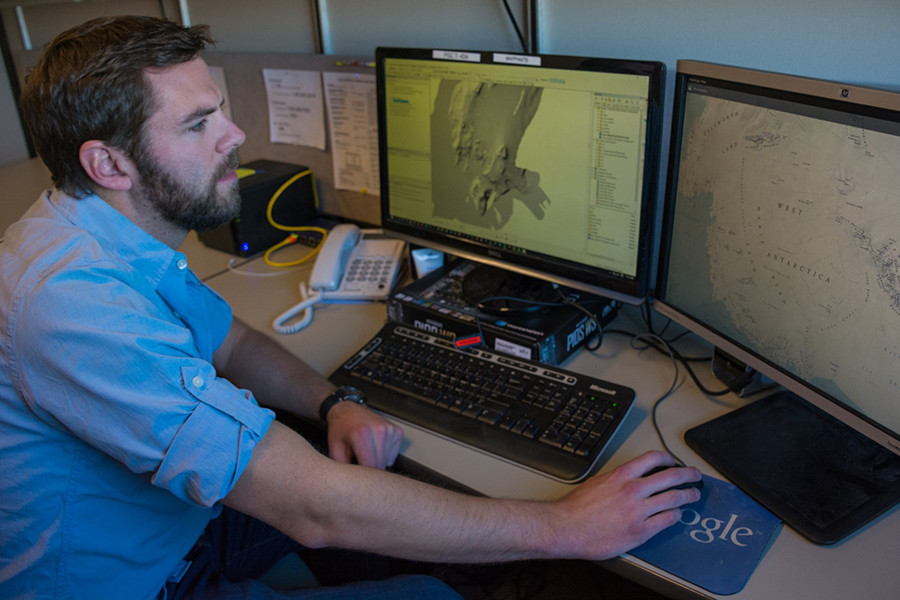 Photo Credit: Mike Lucibella
Bradley Herried, a member of the Polar Geospatial Center at the University of Minnesota, works on his computer, processing satellite data into a usable map for scientists.
The Polar Geospatial Center has been using satellite data to provide invaluable, up-to-date information about surface conditions across the continent for nearly a decade.
"We make sure that [scientists] can get to where they need to go, that they know what the ground looks like and that the pilots can land," said Paul Morin of the University of Minnesota, the founder and director of the center. "The other thing we provide is remote sensing and geospatial analysis that is really unique to polar science."
Remote Sensing for Scientists
The center maintains a huge database of the most up-to-date satellite images of the polar regions. They're taken from both public image collections like those produced by NASA's Landsat, as well as from the National Geospatial-Intelligence Agency who get their images from DigitalGlobe, a company based in Longmont, Colorado.
From these sources, the center pulls together the numerous satellite images to produce maps and images for the National Science Foundation-supported scientists and support staff.
"We represent the activities of U.S. mapping in Antarctica," said Bradley Herried, also with the PGC at the University of Minnesota.
Either as single scenes or processed maps made from numerous satellite images stitched together, scientists working in Antarctica have access to some of the most accurate and up to date images of the icy continent.
"The satellites, for example, can collect imagery up to 30 centimeters, providing the ability to pick out features such as crevasses, big boulders and even tents at remote field camps," Herried said.
For scientists deployed to the field, these satellite images can be an invaluable peek at the otherwise remote region where they will be working.
"[We're] essentially doing reconnaissance without actually having to go there," Herried said.
Each season, the center sets up an office in McMurdo Station's Crary Laboratory so scientists can work directly to get the necessary photos or maps before going out into the field. They can see how buried a field site might be, what kind of terrain to expect or whether the exposed rock might be the kind that yield the fossils they may be searching for.
Though important for the hundreds of scientists in Antarctica, these maps and images are only a small part of what the center does. The bulk of the scientists they support are researchers who rely solely on satellite data for their research, some of whom may never set foot out in the field.
"We provide that imagery to researchers for doing scientific remote sensing applications," Herried said. "Using the satellite imagery, it's such high resolution [and] it's so detailed, you would be able to see and measure things that you've never seen before."
Remote Sensing as Science
Just from looking at and digitally processing enormous volumes of detailed images, scientists have been able to classify different rock outcrops, identify concentrations of photosynthetic organisms and even spot previously unknown penguin colonies.
Morin first established the center in 2007 as a way to bring together satellite data to give scientists a better idea of what conditions are like out in the remote sections of the continent.
"We started to help and it just became clear that you could do more science better, faster, cheaper, safer, with a little bit of support from us," Morin said. "Before us, they were using maps from the Nixon Administration, now we [can] have imagery from last Thursday."
In 2011 they expanded to cover the Arctic as well.
As the remote-sensing and mapping technologies have improved, the effect it's had on Antarctic research has been tremendous.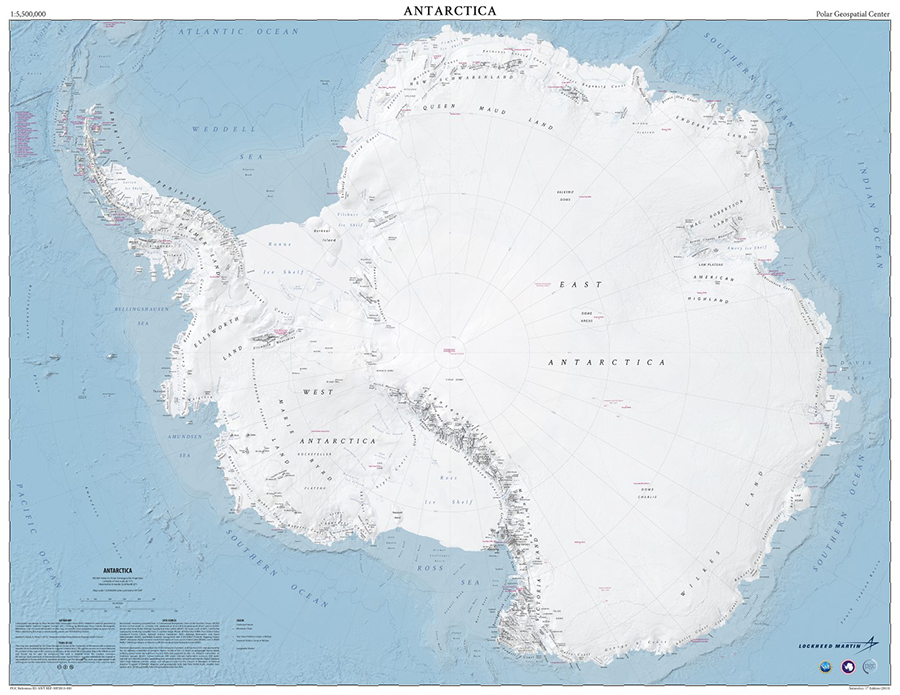 Photo Credit: Polar Geospatial Center
The Polar Geospatial Center with financing from Lockheed Martin produced this general reference map for the general public.
"It's sort of changed the way that mapping is done down here," Herried said. "We don't need to go out on multiyear, topographic mapping campaigns. Instead we request certain areas of the continent to be collected. We have hundreds of thousands of images that come in at 50-centimeter resolution that we then in turn can provide for logistics and science support."
The center continues to improve and expand the types of raw data and refined products they offer to scientists and the public. In September of 2016, they released a detailed 3-dimensional elevation model of Alaska as part of the ArcticDEM project, the first installment of a comprehensive set of topographic maps of the entire Arctic above 60 degrees north, as well as all of Greenland, Iceland and the Kamchatka peninsula.
More than just highly-accurate maps, these elevation models will help scientists better understand what's happening to the ice in thinning glaciers over time.
"The next phase for us is producing these elevation models," Herried said. "You can do a lot with the imagery but you can do a lot more when you know the elevation. And you can look at change over time in elevation and you can measure volume."
To produce the elevation model, the team fed in thousands of satellite images of the region into the NSF's Blue Waters Supercomputer. By comparing the differences in how land features appear in successive images as the satellite passed overhead, the computer was able to derive the elevation of everywhere in the region to an accuracy of about 10 meters. Cartographers have been determining the contours of a landscape using these stereo photogrammetric digital elevation techniques for years, but the scale is unprecedented.
"This is new, this is something that has never been done before with commercial imagery, and we're doing this for the whole Arctic," Herried said.
Maps for Scientists and the Public
They now have their sights set on the Antarctic, and hope to produce a similarly accurate map of the southern half of the planet in about a year. The last comprehensive elevation map of the Antarctic was the 2008 Radarsat Antarctic Mapping Project, with an accuracy of about 250 meters. The PGC team is aiming for their map to be accurate down to about 8 meters.
"The first region was produced just last week, which was basically Victoria Land," Morin said in mid-October. "It's the size of New England, if not larger, and we produced it in three days."
Another of their recent projects was in collaboration with, and financed by, Lockheed Martin, the previous primary logistical contractor to the U.S. Antarctic Program, to produce a colorful, poster-sized reference map of Antarctica for the public.
"The collaboration was to compile 'the' reference map of Antarctica," Herried said. "A map like this at this size and scale, being able to show that much detail, hadn't been made for several decades and this was a good opportunity for us to put the time and effort into making that cartographic process."
The map was quite well received, and the printed version has been offered to U.S. Antarctic Program employees leaving the continent since it was finished in 2015. On its reverse side, it highlighted different NSF-sponsored science projects in order to support science education.
The American Cartographic Information Society decided to include a copy of the map in their third edition of their Atlas of Design, which highlights excellence in mapmaking.
In addition to the geographic features of the continent, it highlights the locations of the numerous science stations across the continent.
"If you look at the map of Antarctica, where things are named, it's where humans go primarily. And it tells an interesting story that only a map could," Herried said. "Here's how we Antarctic scientists or we as the general public, interpret Antarctica and understand that sense of geography and place. It's not just flat and white, sometimes on the map it might look like that, but you realize the human impact."
NSF-funded research in this story: Paul Morin, University of Minnesota-Twin Cities, Award No. 1043681.