| | |
| --- | --- |
| Photo Credit: Andrew Thurber | The long, white microbial mat stood out in sharp contrast against the dark seafloor. |
Methane Munching Microbes (cont.)
The Cinder Cones
Page 2/2 - Posted May 24, 2017
The large seafloor feature was first spotted by researchers diving in the area in 2011 for an unrelated project. They found the colony off the coast of an area called the Cinder Cones, a spot that divers have visited nearly every year since the late 1960s.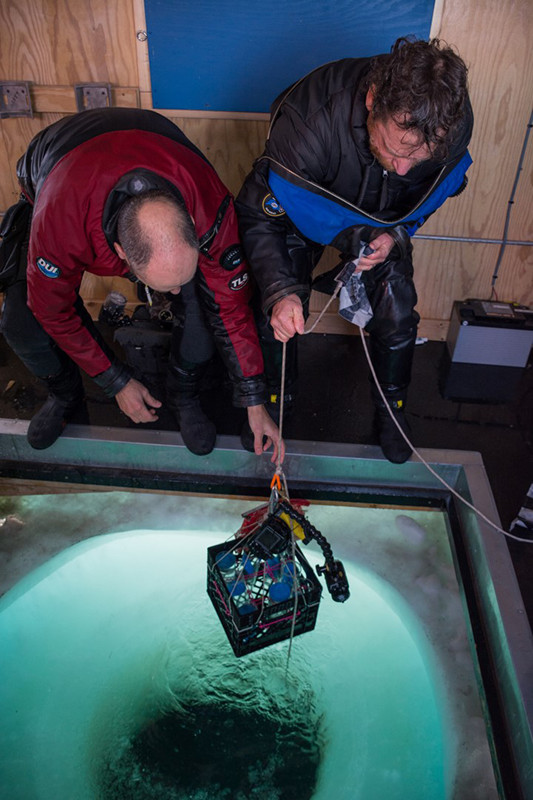 Photo Credit: Mike Lucibella
USAP divers Steve Rupp (left) and Rob Robbins help to pull in a milk crate full of sample vials.
Sticking out against the black lava seafloor, the divers saw a 160-foot-long line of bright, white patches. These patches are sulfide-eating bacteria, the sulfide being a chemical that can be produced as other microbes break down methane. It was impossible to miss, and they were sure it wasn't there the year before.
As soon as Thurber got word about what the divers found, he knew this was a big deal.
"It's the first methane seep that we know when it started to have a surface manifestation," he said. "We could start asking questions about how long does it take for these microbial communities to become established so they can eat all the methane that's being released. And that's something we don't know anywhere on the planet."
By happenstance, Thurber in Antarctica the following season working on an unrelated project and able to take some time to see the colony up close.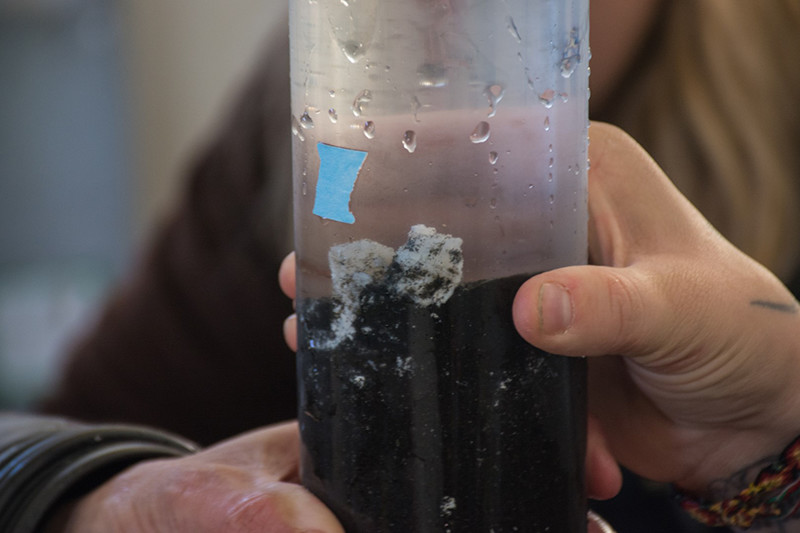 Photo Credit: Mike Lucibella
Inside a sample vial, a small portion of the white, sulfide-laced microbial mats is preserved on top of a sediment core that the research team recovered.
"I collected some samples of it and was super excited because methane seeps are something I study elsewhere on the planet," He said "This is about as dumb luck as you can get, being there at the time when it started to form."
The preliminary samples Thurber brought back to Oregon looked promising, and he was excited to return to Antarctica to investigate further.
Perhaps the biggest lingering questions he wanted to investigate was that in the samples he brought back in 2012, he couldn't find any evidence of the most common kind of methane-eating microbes, anaerobic methane-oxidizing archaea, commonly known as ANMEs. This group normally consumes 90 percent of methane released in marine environments, but they were nowhere to be found in any of the samples.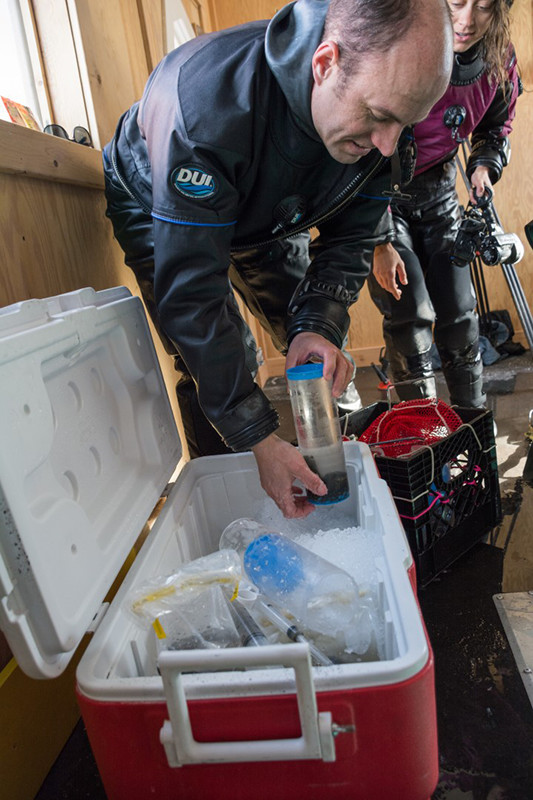 Photo Credit: Mike Lucibella
Andrew Thurber and Sarah Seabrook place sample vials into a cooler for safe transport back to the station.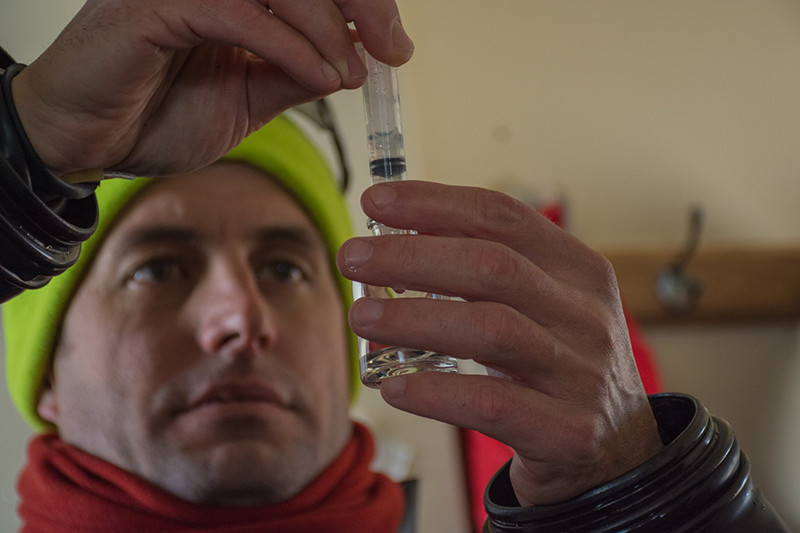 Photo Credit: Mike Lucibella
Andrew Thurber mixes chemicals to help preserve and analyze some of the samples he and his team just collected.
"There is a group of microbes consuming the methane here, but it's a different group than we expect to be the dominant sink elsewhere," Thurber said. "That may be a reason how the Southern Ocean is different, or that may just be that this is a new habitat cycling methane and when we study it this year, we may see those microbes from other parts of the planet start to show up."
When he returned this season, the seep was still there, though a bit different than how he left it. Instead of one long, uninterrupted line, the microbe mat was a little smaller and patchier.
"Methane seepage is dynamic. In deep-sea seeps we see waxing and waning of methane emission, periods of massive plumes being released in the water columns that then shut off and then turn back on," Thurber said. "We also found a shallower region that just went off into the distance as far as we could see. So even if the seepage is decreasing, the overall area of seepage is quite large."
Thurber and Seabrook spent three weeks diving under the frozen sea ice and collecting seafloor sediment. They returned with more than 500 samples, which they're now deep in the process of analyzing.
"We have been focusing our efforts on getting a snapshot of how the entire microbial community has changed in the sediment," Thurber said.
By analyzing the microbial DNA they extracted, they can compare it to samples taken in 2011 to see how the communities that thrive on the seep develop over time. Only a few ANMEs were found in the most recent samples that Thurber brought back. Even in warm waters ANMEs grow at a snail's pace, and their continued absence could be because the frigid Antarctic waters are slowing their growth even more. This raises serious concerns over whether they will be able to keep up as more methane is released as ice sheets melt.
In addition, the team is working on the analysis of the methane itself to determine its origins and how the microbes that live in Antarctica are related to other methanotrophs around the world.
Though the team returned with a substantial amount of data and samples from this successful season, their hope is that this is just the beginning for research into this site.
"Since we found that this is an area with methane being released into the water to a real extent, it allows us to expand what we can learn about this site, the methane cycle in Antarctica, and the role of methane release from Antarctica to the planet," Thurber said.
NSF-funded research in this story: Andrew Thurber of Oregon State University, Award No. 1642570.