| | |
| --- | --- |
| Photo Credit: Mike Lucibella | Dorota Porazinska uses a large pipette to sample the liquid water frozen inside of a drilled out cryoconite hole. |
Life in a Cryoconite Hole
Understanding the Biodiversity Encased in Glacial Pockets of Liquid Water
Posted October 31, 2017
Diverse ecosystems that teem with life thrive just below the surface of many Antarctic glaciers.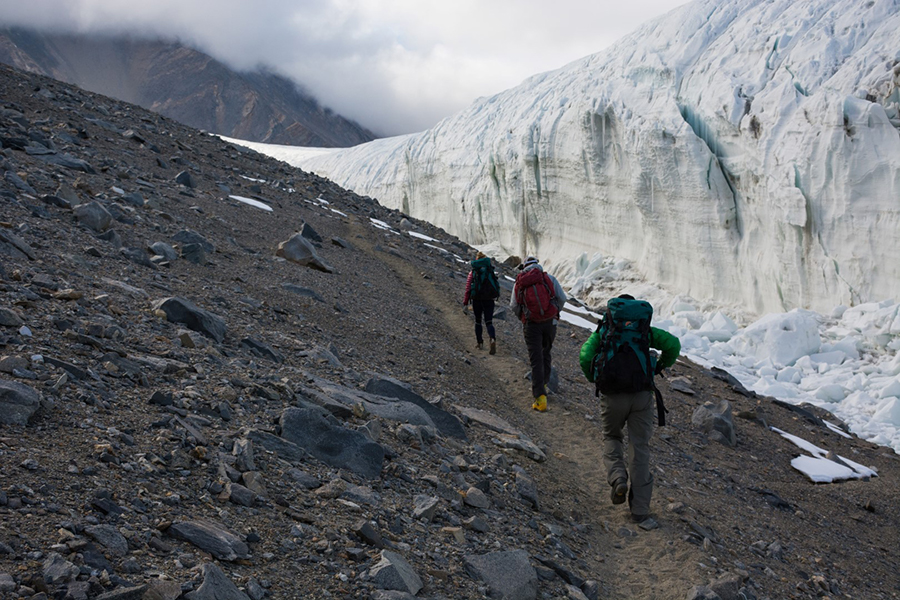 Photo Credit: Mike Lucibella
Dorota Porazinska (front) Jack Darcy (center) and Pacifica Sommers hike up to their research site on the Canada Glacier.
Small, frozen holes full of liquid water and microorganisms entombed by ice dot the surfaces of glaciers. Researchers in Antarctica are studying them to glean new insights into how these habitats form, and learn what they might be able to reveal about ecosystems around the world.
"These holes that we're working with, they're completely isolated at least for several years from the surrounding environment, so they have a chance to develop very specific signatures of their own little ecosystem," said Dorota Porazinska, a researcher at the University of Colorado, Boulder.
She and her team are studying how the microorganisms first form communities within them, and how the biodiversity within evolves over time under different starting conditions. Their research is funded by the National Science Foundation, which manages the U.S. Antarctic Program.
These natural water wells are formed when various kinds of debris collect on an icy surface, deposits scientists call cryoconite.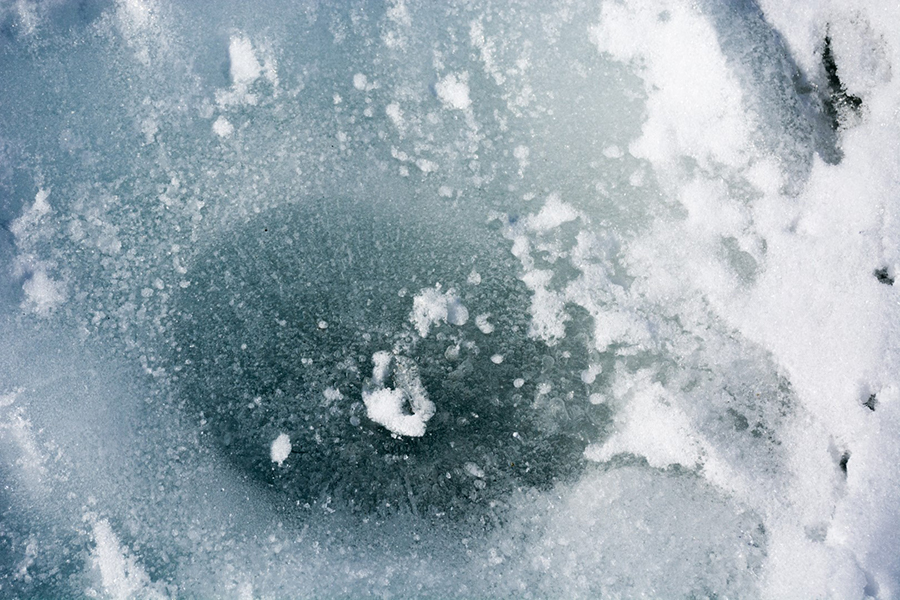 Photo Credit: Mike Lucibella
A frozen over cryoconite hole looks like a discolored patch of ice on the surface of the Canada Glacier.
"It's basically a fancy word for dirt on a glacier," said Pacifica Sommers, a research associate at the University of Colorado, Boulder.
These patches of dust and grime warm up as they absorb the sun's rays. The warmed debris melt into the ice they're resting on and form subsurface pools of water. The surface remains frozen because the cold air keeps ice on the topside from melting. Inside the glacier, the ice under the cryoconite continues to melt lowering the debris deeper into the glacier. Even when it's completely embedded in ice, the dirt is still creating these miniature wells of melted water.
"That sediment can absorb enough of the solar radiation and warmth, such that you'll get a bulb of water forming around them," said Andrew Fountain, a geologist at Portland State University. "The sediment stays at the bottom of the bulb of water, and it continues to melt further into the ice, leaving a hole of water within the ice itself, entirely separate from the outside world."
Microbes within the dirt from the surrounding environment are part of the cryoconite and establish themselves in the holes. Though they're trapped, these creatures continue to thrive, creating their own hermetic ecosystem.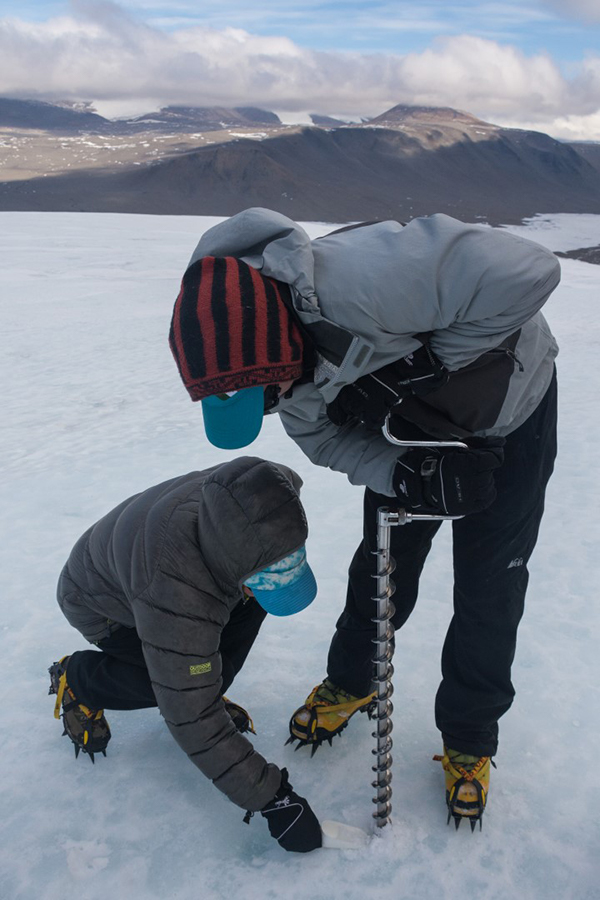 Photo Credit: Mike Lucibella
Dorota Porazinska (left) takes a sample of the material embedded in a fully frozen cryoconite hole while Jack Darcy uses an ice drill to dig out the dirt and microbes embedded within.
"They're like a microcosm within the natural world," said Jack Darcy, a graduate student at the University of Colorado, Boulder. "We've got this controlled experiment almost, this controlled natural experiment."
The results from this work will test theories about ecosystem formation. The cryoconite holes host creatures that range from simple organisms including bacteria, archaea and single-celled eukaryotes like algae and ciliates, to more complex organisms like fungi and even microscopic animals like rotifers and tardigrades. The scientists are working to better understand how the creatures that colonize the cryoconite holes form their communities and what are the important factors that structure the entombed ecosystems.
"It's really about the processes that are going on within these cryoconites, because understanding how communities form and how they change is the real goal here," Darcy said. "[Cryoconite holes] just happen to be a phenomenal system for doing that."
Complex ecosystems like forests and grasslands are so big and composed of such a diversity of life that it's impossible for scientists to track all the different variables at play as the habitat gets established. Even if it was possible to track everything, it would take many decades and numerous generations of researchers to wait for everything to take root.
"If you look at systems that we're supposed to know very well, forests, grasslands, or any natural system, we just don't really know exactly how they became the way they became," Porazinska said. "By looking at these very tiny micro-ecosystems we might be able to project and extrapolate some ideas to things that we have no way of replicating."
The researchers hope that this work can take their understanding the next level. It builds on established experiments with microbes in small controlled environments like petri dishes that are so simple, they can only reveal a limited amount about ecosystems in the real world.
"The cryoconites are a kind of a bridge systems between these super complicated, many-variable systems and just a very very simple experiment," Sommers said.
The team is hoping that by studying these cryoconite systems, the next step up in complexity, they can start to extrapolate what they learn towards even more complex ecosystems.