| | |
| --- | --- |
| Photo Credit: Mike Lucibella | Paleontologist Hank Woolley digs for fossils on the side of Collinson Ridge in the Transantarctic Mountains. |
Paleo Gondwanaland Was Full of Lystrosaurs
Newly collected fossils offer a glimpse into the prehistoric world of Antarctica
Posted May 3, 2018
An expedition studying the aftermath of one of Earth's greatest global extinctions collected hundreds of prehistoric animal fossils from the mountains of Antarctica this past season.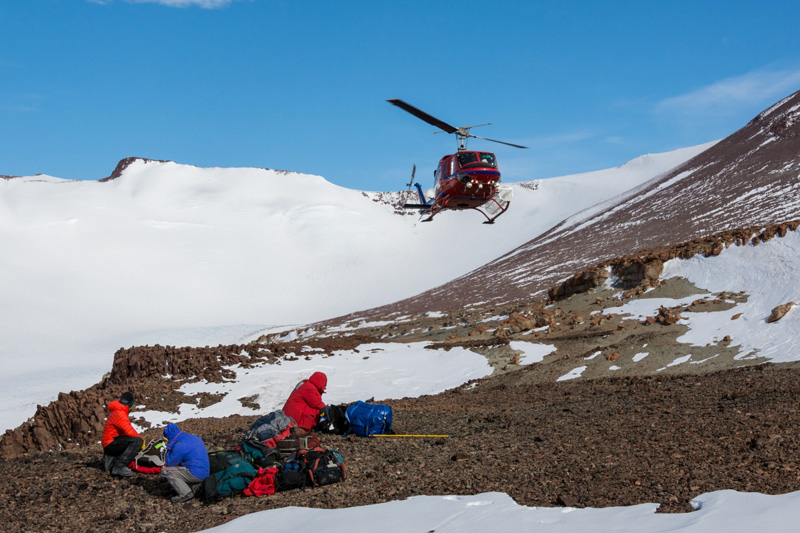 Photo Credit: Mike Lucibella
To reach the fossil-rich cliffs, the paleontology teams flew in on helicopters from the nearby Shackleton Glacier field camp.
"We had a wonderful season," said Peter Makovicky, the curator of dinosaurs at The Field Museum of Natural History in Chicago. "Between three different institutions involved in our grant, we collected something over 200 numbered specimens: a lot of good vertebrate material, some plant material, and footprints, and importantly we found a couple of new P-T boundary, or 'Permo-Triassic boundary' sections, with fossils in place, that were put into sections. We'll have a lot more resolution on the timing of events than was available from past field work."
Makovicky was one of ten researchers who spent nearly six weeks camped in the Transantarctic Mountains, collecting fossils that formed following the great extinction at the end of the Permian era, marking the beginning of the Triassic era, an era where dinosaurs are first thought to appear. The team comprised bone-hunting paleontologists from multiple institutions as well as geologists to help interpret the climate and environment captured in the rock formations.
Their research is funded by the National Science Foundation, which manages the U.S. Antarctic Program.
Because of Antarctica's remoteness and hostile environment, its fossil record of is one of the least understood in the world. The large number and variety of recovered fossils from this past season will offer paleontologists a variety of new insights on a wide range of now-extinct vertebrates from about 250 million years ago.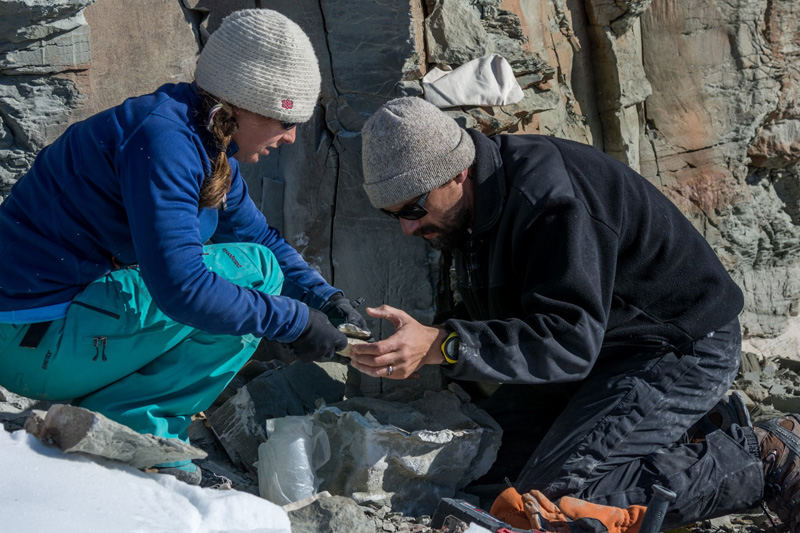 Photo Credit: Mike Lucibella
Paleontologists Christian Sidor (right) and Megan Whitney inspect a rock for fossils on the side of Collinson Ridge.
"We now have some pretty good sample sizes, so we can start looking at how these fossil assemblages compare in a more quantitative way than has been done before," said Christian Sidor, a vertebrate paleontologist at the University of Washington and lead principal investigator on the project.
He pointed to numerous amphibian samples the team collected as a particularly promising-looking area for new discoveries.
"We've known for a while that amphibians have been in the Antarctic record, but to date we've never been able to really figure out what species are there," Sidor said. "The material we collected this year should be able to help us get to that species level distinction."
They also found a number of fossils of the dinosaur relative Prolacerta and mammal precursors Thrinaxodon and Lystrosaurus.
"It's a really good sampling of the diversity of what we think is there, including potentially some new species or new things, certainly some better represented and more complete material than we've had in the past," said Nate Smith, an associate curator at the Natural History Museum of Los Angeles County.
The scientists spent much of their time in the field walking along mountaintop ridges, looking for bits of fossilized bone sticking out of rock faces. Using tools running the gamut from rotary rock saws and drills to delicate brushes and tweezers, the team collected more than 5,000 pounds of rocks with numerous embedded prehistoric fossils.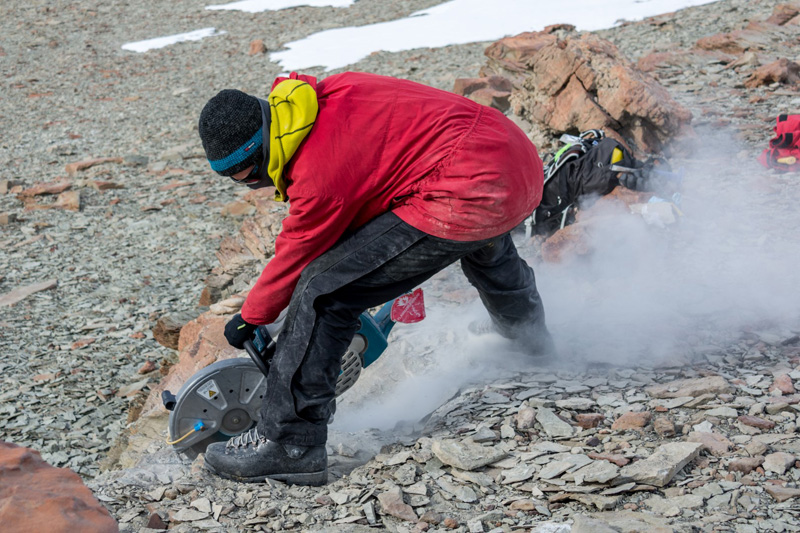 Photo Credit: Mike Lucibella
Paleontologist Hank Woolley uses a rotary saw to extract a rock with embedded fossils along Collinson Ridge.
They were primarily based at the Shackleton Field camp, located at the confluence of the McGregor and the Shackleton glaciers, about halfway between NSF's McMurdo Station, on the Antarctic Coast, and the South Pole, roughly 800 air miles from McMurdo. From there they were able fly on helicopters to access sites that paleontologists rarely visit.
"We were going back to sites that had been looked at the 1970-71 season and the mid-nineties, so I started out being a little concerned that we were going to go, and we were not going to find anything because everything had already been collected. But that turned out not to be the case, fortunately for us," Sidor said.
Smith echoed these sentiments.
"I was a little bit surprised at how well we did in terms of finding stuff at every locality and also given that we were visiting some places that had been worked heavily before," Smith said. "We were still pulling stuff out of the ground literally a couple of feet away from holes that were dug 40 years ago."
The time around the Permian-Triassic boundary was an important era in Earth's prehistory. It was shortly before dinosaurs appeared on Earth and immediately following the immense extinction that marks the end of the Permian and beginning of the Triassic era.
"The Permo-Triassic boundary is one of the major mass extinctions in the history of life on land," Sidor said.
Over a few tens of thousands of years, a veritable instant on geologic scales, more than 90 percent of the species living on the planet died out.
"People think the major driver of the mass extinction was climate change related to basalt eruptions in Siberia that burned through a huge layer of coal," Sidor said. "Basically that had a huge influx of carbon dioxide and other greenhouse gases into the atmosphere and brought about a huge global warming spell over a short period of time and that caused the mass extinction."
The team found specimens from the Early Triassic, about 250 million years ago. At the time, planet Earth was very different than it is today. All of the continents were joined together in the supercontinent Pangea and the south polar regions were much warmer than now. Instead of an ice sheet, the subcontinent called Gondwanaland that Antarctica was part of, was covered in forests and swamps.
At the time, the planet was still rebounding from the Permo-Triassic mass extinction. It's a major upheaval in the history of life on Earth, plainly visible in the fossil record.