| | |
| --- | --- |
| Photo Credit: NASA Scientific Visualization Studio | This visualization shows the growth of Antarctic sea ice over the austral winter of 2015. At its maximum extent in late winter, the sea ice covers an average area of more than 18 million square kilometers, essentially doubling the continent in size from summer to winter as the ice expands. |
Southern Ocean sea ice cover has gradually grown over the past 10,000 years
A long-term view of sea ice extent gives researchers insight into the effects of climate change
Posted June 14, 2021
Salt levels in an ice core drilled at the South Pole are telling scientists what Antarctic sea ice conditions were like in ages past, information crucial to understanding how the southernmost continent will fare in a changing climate.
Antarctica is perpetually surrounded by a ring of sea ice in the Southern Ocean, but the amount of ice changes with the seasons. During a typical summer, the continent is surrounded by about 3 million square kilometers of ice, but that number can grow to more than 18 million square kilometers in the winter. The continent essentially doubles in size during the cold season, but scientists want to know more about how its sea ice extent has varied in centuries and millennia past.
By analyzing levels of sea salt in an ice core from the South Pole, researchers now have a record of how Antarctic sea ice has ebbed and flowed every season for the past 11,000 years. Their findings show the band of ice encircling the continent has gradually expanded over the past 10,000 years, with one notable dip in sea ice extent between 5,000 and 6,000 years ago.
The results help scientists tease out the intricate connections between sea ice and climate, according to the researchers, which could help them understand why Antarctic sea ice has remained relatively constant over time while Arctic sea ice has diminished by about 40 percent since the 1970s.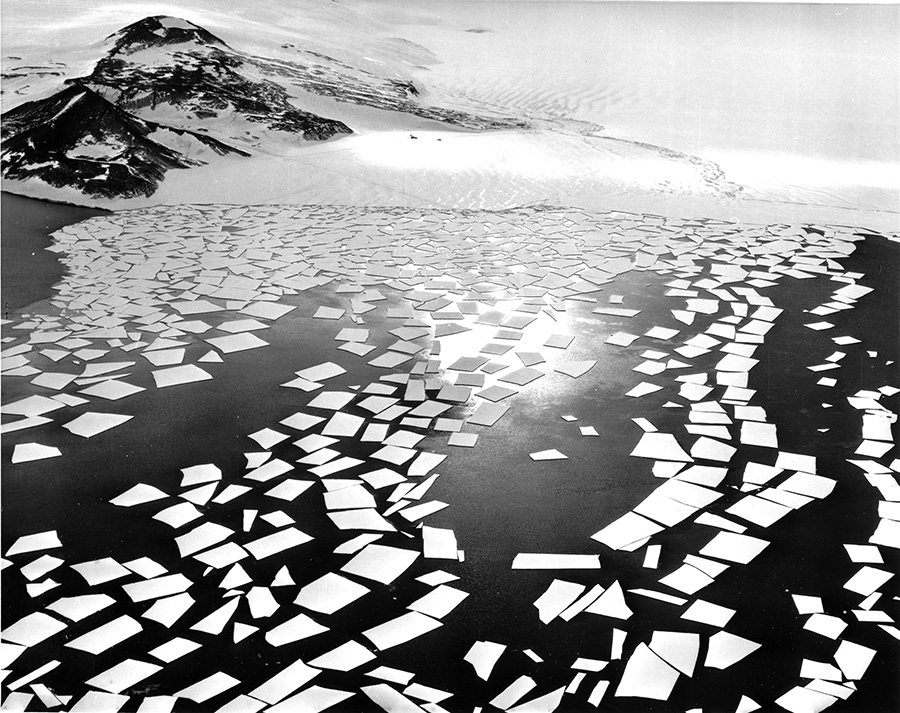 Photo Credit: Robert Woods, U.S. Navy
Sea ice floating around Ross Island in 1961. New research finds the extent of sea ice surrounding Antarctica has gradually grown over the past 10,000 years.
"This work is a building block in our overall picture of Antarctic climate," said Dominic Winski, a climate scientist at the University of Maine and lead author of a new study detailing the findings. "If we don't understand the processes affecting sea ice, then I think we have little hope of understanding where we're headed as a planet."
A Salty Past
Sea ice is frozen ocean water that forms primarily at Earth's poles. This ice is an integral part of Earth's climate system – it reflects sunlight back into space, helping to keep the planet cool, while also helping regulate the flow of ocean water around the globe, including the transport of heat and salt.
Scientists have only been able to directly study sea ice extent since satellite records began in 1979. But they can examine sea ice changes in the distant past by using levels of sea salt found in ice cores as a proxy.
Sea salt makes its way into ice cores in a few ways. In the Southern Ocean, salt from sea spray gets blown by the wind, eventually settling on Antarctic ice hundreds, or even thousands, of miles away. Additionally, sea ice is often covered by a layer of snow that gets soaked by waves. Winds then blow that salt-laden snow over Antarctica, where it settles and eventually gets incorporated into the vast ice sheet covering the continent. Salty ice also tends to form frost flowers – thin, flowerlike formations that grow on top of newly-formed sea ice. Strong winds in the Southern Ocean blow the delicate structures away, sending a puff of salt into the air, where it can later settle on Antarctic ice.
In the new study, Winski and his colleagues measured sea salt levels in the South Pole ice core, which was drilled during expeditions to the South Pole from 2014 to 2016. It is the longest ice core ever drilled from the South Pole, with the deepest part of the core being more than a mile below the surface of the ice. Scientists have used this ice core to reconstruct a record of Earth's climate for the past 50,000 years.
At the South Pole, more than 1,000 miles from the ocean, there is evidence that more salt in an ice core layer means more sea ice was present at that time. The salt concentrations are tiny, measuring in the parts per billion range, but the levels are consistent and scientists can reliably measure them.
Winski and his colleagues measured salt concentrations in more than 70,000 samples of the South Pole ice core, which allowed them to estimate how Antarctic sea ice has grown and shrunk over every summer and winter for the past 11,000 years.
They found sea ice in the Southern Ocean has been steadily increasing since about 10,000 years ago. But they also discovered a major drop in salt concentrations – and by extension, sea ice – between 5,000 and 6,000 years ago. Combining their new data with previous climate records from this time, they suspect this dip in sea ice was due to changes in ocean circulation in the Atlantic Ocean that made the North Atlantic cooler but the South Atlantic warmer.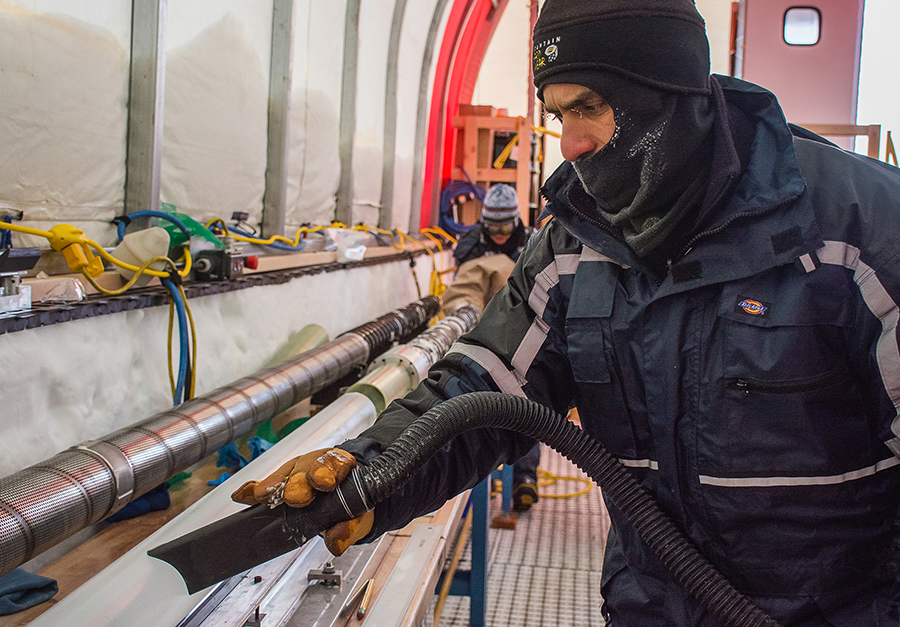 Photo Credit: Mike Lucibella
Murat Aydin cleans cutting fluid off a section of the South Pole ice core as he prepares it for storage. Sealed inside the core are numerous tiny air bubbles that contain samples of the atmosphere from the past before the ice was buried. Climate scientists analyze these trapped bubbles to learn what the Earth's atmosphere was like thousands of years ago.
"It's a hint that something pretty interesting might have been going on that links the North and South Atlantic during this time," Winski said.
Sea ice and climate
Sea ice is an incredibly sensitive part of the climate system, so tracking how it varies over time helps scientists better understand what they've observed over the past several decades as the climate has changed, according to the researchers.
"We know that sea ice extent can change really rapidly from year to year, and at least in the Arctic, it's diminished by incredible amounts in just decades," Winski said. "The more we learn about sea ice, the more we realize it can play a critical role during episodes of climate change."
One thing scientists are just beginning to understand is why Arctic sea ice has declined so much, but Antarctic sea ice has remained relatively stable. The new results have given researchers more insight into the sea ice-climate system as a whole, which can help them understand what may happen in the coming decades.
"We have little chance of being able to forecast or prepare for changes in Southern Ocean sea ice if we do not fully understand the processes that influence these systems," Winski said. "Ice core studies like this one can provide a host of information on past changes that may help us understand what is happening today."
This research was supported by the National Science Foundation, which manages the U.S. Antarctic Program. NSF-funded research in this story: Erich Osterberg, Dartmouth College, Award No. 1443336; Karl Kreutz, University of Maine, Award No. 1443397; Jihong Cole-Dai, South Dakota State University, Award No. 1443663; Eric Steig, University of Washington, Award No. 1443105 and Award No. 1141839; Becky Alexander, University of Washington, Award No. 1702266.