Closing the gap
Taylor works to bring more women into the sciences
Posted May 2, 2008
Women earn half of the bachelor's degrees in science and engineering today, but only represent 29 percent of doctoral science and engineering faculty in four-year colleges and universities and only 18 percent of full professors, according to the National Science Foundation (NSF).
"We're losing them somewhere along the line there," said Edith L. Taylor, a paleobotanist at the University of Kansas. Improving those numbers through public outreach and the classroom has long been a part of her academic career.
"It's one of the passions of my life," she said.
Women from minority groups are particularly underrepresented in science and engineering, accounting for about 3 percent of science and engineering faculty in four-year colleges and universities, the NSF has reported.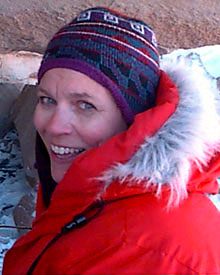 Edith L. Taylor
Taylor participates in a number of outreach programs in the hopes of boosting those percentages. One program hosted by Emporia State University in Kansas, Expanding Your Horizons, brings middle school girls to Emporia for workshops and career discussions. Last year, Taylor gave the keynote address at the program.
Taylor also conducts a Women in Science seminar at the University of Kansas, where they discuss the obstacles and opportunities for women in the sciences. "I see these young kids in my Women in Science class and they don't believe you can do science and have a family. I say, 'Look at our department. Not only do we have a lot of women faculty, almost all of them are married and have children. And some of them are a team; they're both in the same field, like my husband and I are.'"
NSF Deputy Director Kathie Olsen testified before the House Science and Technology Committees Research and Science Education Subcommittee late last year about the barriers facing women seeking science and engineering faculty positions. Gender bias is still a problem in institutions of higher learning, according to committee witnesses.
Olsen told the subcommittee "sweeping institutional transformation is the best hope for creating truly women-friendly environments in science and engineering." The NSF's ADVANCE Program

provides funding for projects that work to increase the participation of women in the science and engineering workforce, where they currently account for about 27 percent.
ADVANCE funding has gone to 58 different institutions in 36 states, the District of Columbia and Puerto Rico.
Taylor said today's climate, while still unbalanced, is much improved since she got her PhD in 1983. She credits NSF with playing a big role in that transformation.
"I just think they've made a huge difference over the years, and the data show that they have made a difference in the number of women that have stayed in academia," she said.
Back to main article: Deep time.