| | |
| --- | --- |
| Photo Credit: Peter Rejcek | William McIntosh, left and Aaron Curtis, both scientists from New Mexico Tech, explore Hut Cave, one of more than a hundred subterranean systems formed by geothermal processes from the volcano's magma chamber. |
Page 2/2 - Posted June 3, 2011
Caves created by volcanic gas
Aaron Curtis uses the volcanic gases that slip through the cracks along the flanks of the volcano for a different type of study — ice caves and ice towers.
A master's student at New Mexico Tech, Curtis estimates there are more than 100 caves around the volcano and countless ice towers, formed by geothermal processes from the magma chamber. His research involves understanding how the ice caves and towers form, and mapping out their structure, a job he started last year during his first trip to Antarctica.
"It's really an important starting point to have a morphology of these caves," Curtis says, before sliding into a relatively small subterranean lair called Hut Cave where he has set up instruments that monitor gases, temperature and airflow.
Wet but relatively warm and humid, Hut Cave could be a subterranean system anywhere but for the ceiling of ice that covers the various chambers. A diffuse, eerie blue light comes through in spots. Hut Cave is relatively small and shallow. Some of the Erebus caves are elaborate and deep enough to require harnesses and ropes to explore.
Curtis said he believes the caves are formed by major vents rather than diffuse zones of heating. "What I've found so far, in almost every big chamber in major caves you find a hole in the floor with gas coming out of it," he says.
Light goes a long way
Until recently, creating a map of the caves had been a low-tech affair, involving surveyor tools. But fellow New Mexico Tech master's student Laura Jones and colleague Jed Frechette from the University of Mew Mexico

have provided some high-tech support with a LiDAR, short for Light Detection and Ranging.
Jones is using the LiDAR to produce a three-dimensional map of the crater and lava lake. The LiDAR shoots out a laser beam, which bounces back, calculating distance based on the speed of light. Her data will show how the lake rises and falls, and how its geometry changes from year to year.
So far, Jones has found the lake rises and falls two meters every 18 minutes. Could this be the heartbeat of the volcano?
"It's very interesting the things you can see without going into the crater because that's the problem: You can't go down there and measure it by hand. You have to have something remote that you can stand up on top and see what's going on down below," she explains. "The hope is that we can understand more about magma transport in general, and what causes eruptions to happen and why we have eruptive periods."
Inside some of the larger subterranean systems, like Warren Cave, the LiDAR provides exquisite details for a 3D picture, according to Curtis. "With the LiDAR work that Laura is doing, we get an exact picture of every scallop in the wall in Warren," he says.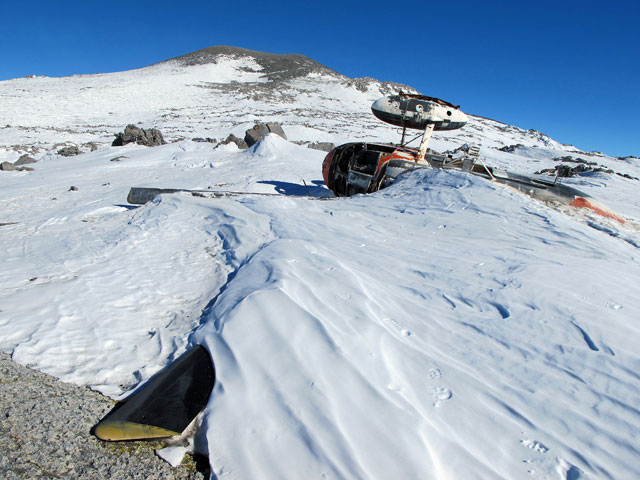 Photo Credit: Peter Rejcek
A Coast Guard plane crashed on the side of Mount Erebus in 1971. No one was injured.
The caves also offer another way of measuring gas emissions that don't come from the crater itself, Curtis notes.
"Quantifying the diffuse release of gas from the flanks of a volcano is a very hard thing to do. It really hasn't been done because without something like the ice cover on Erebus, you can't narrow it down to individual events. This is a unique opportunity to measuring diffuse gas emissions," he explains.
Volcano offers plenty to cover
Interestingly, the volcano's ice cover is a boon in other ways.
A major project a few years ago to image Erebus' deep plumbing involved installing an array of seismometers around the volcano. [See previous article: Plumbing Erebus.] The instruments recorded waves of energy generated by small, controlled blasts from explosives buried along its flanks and perimeter. Seismometers measure and record the size and force of underground energy, or seismic, waves.
By studying the refracted and reflected seismic waves, the scientists are mapping the interior of the volcano, much as a CT scan images the inside of an object using X-rays. The installation of more than 80 seismic stations would have been brutally challenging along the steep slope of most volcanoes. The Erebus team was able to zip along the mountain using snowmobiles.
"You would think that Erebus would be a strange place to study volcanoes being in such a remote environment. It's got a lot of things going for it," notes William McIntosh

, a geochronologist at New Mexico Tech who has visited the volcano on and off for about 30 years. His interest, as someone who measures the age of rocks, involves the history of volcanic eruptions, dating back hundreds of thousands of years.
For instance, Erebus was once much grander, until a severe eruption caused a major collapse similar to Crater Lake in Oregon about 100,000 years ago. Additional volcanic activity partly rebuilt Erebus over the millennia, according to McIntosh.
"It's kind of a volcano within a volcano," he says. "You could work on [Erebus] for a long, long time before you ran out of things to look at."
NSF-funded research in this story: Philip Kyle and Clive Oppenheimer, Mexico Institute of Mining and Technology, Award No. 0838817

.Back 1 2